COVID-19: Italy reports 7th death, over 200 cases
The death toll in Europe's largest coronavirus outbreak has risen to seven on Monday and new cases climbed above 220 as Italy shut down much of its wealthy north to curb the disease's spread.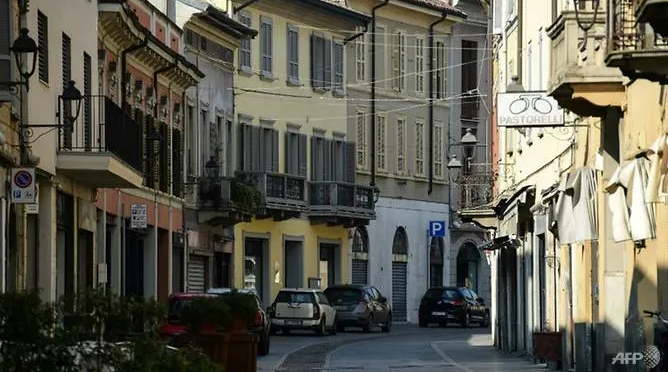 Codogno in the Lombardy region was labelled by health officials on Saturday as the epicentre of the new wave of confirmed cases in Italy's north. (Photo: AFP/Miguel MEDINA)
According to The Guardian, Italian shares tumbled more than 5%, the biggest daily drop in almost four years, on worries the flare-up could cause a recession, while worried residents emptied supermarket shelves to stock up on essentials.
Authorities in the northern regions of Lombardy and Veneto, the industrial and financial heartlands of Italy, shut schools, universities, museums and cinemas for at least a week, and banned public gatherings including the famed Venice carnival.
In Lombardy, close to Italy's business capital Milan, nearly 50,000 people have been placed under effective quarantine, as measures were adopted for 10 towns, as well as a further one in neighbouring Veneto.
"To be honest, nobody thought the spread would be so aggressive," Lombardy regional governor Attilio Fontana told 102.5 RTL radio, predicting, however that the virus would regress in days due to the emergency measures.
Local authorities announced four new deaths on Monday – three men in their 80s and a 62-year-old. Three previous fatalities recorded since Friday were also elderly people. All those who have died had underlying health problems.
Lombardy remained the worst hit region with 172 confirmed cases, while neighbouring Veneto had 33 infections, including four in Venice, which had been packed with tourists before its carnival was curtailed two days ahead of schedule.
At national level, 27 people were in intensive care, 101 hospitalised and 94 being monitored at home, officials said.
Earlier reports from Ansa incorrectly put the death toll at seven and were corrected to six later on Monday. Local authorities have now clarified that the toll has since risen to seven people.
Prime Minister Giuseppe Conte has said that residents could face weeks of lockdown in an effort to sit out the virus.
The spread of the virus has also disrupted high profile events including Milan Fashion Week while Serie A football matches have been postponed. Operas have also had to be cancelled at Milan's famed La Scala.
Churches are being kept open but all masses have been cancelled.
Analysts warned that the outbreak, which is centred on the country's industrial and financial hearlands, could shunt Italy's fragile economy into its fourth recession in 12 years.
Lombardy remained the worst hit region with some 172 confirmed cases, while neighbouring Veneto had 27 infections, including two in Venice which has been packed for the carnival season.
Officials said 23 people were in intensive care, while almost 100 were being taken care of in their own homes, with some of them showing little or no outward symptoms.
'EXTREMELY DIFFICULT TO TRACK'
Simon Clarke, Cellular Microbiology associate professor at the UK's Reading University, said on Monday: "It seems that the virus can pass from person to person without symptoms, making it extremely difficult track, regardless of what health authorities do".
"While it remains the case that most people who become infected will have light symptoms or none at all, such uncontrollable spread would present a serious risk to vulnerable individuals", he added.
Milan, a city of 1.3 million people, was much quieter than normal for a Monday morning. Trials were cancelled, some supermarket shelves were empty, and even the city's imposing Gothic cathedral closed its doors, disappointing tourists.
With other countries looking to prevent the spread of coronavirus, Mauritius on Monday told passengers from Lombardy and Veneto aboard an Alitalia aircraft that they would either have to go into quarantine or else fly straight back home.
Alitalia said 40 out of the 224 passengers and crew were affected by the ban and decided to leave the Indian Ocean island immediately.
Marco Michielli, head of Veneto's hoteliers' association Federalberghi, said cancellations were "raining down all over the region, like in the rest of Italy," and criticised the draconian measures adopted by the authorities.
"I think the government has been excessively prudent, to use a euphemism, it's as though there were an Ebola epidemic."
According to The Guardian, the European commission announced on Monday that it would send experts to Italy from the European Centre for Disease Prevention and Control, in a joint mission with the World Health Organization.
The EU executive also announced a €232m (£195m) package to deal with the virus, although some of the funds have yet to be signed off./.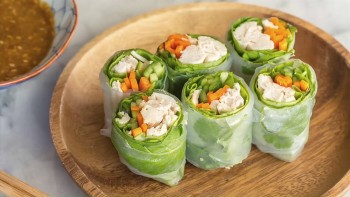 Travel
Rolls are a easy-to-make dish that is loved by many Vietnamese diners as well as Korean stars.