Cultural Diplomacy: A Pillar of Vietnam-France Relations
Cultural and locality-to-locality exchanges are an important part of the bilateral relationship
In the process of world integration, cultural diplomacy is one of the three pillars of Vietnam's comprehensive diplomacy, alongside political and economic diplomacy. It is also an effective tool to enhance mutual understanding between peoples.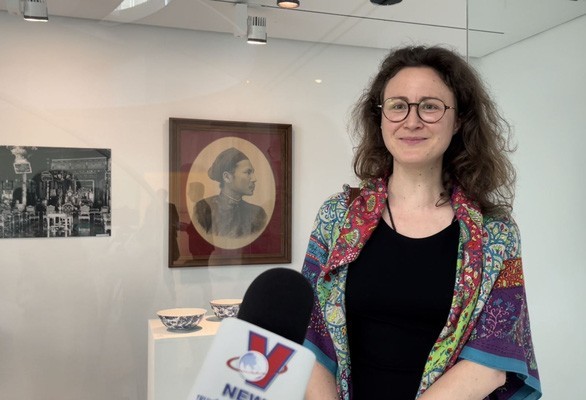 Amandine Dabat, a 5th generation descendant of the King, who did a doctoral thesis on King Ham Nghi's art career and is also the author of the book "Ham Nghi - Empereur en exil, artiste à Alger" (Ham Nghi - Emperor in exile, artist in Algeria) published in 2019 in France. Photo: VNA
A lot of cultural exchange activities have been held in both Vietnam and France, contributing importantly to bringing the two countries' people closer, VNA reported.
Many activities were exhibited such as the exhibition of archaeological artifacts from the Thang Long Imperial Citadel in the ancient town of Provins, "Following Uncle Ho's footsteps" in the port cities of Le Havre and Sainte-Adresse, "Re-discovering Vietnam" event in Paris, Vietnamese Ao Dai shines in Lyon Consular Day, Vietnamese New Year celebration hosted at Carrefour supermarket chain. Moreover, Nhan Dan Online Newspaper's booth attracted visitors at Humanitarian News Day in Essonne, Vietnamese Embassy organised the third Day of Associations of Friendship and Solidarity with Vietnam in the city of Malakoff , among others.
After two years of stagnation due to the Covid-19 pandemic, a series of cultural activities have been successfully implemented by the embassy and representative agencies of Vietnam in France and across all regions of France in 2022.
Cultural diplomacy, combined with Vietnam's political and economic diplomacy, has created a spillover effect to many classes of people and French partners, contributing to the growth of the the friendship and understanding between the two peoples in 2022.
Vietnamese Ambassador to France Dinh Toan Thang presents medals to the winners at the 6th Vovinam-Viet Vo Dao World Championship in France. Photo: VNA
Cultural diplomacy is not only carried out by Vietnamese representative agencies in France, but also organized by communities living and working in the host country. With love, pride and attachment to the homeland, many individuals and associations in the Vietnamese community here have held cultural and solidarity activities, mobilizing the participation of a large number of French friends.
Among them are the exhibition of paintings of King Ham Nghi, the Ici Vietnam Festival, the screening of the documentary film about Vietnamese music "Once upon a bridge in Vietnam" by French-Vietnamese director Françoi Bibonne, the organisation of events classes teaching Vietnamese language, traditional martial arts and music for the second and third generations of overseas Vietnamese, cultural and artistic activities on the occasion of traditional festivals.
Associations of solidarity and friendship with Vietnam have regularly actively participated in festivals and festivals hosted by French localities, contributing to widely promoting the image and culture of Vietnam.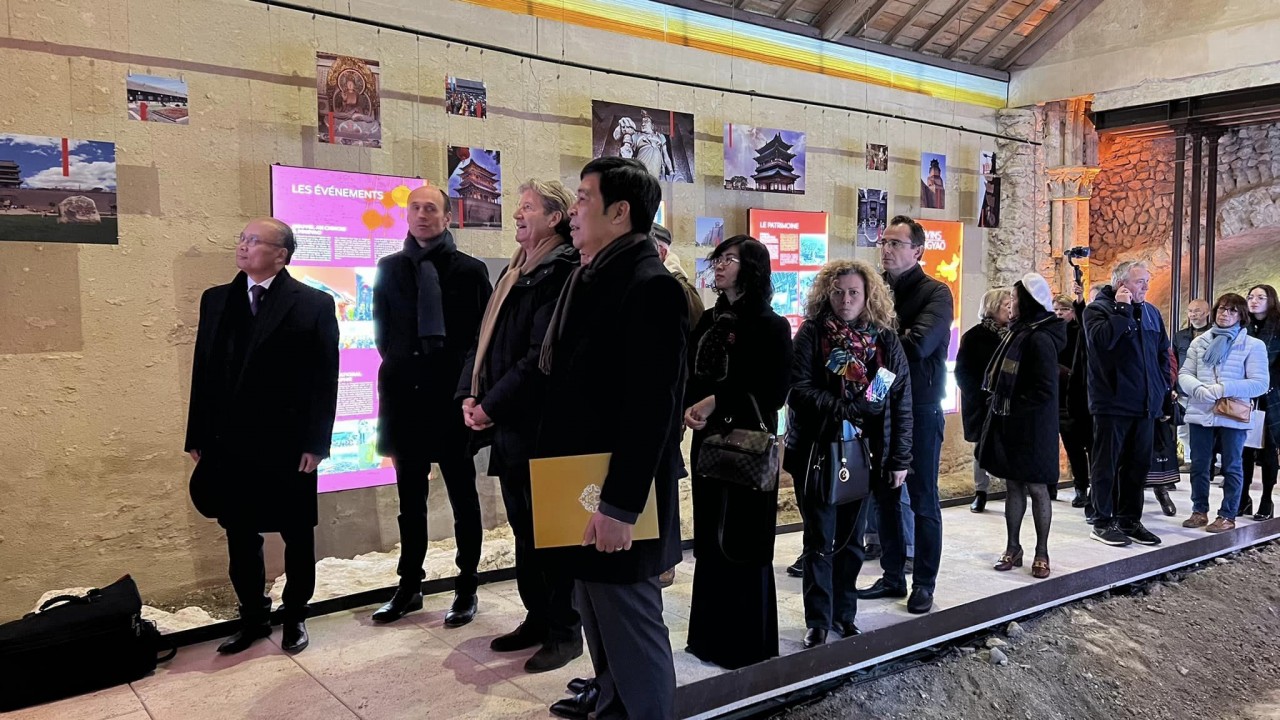 The opening ceremony of an archaeological exhibition from the Thang Long Imperial Citadel in France. Photo: Vietnamese embassy in France
Director of the Vietnamese Culture Centre in France Nghiem Xuan Dong told VNA that the bilateral relations have developed in various fields, including culture, tourism and sports.
This is a favourable condition to promote cultural diplomacy activities in the coming time, Dong noted.
However, with limited budget, the organisation of large-scale cultural programmes and events with the participation of professional art troupes still face many difficulties. This requires the contribution and cooperation of the society, especially businesses and economic groups, to spread activities and programmes to promote Vietnamese culture in France in particular and Europe in general, he stressed.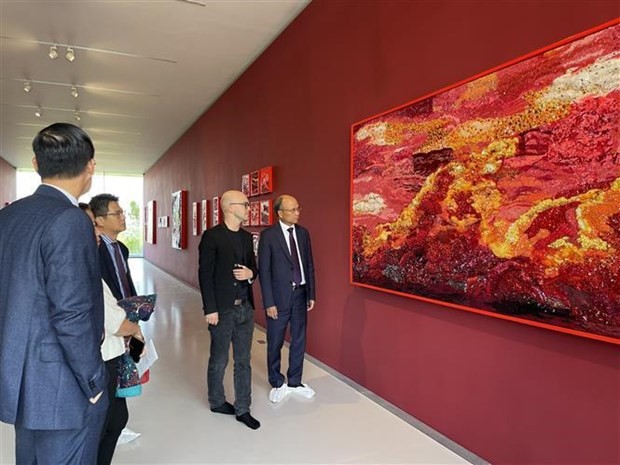 Vietnamse ambassador to France visits an exhibition by Vietnamese painter Tia-Thuy Nguyen at Château La Coste. Photo: VNA
Vietnamese Ambassador to France Dinh Toan Thang said that France is the cultural cradle of the world, so the maintenance of the attractiveness of cultural events organised by the Vietnamese side is a big challenge.
Therefore, it is necessary to innovate ways of doing and cultural products, and improve the quality of the products and services to attract the public, and meet more demanding and ever-changing tastes.
This requires a commensurate investment in terms of both financial and human resources, he added.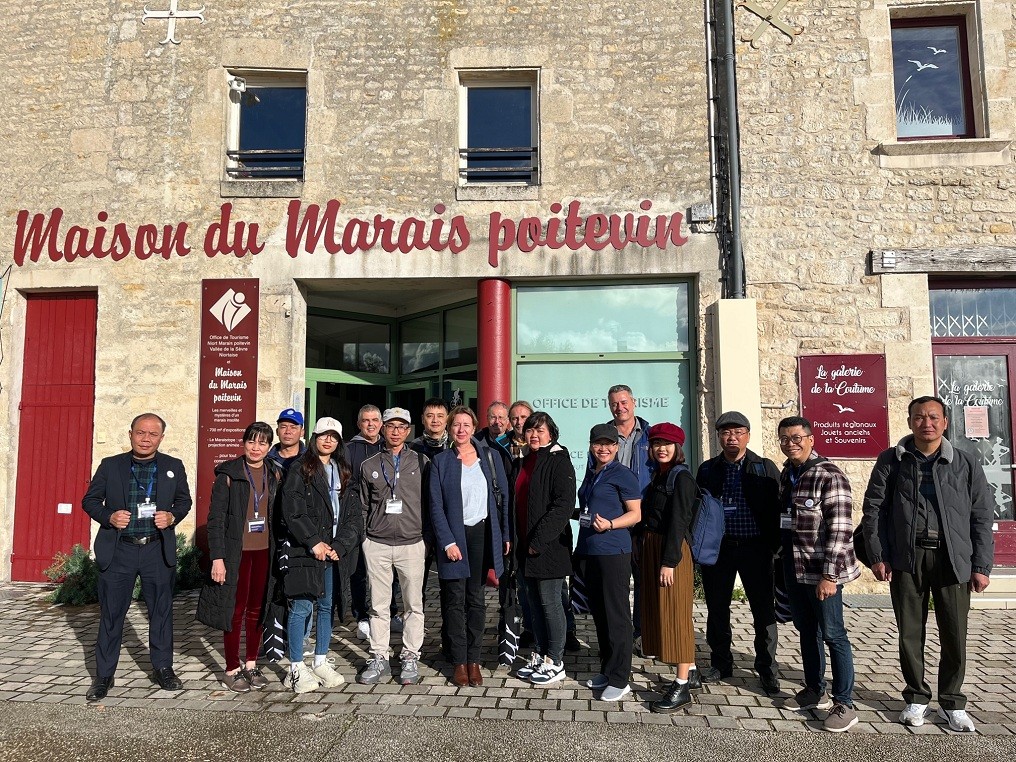 A Vietnamese delegation of 12 experts from museums, universities and national parks came to France to visit and exchange experiences at the Marais Poitevin Regional Natural Park , within the framework of the project named "Share and protect Vietnam's heritage". Source: French embassy in Vietnam
The year 2023 is forecast to be particularly eventful with a series of activities held in both countries to celebrate the 50th anniversary of the Agreement on Ending the War and Restoring Peace in Vietnam (the Paris Peace Accords for short), the 50th anniversary of diplomatic relations and the 10th anniversary of strategic partnership between Vietnam and France.
In this spirit, many activities have been planned, in which a series of cultural exchange programs, food, fashion, tourism will be kicked off at the beginning of the year such as Ao Dai performance, ethnic musical instruments introduction, exhibition featuring worshiping paintings of the Dao people; activities marking the birthday of Father Alexandre de Rhodes - who perfected Latin-alphabet Vietnamese script, called Quoc-ngu.
Promoting Vietnam's culture - tourism and trade promotion at two international fairs in Paris (April 2023) and Marseille (September 2023); connecting with cities' authorities to organize events to introduce culture and promote Vietnam's tourism; maintaining participation at events such as Consular Festival in Lyon, Ici Vietnam Festival in District 5 Paris, Humanitarian Press Association.
Traditional festivals such as Lunar New Year, National Day, and Mid-Autumn Festival are also held on a large scale. In addition, the Vietnamese Embassy and Culture Centre in France will also support Vietnamese associations to organize activities on the occasion of holidays, traditional Tet, Mid-Autumn Festival not only in Paris but also in other localities of the host country.
At present, over 300,000 Vietnamese are living in France. Therefore, the organisation of teaching and learning Vietnamese in France has been paid special attention along with the ethnic music and martial arts classes for children of the Vietnamese community, and French friends who love Vietnam, from that serves as a springboard to expand to other localities in France.
Friendship
On March 25, the 92nd anniversary of the founding of the Ho Chi Minh Communist Youth Union took place at the Russian Presidential Academy of National Economy and Public Administration (RANEPA) in Moscow.