"Da Lat of the Central Highlands": An Emerging Tourist Site
Shared a lot by travel enthusiasts on social networks in recent times, the land of Mang Den (Kon Tum) possesses many captivating elements, like a version of Da Lat many years ago.
Mang Den town in Kon Plong district, Kon Tum province - is a plateau in the Truong Son range with an altitude of over 1200m above sea level. The weather in Mang Den is cool and mild all year round, the vegetation is rich with conical mountains, trees, leaves, and flowers. This place is still very pristine, not noisy and crowded. So this beautiful village is likened to Da Lat of the mountains and forests of the Central Highlands.
Like the rustic, simple, and wild personality of the people of the Central Highlands, although Mang Den is a tourist area, the development here is still quite slow, not noisy, and industrial. Mang Den is a land of great religious significance for Catholics, where the famous and sacred Mother Mang Den is located. Therefore, for the people here, the purity and peace of the land is the most important thing.
To get to Mang Den, visitors will have to cross winding mountain passes, surrounded by ancient forests, green valleys, and cool small waterfalls, and then pass through quiet villages and peace in the rice fields. Wild, poetic, quiet, and a little mysterious are the first impressions of visitors when they come to Mang Den.
In Mang Den, there are not too many exciting destinations, but the tourist attractions here are very "high-quality" with many check-in photo angles for visitors.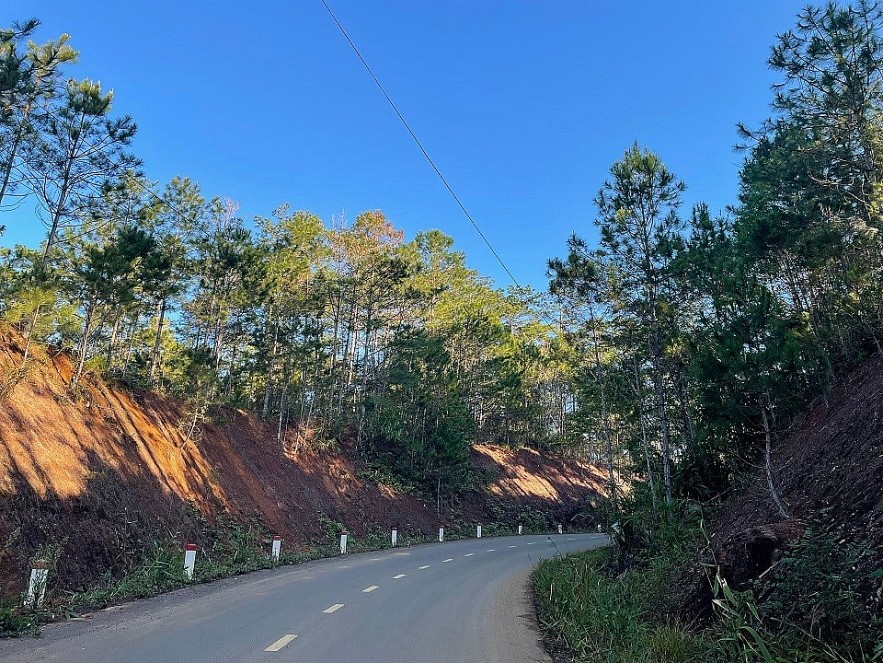 Photo: vietnamnet.vn
Dak Ke Lake and Dak Ke Waterfall
Dak Ke Lake is only about 1km from the main road. Dak Ke Lake is one of seven lakes from the legend of the Kon Tum people, considered the embodiment of gods in the sky.
At Dak Ke Lake, the water is always green and clear, around the lake are long rows of trees, and a few houses on stilts. The combination of these elements creates an extremely poetic scene.
Besides Dak Ke Lake, Dak Ke Waterfall is also a place that visitors should not miss. This fresh and pristine waterfall is located deep in the mountains, visitors can walk to explore and feel the beautiful scenery of nature here.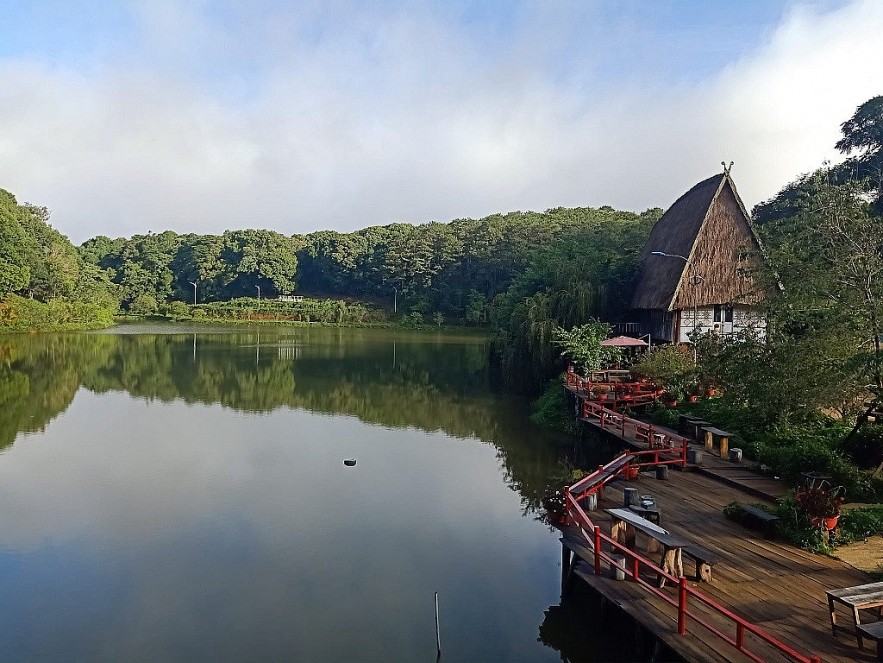 Photo: vietnamnet.vn
Pa Sy Waterfall
Pa Sy Waterfall is the largest waterfall in Mang Den, made up of the 3 largest streams, located at an altitude of 1,500 meters above sea level. Pa Sy Waterfall is not as majestic and noisy as other famous beautiful waterfalls in the Central Highlands, but gentle with a white stream. This waterfall is extremely beautiful with rustling leaves, echoing birds, and falling sounds.
When visitors come to this waterfall, they will encounter a garden of wooden statues - a typical cultural feature of the Central Highlands people, showing the status, activities, and relationships of the community like the statue of a mother carrying children, people drinking wine, people on the fields, and people weaving cloth.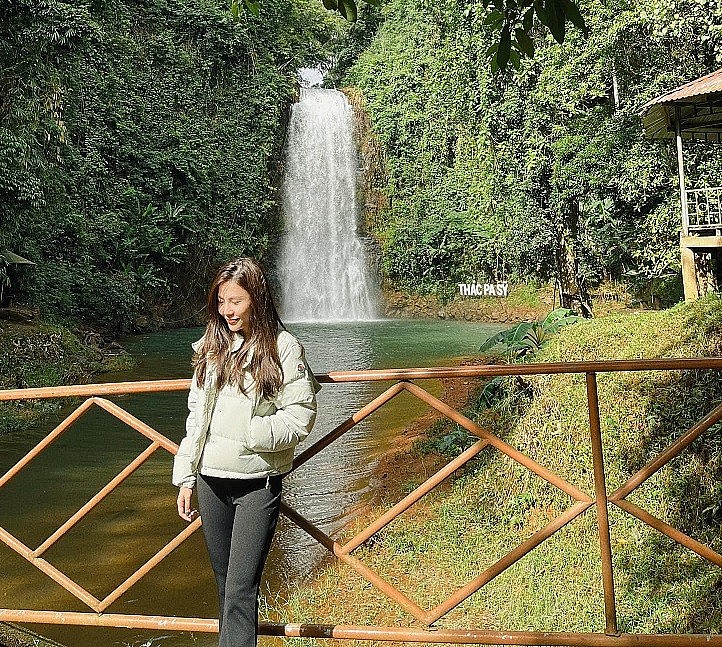 Photo: vietnamnet.vn
Mang Den Pine Forest
Another very poetic place in Mang Den is the primeval pine forest, about 10 km from the center of Kon Plong. On a vast plain, immense is the hill of Po mu pine, which has been planted for a long time, soaring with many other plants such as orchids, cinnamon, and myrtle. This will also be an ideal place to visit because guests can camp here.
Photo: vietnamnet.vn
Konbring Village
Konbring village is one of four community-based cultural and tourism villages in the Kon Plong district, with more than 90% of Ka Dong ethnic people.
Located among the vast rice fields, this small village contains the typical traditional culture of the Central Highlands people. Visitors will be able to visit Rong houses, enjoy can wine, and watch the gong performance. In Konbring village, the most peaceful moment is probably in the late afternoon, when children are lounging around in the yard, the smoke from the kitchen rises up with the gentle sunshine at the end of the day and the wind humming. That moment will make everyone suddenly realize, it turns out that peace is as simple as that.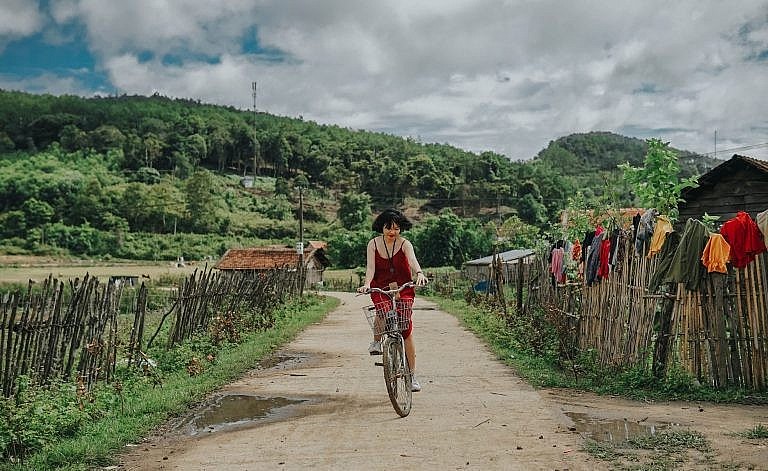 Photo: vietnamnet.vn
Cloud hunting on Our Lady of Mang Den Street
At Mang Den, there is also another very special activity which is hunting clouds. The clouds here are as beautiful as Da Lat. The fluffy white clouds swooping down to embrace the mountains and the people is a very magical scene.
In addition to the above attractions, Mang Den also has very unique dishes such as Mang Den grilled chicken, Akay snakehead fish soup cake, and Mang Den pepper hot pot. These are all delicious dishes when the weather turns cold.
Life in Mang Den is actually very calm and simple. It's just that the mornings are awakened by chilly winds with the gentle scent of wildflowers, grass, and pine needles, and the night is cuddled and lulled by cups of spicy cannabis wine. That is enough for visitors to come to Mang Den and never forget.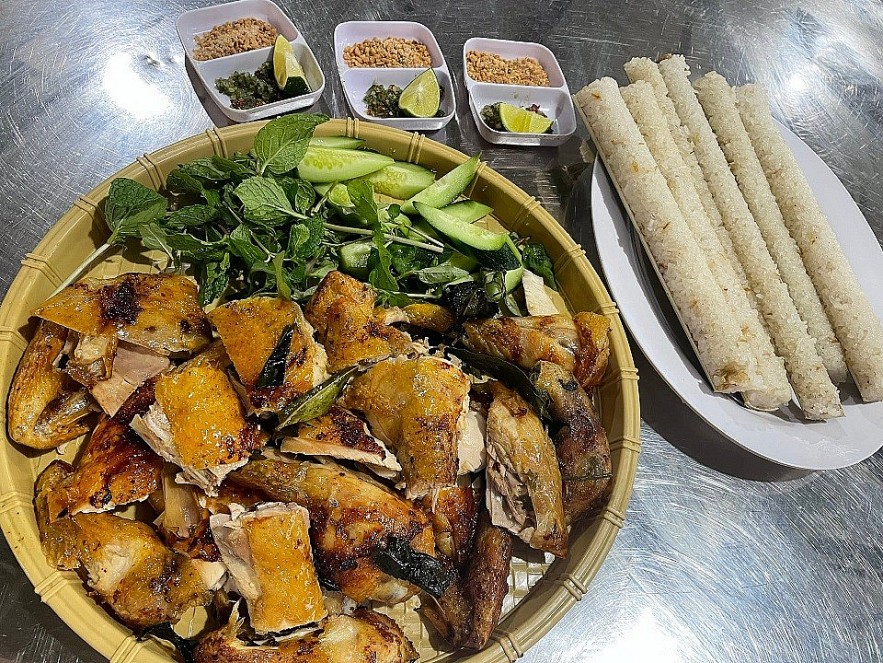 Photo: vietnamnet.vn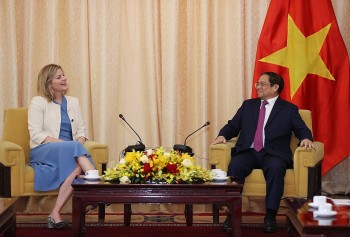 National
The Netherlands committed to cooperate with Vietnam, and together find innovative and sustainable solutions to accelerate green economy transformation.