Da Nang, Hoi An ready for New Year holiday
Visitors to the central coastal city of Da Nang this New Year will find themselves immersed in a celebratory atmosphere, as the city is planning many festive activities.
(VNF) - Visitors to the central coastal city of Da Nang this New Year will find themselves immersed in a celebratory atmosphere, as the city is planning many festive activities.
Tourists enjoy the Winter Festival at the Ba Na Mountain resort in Da Nang City. (Photo courtesy Ba Na Hills)
Specifically, renowned resort Ba Na Hills is celebrating the Winter festival with the theme Sac Dong (Winter Colours), which will go on until the end of December. The event offers many colorful performances of art forms including circus acts, rollerblading and dancing.
Meanwhile, Da Nang Museum and Marble Mountains Tourist Area will welcome the first visitors of 2018 to these destinations on the first day of the New Year.
Other popular tourist attractions within the city are also preparing to welcome their first New Year visitors through various activities such as renovating their structures, preparing welcome banners, ensuring environmental sanitation and safety and offering attractive promotional programmes.
According to Da Nang's tourism authority, the number of visitors to the city during the New Year 2018 is expected to reach nearly 143,000, an increase by 17,9 per cent in comparison with the same period of 2017, among which, international visitors are estimated to reach over 81,000, increasing by 16,2 per cent, while the domestic ones are estimated to reach over 61,000, increasing by 12 per cent.
Tourists to the coastal city this festive occasion will also have the chance to travel via some new air routes such as Incheon-Da Nang, Hong Kong-Da Nang, Busan-Da Nang and Deagu-Da Nang or Osaka-Da Nang, which have been recently exploited by Vietjet Air, Eastar Jet, Jestar, T'way Air, and Air Busan.
Visitors enjoy artificial snowfall in Da Nang on Christmas holiday. (Photo: VNA)
On this occasion, the city's tourism authority will hold a ceremony welcoming the first flight arriving at Da Nang International Airport on New Year day. Meanwhile, a ceremony to receive first four ships arriving at Tien Sa Port will be organised on January 1st, 2018.
A "Welcoming New Year 2018" programme will take place in the ancient town of Hoi An in the province of Quang Nam from December 24th to January 2nd to promote local tourism among domestic and international tourists.
The event will include a variety of exciting activities organised in An Hoi Garden of Statues such as night traditional arts performance and cuisine showcase, a photo exhibition featuring photos of Quang Nam's tourism by both professional and unprofessional photographers nationwide, a dancing festival entitled "Spring Dances" featuring performances by local high school students and a musical night with many local jazz bands.
Another highlight of the programme will include the re-appearance of Hoi An town in the early 20th century, the ceremony of honouring the travel agent who has brought the most tourists to the town, a flash mob performance and a lucky lottery, which will all be celebrated on December 31st.
Besides, a ceremony to welcome the first group of tourists to Hoi An will take place at Chua Cau (Bridge Pagoda) on January 1st.
The festive event is expected to leave an unforgettable impression on tourists arriving in the town for the New Year.
Tourism sector need to step up restructuring
On January 16th, 2017, the Politburo issued the Resolution No.08-NQ/TW on developing tourism into a spearhead economic sector. The third session of the 14th National Assembly adopted the 2017 Tourism Law. These policies have set out strategic development directions for the country, particularly the tourism sector as well as promoted the innovation thinking in developing tourism under the market economy laws, creating a legal corridor and clearing resources for the development of tourism.
The policies have been gradually implemented by the tourism sector and relevant agencies, bringing some positive changes. In 2017, a large number of enterprises were mobilised to participate in the tourism promotion, while popular channels were persified through the internet and social networks.
The issuance of e-visa and reform of the entry procedure towards a more simple system have created favourable conditions for visitors; meanwhile the tourism infrastructure has been upgraded, contributing to improving the quality of service. Cultural and heritage tourism forms have been increasingly exploited as a special strength, attracting numerous international friends.
The tourism sector's achievements this year are very encouraging. However, it is straightforward to admit that Vietnamese tourism still has many shortcomings and weaknesses, such as lack of seriousness in planning leading tourist destinations, causing disorder and breaking the natural beauty and environment of many coastal areas and national tourism areas. In addition, the lack of tourist accommodation and special tourism products as well as human resources serving for the sector is one of limitations of the country's tourism sector. Therefore, it is essential to drastically implement projects to restructure tourism, considering as a core measure to maintain sustainable growth.
This year Vietnam welcomes 13 million foreigners. (Photo: Internet)
Speaking at the meeting of the State steering committee for tourism on December 26th, Deputy Prime Minister Vu Duc Dam, head of the State steering committee for tourism, applauded the increase in the foreign tourist number, noting that more attention should be paid to quality.
He asked the tourism sector to improve products, accommodation facilities, manpower, as well as museum and theme parks, while devising appropriate strategies and plans. It must successfully carry out the plan on restructuring the tourism sector so as to develop tourism into a spearhead economic industry as set forth in the Politburo's Resolution No. 08-NQ/TW.
At a workshop in Hanoi on December 22nd, Nguyen Quoc Ky, Vietravel Director, said the restructuring needs a clear roadmap which identifies priority tasks, adding that it is also necessary to pinpoint the competitive strength and advantages of localities in order to design typical tourism products.
"It is a must to create new and special products designed for different segments of customers, focusing on those from high spending markets like Europe," he said./.
VNF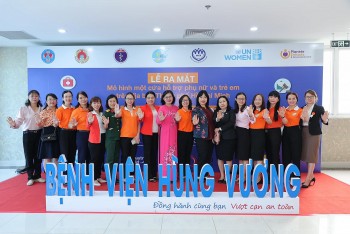 Viet's Home
What is the one-stop centre for women and children experiencing violence?