Dariu Foundation launches Scratch training course for over 200 teachers in Hau Giang
Recently, the Dariu Foundation joined with Hau Giang Union of Friendship Organizations opened a training course on Scratch for elementary and high school's teachers in the province.
Recently, the Dariu Foundation joined with Hau Giang Union of Friendship Organizations opened a training course on Scratch for elementary and high school in the province.
The course aims to improve the knowledge on informatics, innovative teaching methods and creative tips engaging students to learn for teacher in the Mekong Delta and assisting them in teaching other subjects. The advance Scratch training course in Hau Giang is among a series of activities on basic and advance scratch organized in other provinces such as Vinh Long , Tien Giang, Tra Vinh, Ben Tre, An Giang, Soc Trang for over 200 teachers from September 22 to October 28.
The Dariu Foundation awards scholarships for students in Tan Phu district.
Le Van Thao, Chairman of Hau Giang Union of Friendship Organizations said, the project "Enabling Boat" implemented in Hau Giang brought positive change in teaching, learning as well as creation and active access on informatics to both teachers and students.
"I'm highly appreciate the positive impacts over the past 3 scratch training courses managed by the Dariu Foundation in Hau Giang. I hope this advance course could assist teachers handling obstacles in teaching and enhancing skills," the chairman said in the opening ceremony.
Over two days of training, teachers were instructed with Advanced Scratch Programmer knowledge; Adurino application robot and Bluetooth connection; guide to creating educational games on the Scratch programming platform.
At the scratch training course in Hau Giang.
One of the attendee, Nguyen Viet Duc, teacher of Ngo Quoc Tri Junior high school (Vi Thuy District, Hau Giang Province) shared the school, normally, still teaches computer science but with Scratch, lively pictures attract students to learn. Through them, children would get to know and come to love programming language.
Initially, through mentoring and referral for students, many of our students have registered to participate in the the Department of Science and Technology's creative competition. A student of the school has won three provincial prizes.
Uprising the passion for Scratch
According to the Dariu Foundation's representative, in Vietnam, computer literacy is still an unaffordable luxury for most children, especially in the rural areas. In most schools, even in high school, there are no computers for students to learn basic computer skills.
Many schools lack of computer rooms for basic computer-based subjects is common. This leads to the fact that many students do not even have access to the internet even when they graduate from high school.
Bicycles presented to students.
Bicycles presented to students.
Nowadays, internet access has been promoted for all schools across the country, but the difficulty of equipping facilities and improving the capacity of teachers remains a major challenge in the district. In rural areas, in the Mekong Delta, this same problem also occurs.
Recognizing the importance of knowledge and skills in applied informatics, computer science, internet programming and programming universalization for rural children in the Mekong Delta, the Dariu Foundation implemented the project to provide computer skills but also programming skills through training classes; to improve opportunities for rural students in the ICT field, and enable them to learn computer science and coding.
The Dariu Foundation (TDF) is an international non-governmental organization based in Switzerland with activities focusingon microfinance and education. The Foundation officially put into operation in Vietnam in 2007./.
Translated by Van Anh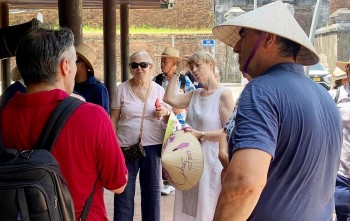 National
Vietnam News Today (Mar. 29): Vietnam to issue e-visa to foreigners of all countries; Vietnam, China beef up defence ties; Outbound tours prove popular during April holiday; Vietnam International Travel Mart 2023 to spotlight cultural tourism.