Denmark's Cooperation Orientations in Green Growth Suitable to Vietnam
Denmark's cooperation orientations in green growth are suitable to the development policy of Vietnam, said the outgoing Danish Ambassador to Vietnam.
Upon completing his mission in Vietnam at the end of the summer, Danish Ambassador Kim Højlund Christensen have had farewell meetings with high-level Vietnamese officials, including the Permanent Deputy Prime Minister Pham Binh Minh, Minister of Foreign Affairs Bui Thanh Son and President of the Vietnam Union of Friendship Organisations (VUFO) Nguyen Phuong Nga.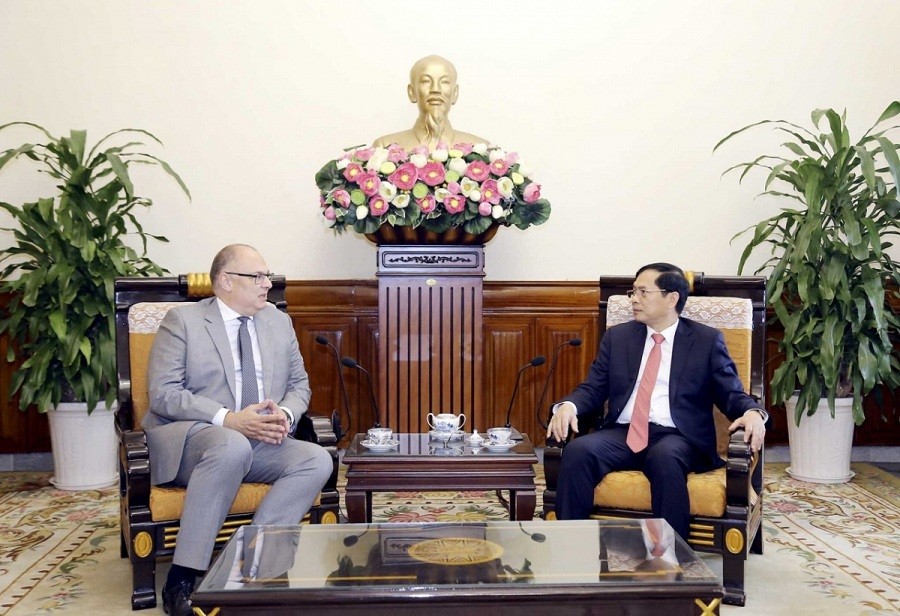 Foreign Minister Bui Thanh Son (R) receives Danish Ambassador to Vietnam Kim Højlund Christensen. Photo: VNA
Vietnam and Denmark should continue to coordinate closely to optimize their cooperation potential in areas of Denmark's strength and Vietnam's demand, especially in climate change, environment and green growth. The two sides should also expand partnerships in education - training, high-tech agriculture, and people-to-people exchange.
Foreign Minister Bui Thanh Son made the suggestion at a reception for Ambassador Kim Højlund Christensen in Hanoi on July 6.
Hailing the effective contributions by the ambassador to the development of the Vietnam-Denmark comprehensive partnership, Son noted that despite Covid-19 impacts, Vietnam and Denmark has still maintained regular meetings between senior leaders as well as delegation exchanges at all levels.
Denmark is the third-largest European investor of Vietnam in 2022 and an important trade partner of Vietnam among EU members, with two-way trade growing positively to US$588 million in 2021, he said.
Denmark is one of the first EU countries to approve the EU-Vietnam Investment Protection Agreement (EVIPA), he added.
For his part, Ambassador Christensen expressed his impression at the progress of the Vietnam-Denmark relations and thanked the Vietnamese Ministry of Foreign Affairs, ministries, sectors and localities for supporting the Danish Embassy and the diplomat during his working term in Vietnam.
He held that Denmark's cooperation orientations in green growth are suitable to the development policy of Vietnam, affirming that the Government and business community of his country are interested in working with Vietnam in this field.
The ambassador pledged that he will continue to work hard to reinforce the friendship between the two countries.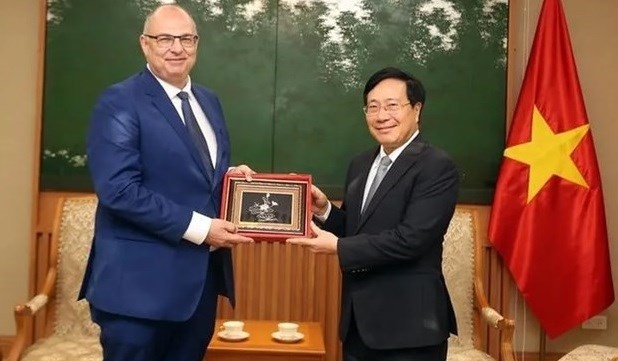 Permanent Deputy Prime Minister Pham Binh Minh (right) hosts a reception for outgoing Ambassador of Denmark Højlund Christensen on July 5. Photo: VGP
Earlier, on July 5, Permanent Deputy Prime Minister Pham Binh Minh spoke highly of the guest's contributions to bringing green projects to Vietnam during receiveing the outgoing ambassador.
Ambassador Christensen has left an imprint in Vietnam by pushing for Denmark-based LEGO Group to invest in Binh Duong, Minh said, adding that what makes the LEGO project special is that it will use clean energy which is well aligned with Vietnam's priorities.
He further noted that following LEGO, another Danish renowned company – Pandora – has pledged to pour US$100 million into a jewelry-crafting facility also using renewable energy at the Vietnam – Singapore Industrial Park 3 (VSIP3) in Binh Duong.
Minh expected both projects will not only pave the way for a new wave of investment into those using the renewables in Vietnam but also help the country attract value chain investors.
With his competency, experience and passion, Ambassador Christensen has played a significant part in expanding the long-standing friendly relations and cooperation between the two peoples throughout his mission in Vietnam, the Deputy PM said.
He particularly underscored the Danish Ambassador's role in fostering the effective implementation of the two countries' joint Energy Partnership Programme from 2017 – 2022.
The foreign diplomat expressed his affection for Vietnam's nature and people during his four-year term of office.
He also thanked the Government of Vietnam for facilitating LEGO Group's goal to build its first carbon-neutral factory.
Denmark was among the first in the Europe establishing diplomatic ties with Vietnam (November 1975). It was also the first North European country to lift the bilateral ties with Vietnam to a comprehensive partnership.
It has remained among Vietnam's largest ODA providers for years, whose projects mainly focused on enhancing climate resilience.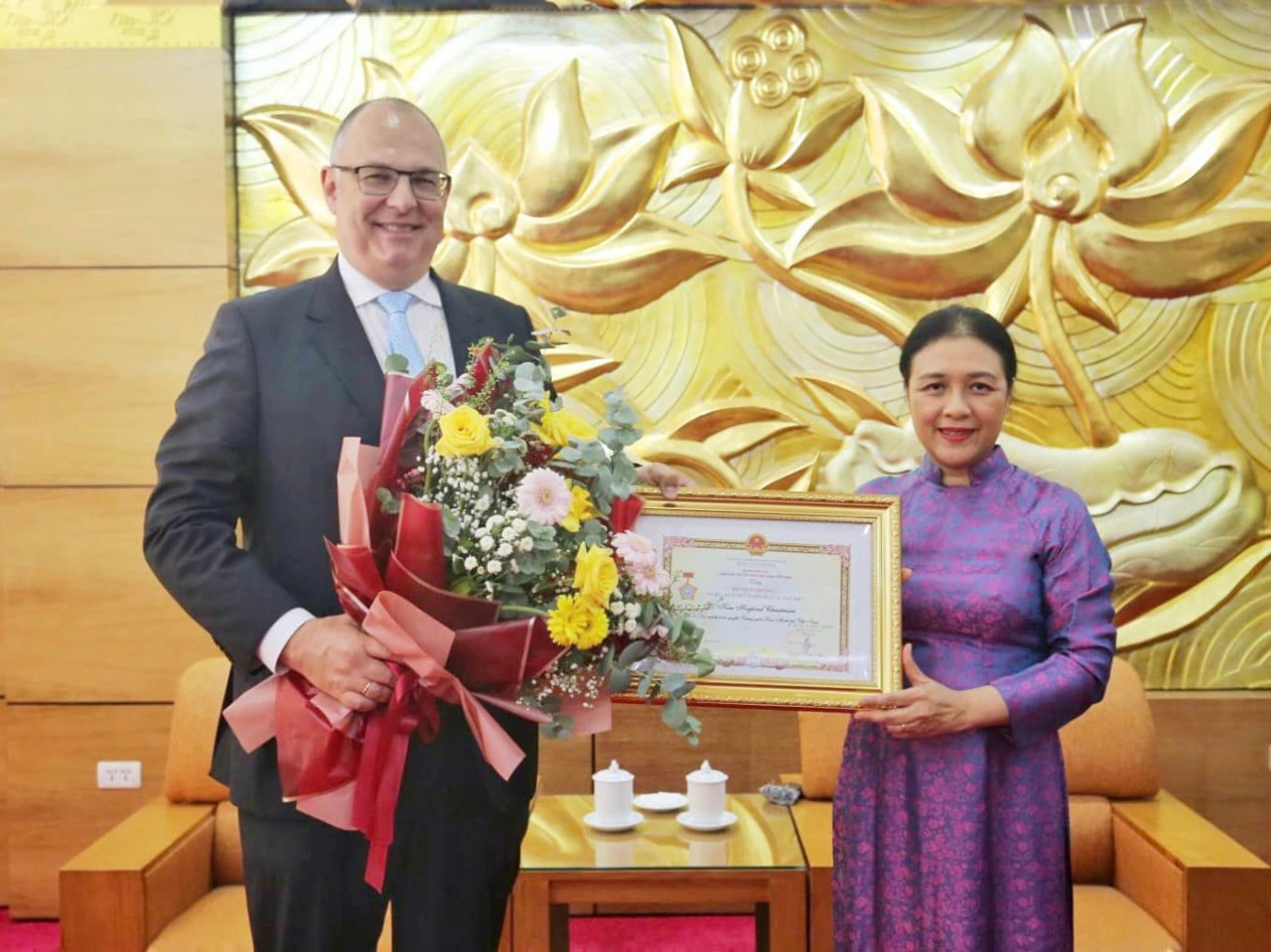 Danish Ambassador to Vietnam Kim Højlund Christensen on July 4 was awarded the insignia "For peace and friendship among nations" for his contributions to promoting traditional friendship and cooperation between Vietnam and Denmark.
Receiving the honourable medal "For peace and friendship between the two countries" by the VUFO, the Ambassador expressed his strong appreciation for a fruitful tenure in Vietnam and confirmed "Once a friend, always a friend."