Doan Thi Huong to be released May 3
Celebrations are in order for Vietnamese inmate Doan Thi Huong, who is set to be released from Kajang Women's Prison, just outside of Malaysia' capital Kuala Lumpur, at 9am May 3.
Having been initially on the hook for murdering the half-brother of North Korean leader Kim Jong-un at Kuala Lumpur International Airport 2 using VX nerve agent along with her Indonesian accomplice, Siti Aisyah, her impending release is positive news for Doan, the only figure charged and convicted in the assassination.
Doan Thi Huong was filmed practicing at the airport two days before the incident
Having plead guilty to a lesser charge of causing voluntary hurt by a Shah Alam High Court, and she served a total of three year and four months in jail, dating back from the time of her arrest.
So, shorter than the time Remy Ma spent in the clink, but more than Gucci Mane.
Doan is expected to board a flight home to Vietnam on the day of her release, with her lawyer telling media that she has an evening flight booked on Vietnam Airlines.
VNF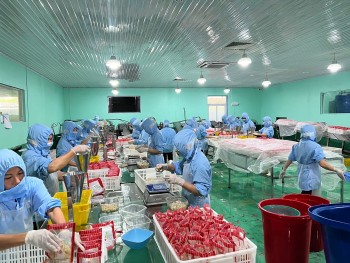 Focus
Not only agricultural products, traditional dishes of Vietnam also penetrate into difficult markets, bringing great revenue to businesses and people.