Education for sustainable development in community
Recently, the Ke Sach Management Board of Supporting Program for Development coordinated with Ke Thanh People's Committee held a launching ceremony to establish the "Education and Community Development (REFLECT)" group in Cay Sop hamlet, Ke Thanh commune, Ke Sach District, Soc Trang province, supported by ActionAid Vietnam (AAV).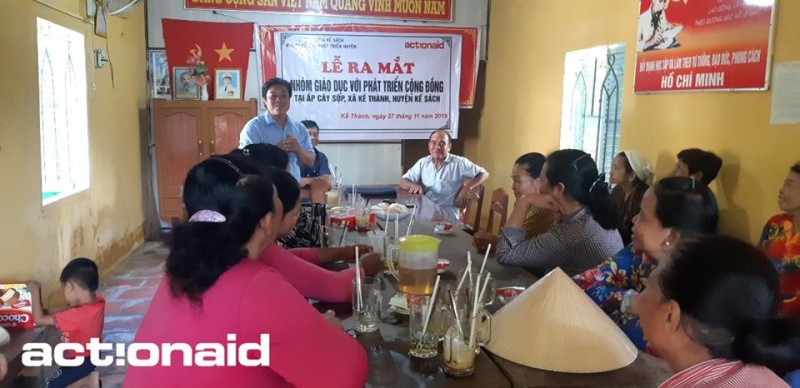 Photo: AAV
With this integration of literacy learning and development, participants attending the REFLECT learning circles not only effectively improve literacy levels but also, most importantly, are empowered with comprehensive life-skills, techniques, self-confidence and capability to analyse and act both independently and collectively to solve their problems.
The group consisted of 17 members who are women above the school-age range, who have limited cognition, illiteracy or weak or poor literacy. The members were guided by the team member of the Reflect group, who helped them a way to read and write through the alphabet and calculate numbers to improve their cognitive ability and literacy. Also, participants were equipped with basic knowledge in Women's Rights, Rights in the community, livelihoods and other related issues based on the needs of the people. Thereby, creating a healthy, voluntary and enthusiastic lifestyle to participate in social and cultural activities in the community in the area.
Thach Thi Thu Ha, a 55-year-old Khmer ethnic minority shared, when the local authorities came to encourage her to join the Education and Community Development group, she was very vague and afraid to participate because of the "self-deprecating feeling as I am illiterate".
"However, when I came and was informed about the project on how it works, I began to be interested in it and agreed to participate to help myself and improve my family life. At the same time, we will encourage more illiterate women to take part in the project.
Founded in the United Kingdom in 1972, ActionAid (AAI) is a unique international organization, working with over 25 million people in more than 40 countries for a world free from poverty and injustice.
ActionAid started working in Vietnam since 1989, established its Representative Office in Hanoi in 1992. Since then, it has been focusing the work to end poverty and promote sustainable development in mountainous, remote and difficult regions as well as poor urban areas across Vietnam. ActionAid works in partnership with local partners in different provinces and applies Human Rights Based Approach to its entire works.