(VNF) - According to Chairwoman of the Vietnam Union of Friendship Organisations (VUFO), former Head of the Vietnam Permanent Mission to the United Nations (UN) Nguyen Phuong Nga, Vietnam has enough reasons to be optimistic about the upcoming election for non-permanent membership of the UN Security Council (UNSC).
VUFO Chairwoman Nguyen Phuong Nga. Photo: VNF
Expectations and trust
We all look forward to Vietnam being elected as non-permanent member of UNSC tenure 2020-2021 with high votes. We have the reasons to be optimistic, first of all, based on the position, the prestige of Vietnam (VN) in the world, said VUFO Chairwoman.
According to her, VN is a brilliant role model which is highly admired and respected by international friends for its heroic struggle for national independence, effective postwar recovery, the ensure of human rights, achievements in economic reform, dynamic development and the people's traditional love for peace.
Vietnam's proactive role in ASEAN, the Asia-Pacific Economic Cooperation (APEC), Asia-Europe Meeting (ASEM) and the UN has also helped foster bilateral ties with countries, especially major ones.
Vietnam is widely regarded as an active, responsible member state of the UN that supports multilateralisation, strictly follows the UN Charter and international laws, she said, adding that Vietnam has participated in UN's many important policy-making agencies, with significant contributions to the organisation.
Other countries are very confident in the role and capability of Vietnam in international security through great contributions to crucial issues such as disarmament and non-proliferation of nuclear weapons, counter-terrorism, and has rich experience in handling ASEAN internal and regional affairs (including hosting the US-DPRK Summit in Hanoi). Vietnam also demonstrates its capability to act as a mediator, contributing to resolving any dispute, conflict by peaceful measures.
The Asia-Pacific Group at the UN on May 25, 2018 agreed to nominate Vietnam as non-permanent member of the UNSC for 2020-2021 tenure. It is a great advantage for us as there is no competition.
A dynamic and responsible member
Could you please share with us, in over 40 years of joining the UN, the largest global organisation, how has Vietnam contributed to the development of a sustainable development world?
In the last over 40 years, Vietnam has made a lot of contributions to UN, and participated in various UN's key agencies such as ECOSOC and UNSC.
At the end of 2016, for the first time, a representative of Vietnam was elected as the second Vice Chairman of the International Law Committee (ILC). We actively participate in all 3 pillar missions of UN, which are peace-security, development and human rights.
Regarding peace and security, Vietnam has always been proactive and actively cooperates with non-aligned and developing countries to fight for and protect basic principles of the UN Charter such as the principle of sovereign equality, non-intervention in other nation's domestic affairs; avoiding the threat or use of force, etc.
Conference themed Infrastructure that works for women: gender dimensions of energy held by Vietnam, Finland, Grenada, UNIDO, UN Women in March 2019.
In 2007, VN was elected as non-permanent member of the Security Council tenure 2008-2009. This was the first time VN had participated in the most important agency of the UN in terms of peace and international security.
During that period, while UNSC had to deal with massive workloads due to the emergence of complex security issues, we have successfully fulfilled our role, participating in decision making process in various issues, such as conflict settlement, post-conflict recovery, international terrorism, peacekeeping activities and improving the transparency of the UNSC.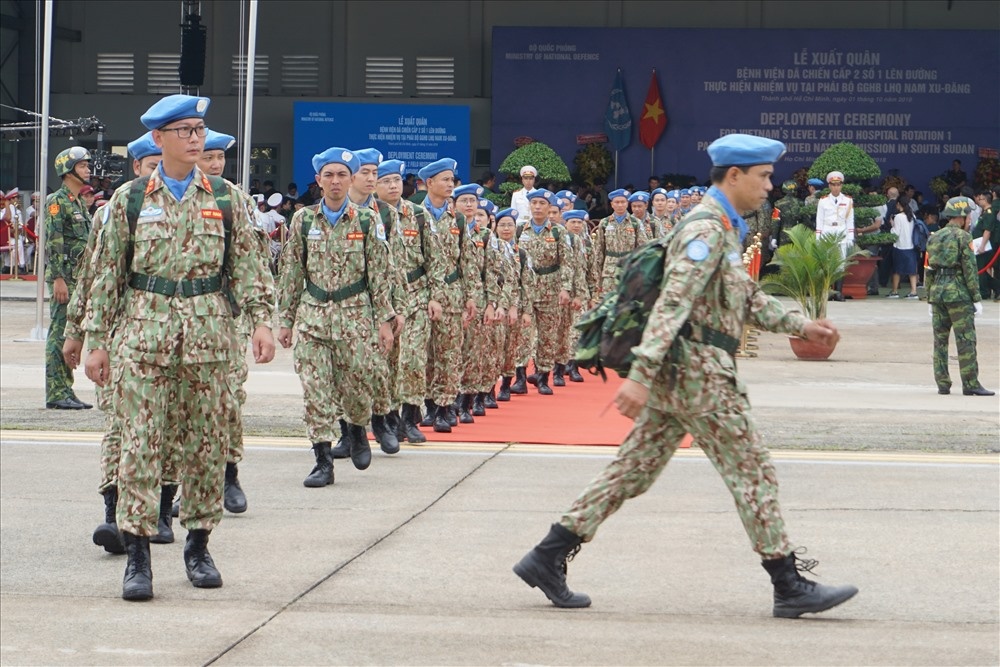 Vietnamese peacekeeping forces in South Sudan. Photo: VNA
Since 2014, we have sent officers of the Vietnam People's Army to participate in UN peacekeeping operations. In 2018 we sent the first level II field hospital to South Sudan with a team of over 60 doctors, medical personnels, contributing to the joint efforts of the UN and the international community in resolving conflicts and creating peace in the region and the world. Our officers are highly appreciated by the UN for their professionalism, military discipline, and professional qualifications.
VUFO Chairwoman speaks at UN as Head of VN Permanent Mission to UN in 2017.

As former Head of the Vietnam Permanent Mission to UN, how do you evaluate the role of Vietnam in multilateral forums?
Vietnam started its membership with UN in 1977 and has become an active and responsible member.
Also, Vietnam is one of the pioneers in promoting peace, progress and development in the world. The country has been a great supporter for UN Charter in building an equal, transparent and effective multilateral institution to fulfill the aspiration of people in the world.
Vietnam's contribution, particularly in the General Assembly, United Nation Security Council, UN Commission of Human Right ESOC receives great appreciation from the international community.
It can be said that Vietnam has proved its capabilities and reputation as an active and responsible member in helping shape international and regional rule and mechanism for peace and prosperity. Moreover, our contribution in the UN also raises our reputation as a peaceful, innovative, dynamic and progressive country.
Vietnam, partner for sustainable peace
During your term as Permanent Representative of Vietnam to the United Nations, our country was selected as the only candidate of the Asia-Pacific region for the non-permanent seat at UNSC (2020-2021 tenure), what do you think about this nomination?
On May 25, 2018, the Asia – Pacific Group nominated Vietnam as the region's only candidate for non-permanent UNSC seat. It was one of the best days in my term. Everyone in the Mission, both overseas and in Vietnam were delighted. The nomination which was made 13 months prior to the voting, was unprecedented, and it clearly signified regional countries' support and trust for Vietnam. This helped create favorable conditions for Vietnam to gain further supports from countries in other region.
Thank you very much, Madam Chairwoman!