Emerging in Cold Food Festival this weekend
This Saturday, the country will make or buyBanh Troi and Banh Chay in celebration of Tet Han Thuc (Cold Food Festival), which falls on the third day of the third lunar month.
Banh Troi (middle dish) are small white dough balls made of brown sugar, wrapped in glutinous rice flour.
Apart from the annual Lunar New Year Tet Festival, the Vietnamese people also celebrate several other smaller Tets throughout the year.
This is a traditional festival in some Asian countries such as China, Vietnam and also celebrated in some Chinatowns all across the world.
The Cold Food Festival is an occasion for families to gather and remember their ancestors. The festival is often held on the third day of the third lunar month or April 18 this year.
Originating from Chinese tradition, the festival nowadays has become popular in Vietnam, and is celebrated by Vietnamese people in both metropolitan and rural areas.
Nowadays, Vietnamese people eat glutinous rice balls not only on special occasion like Cold Food Festival, but also a daily snack. In the working day, many families do not have time to prepare the traditional glutinous balls, they buy it from local eateries. Although they can not make it by themshelves, their respectfulness to ancestor is never lost.
During this occasion, bánh trôi – Vietnamese floating cake, a traditional cake made of rice flour, mixed with water, sometimes extracted from grapefruit flowers, rock sugar, scraped coconut, sesame, and stuffed with grounded mung bean as a core, is displayed and offered to ancestors and Buddha.
The name floating cake came about from the way it is actually prepared.
After kneading the paste, it is tossed into water until the small balls of dough float.
Bánh Chay (lean cake), are also made of glutinous flour, however, they resemble boiled dumplings and are filled with green bean paste, sprinkled with sesame seeds and served in bowls with syrup floured with grapefruit blossom.
These two cakes are made from glutinous rice flour but have two distinctively different tastes.
These dishes have long been known for their pure white colour. Yet, colourful dishes of Banh Troi and Banh Chay have become an emerging trend among modern families.
The cakes are coated with vibrant colours from natural ingredients – pumpkin for yellow, magenta plant for purple, red from gac fruit, matcha for green and rice for pure white.
The festival is still maintained widely in most of the cities in northern Vietnam, especially in Hanoi and its surrounding provinces.
Origin of Cold Food Festival
Rarely do most of the citizens in Vietnam nowadays have any idea about the story behind their event.
The story goes that during the Spring and Autumn period (770- 476 BC), Jie Zitui, a nobility of the Jin State, followed his exiled lord Chong Er for more than 10 years. He once cut off flesh from his thigh for the hungry Chong Er to eat.
When Chong Er was reinstated as the king of the Jin State, Jie took his mother with him to the Mianshan Mountain of Jiexiu and led a secluded life there. Chong Er sent his men to look for Jie and in order to coax him out of the mountain, they set fire to it.
Unfortunately, Jie would not come out, and he and his mother were burned to death in the mountain. When Chong Er heard of this news, he felt very sad, and ordered that from then on no fire would be made on this day - the day before the Pure Brightness Festival.
Later, the Cold Food Festival became popular all over China. At today's Mianshan Mountain, which has become a tourist attraction, there are great statues of Jie and his mother, to show people's respect for their indifference to fame and money.
However, some scholars believe that the custom of eating cold food started long before the time of Jie, and can be traced to more than 2,000 or 3,000 years ago, when Chinese people followed a custom called "fire change". They believed that old firewood had to be put out with, and replaced, by new firewood to start a new year, or there would be bad luck. Hence, they prepared foods that did not need to be heated before eating, when the old fire was put out.
A glutinous rice flour kit for homemade banh troi and banh chay.
Due to the influence of Chinese culture, the Vietnamese also made the Cold Food Festival. Although originating from China, but the Cold Food Festival of Vietnamese people still has their own nuance, bearing bold Vietnamese. On March 3 of lunar calendar, people eat cooled cooked food and with the most sincere heart, they remember the nourishment of the deceased.
Unlike Cold Food Festival in China, on this day the Vietnamese do not abstain from the fire, still cook normally. Especially, the Vietnamese also create floating cake, vegetarian cake with symbolic meaning that the "Cold Food"./.
VNF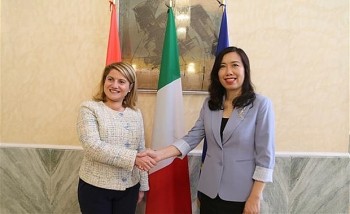 Friendship
The Vietnam - Italy political consultation is part of the occasion of the 50th anniversary of diplomatic ties and the 10th anniversary of the framework of the strategic partnership.