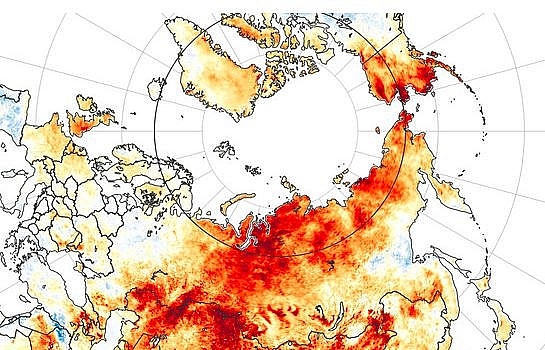 Land surface temperatures in Siberia in June 2020 were hotter than average for the same period from 2003-2018. , by NASA Earth Observatory
Siberian heat wave is driving massive wildfires, sea ice melt in Arctic
The World Meteorological Organization warned in 24 July that temperatures in Siberia were about 18 degrees F above average in June as devastating fires rage across the Arctic and ice melts off the Arctic coast.
The Siberian heat wave and record heat in the Arctic would be virtually impossible without human-caused climate change. A Siberian town reached a record 100.4 degrees Fahrenheit in June.
"What happens in the Arctic does not stay in the Arctic," WMO Secretary-General Petteri Taalas said.
Dramatic Arctic fires and sea ice melt, show need for urgent climate action
According to the UN agency, temperatures in Siberia have been more than 5C above average from January to June, and in June up to 10C above average.
"Some parts of Siberia this week have again topped 30 degrees Celsius – so it's been warmer in Siberia than…many parts of Florida", said WMO spokesperson Clare Nullis at a press conference in Geneva.
"We've had exceptional and prolonged heat for months now and this has fuelled devastating Arctic fires; and at the same time we're seeing rapidly decreasing sea coverage along the Arctic coast", she continued, noting that their estimated total carbon emissions since January are the highest in 18 years, when the Copernicus Atmosphere Monitoring Service of wildfires began.
The development follows an astonishing reading of 38°C in the Russian town of Verkhoyansk on 20 June.
This has been confirmed by the Russian Federal Service for Hydrometeorological and Environmental Monitoring (Roshydromet); WMO is in the process of establishing a committee to assess that decision.
Uncontrolled Arctic Fires Spread Through Region
A woman near the ruins of a summer house destroyed by a fire in a dacha community in Moshkovo District, Novosibirsk Region, south Siberia. Novosibirsk Region is experiencing hundreds of fires believed to have been caused by burning old grass. Photo: CNBC
The Arctic Circle, home to some of the coldest places on Earth, is on fire. Intense wildfires are wreaking havoc in parts of Russia, Greenland and Alaska as the region faces yet another record-breaking heatwave. Scientists are now warning that these fires may become a regular occurrence, a grim reminder of the consequences the world will face as global temperatures continue to rise to unprecedented levels.
For several months, regions like Siberia have been suffering under extremely high temperatures and a relentless heat-wave. A recent study revealed that throughout the months of March, April and May, the Arctic region saw an average temperature that was nearly 10°C (18°F) higher than normal. According to Dr. Robert Rohde of Berkeley Earth, Russia alone experienced an average temperature anomaly of nearly 6°C (11°F) above normal between January and April of 2020.
"That's not only a new record anomaly for Russia," says Rohde. "That's the largest January to April anomaly ever seen in any country's national average."
Within the last month, fires in Siberia released 59 megatonnes of carbon dioxide, breaking the previous record set in June of 2019. This figure alone is greater than the amount of carbon that countries such as Norway, Ireland and Portugal release within a single year.
Le Dang