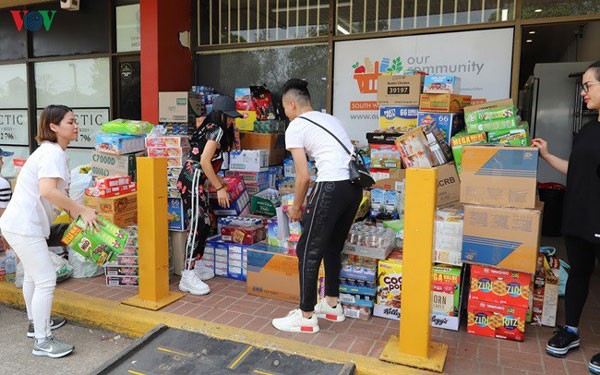 Vietnamese in Australia support goods for the wildfire victims. Photo: VOV
In the morning of January 6, Ms. Bella, along with her friends, transported more than 7 tons of dry food such as cakes, meat, canned fish, noodles and milk to a specialized organization which is in charge of receiving relief goods, then delivering it to victims of wildfires.
"The wildfires in Australia have been going on for more than a month. The situation is very terrible. I read on newspaper that most people in the burnt area lost their home. So, I have called on my friends to support them."
The destination of Lan Bella's group is the non-profit organization Our Community Panty, which receives charity goods and supplies them to the community near Balmoral town, one of the most heavily damaged places.
Paula Zrilic, founder of Our Community Pantry, said since the wildfire over the last weekend, the organization has provided 1,000 meals to firefighters and residents affected by the disaster.
"On Thursday, while people were told to evacuate, we decided to stay. I saw a lot of firefighters working relentlessly and I thought who would cook for them, or who would bring them water. So we stay here to prepare thousands of meals for firefighters and residents also."
Unable to bring relief supplies to the needy like what Bella's group do, many Vietnamese have other ways to provide assistance to the victims.
Nguyen Anh Tuan, Director of the Sydney Signature Tour said:
"We try to help from the smallest things, like saving water, being more aware of the actions that can cause fires. Even for my friends, smokers, are very conscious of throwing up cigarette butts or putting out ashtrays. Those are just little things, then there are bigger things, like I am asking people to donate. My family, myself and my friends, also raise money for special assistance funds, to help firefighters and residents directly affected by the fire."
Australia is facing unprecedented wildfires. Millions of hectares of land and about 2,000 houses were burned. Environmental and economic damage are immeasurable. In the meantime, the spirit of community, solidarity and love is spreading strongly, which is a spiritual relief for all to believe that Australia will soon recover from this disaster.
VNF