Exhibition on Vietnam and Cuba's close bond opens in HCM City
A photo exhibition highlighting the friendship and solidarity between Vietnam and Cuba opened in Ho Chi Minh City on October 15.
A photo exhibition highlighting the friendship and solidarity between Vietnam and Cuba opened in Ho Chi Minh City on October 15.
Children admiring photos on display at the exhibition. (Photo: baovanhoa.vn)
The event was organised to mark the 58th anniversary of the two countries' diplomatic ties whilst also celebrating the 150th anniversary of Cuba's National Culture Day and Vietnamese Women's Day.
In the contemporary history, there is no relationship as special as the one between the two Parties, Governments and people of Vietnam and Cuba. The two nations have always stood side by side in the struggle for national independence, freedom and happiness of their people.
The two-week exhibition displays 68 documentary photos capturing the significant milestones in Vietnam and Cuba bilateral ties. Pictures during the visits made by the Vietnamese and Cuban leaders to each other's countries and activities held to tighten the bilateral cooperation, as well as images of Cuban women and children with two beloved Presidents Ho Chi Minh and Fidel Castro.
The exhibits also introduce the beauty of the culture, land and people of Cuba, as well as cultural and arts exchange activities between the two peoples.
Addressing the opening ceremony, Nguyen Van Manh, Vice Chairman of HCM City Union of Friendship Association, the exhibition's organiser, said that despite the great geographic distance, Vietnam and Cuba share a lot of similarities in ideology, symbolising through the images of two leaders: late President Ho Chi Minh and President Fidel Castro.
The photos on display once again illustrate the Vietnamese people's gratitude for the enthusiastic support from Cuban friends during Vietnam's hardest historical period, said Manh.
He reaffirmed that the traditional friendship, solidarity and cooperation between the two nations will continue to develop sustainably.
Indira Lopez Arguelles, Cuban Consul General in HCM City, spoke highly of the organisation of the exhibition, which contributes to promoting the image of Cuba, while tightening bilateral ties and honour women of the two countries on the Vietnamese Women's Day (October 20).
She also expressed her belief that the bilateral relations would grow further in the future.
The event will run until October 30./.
VNF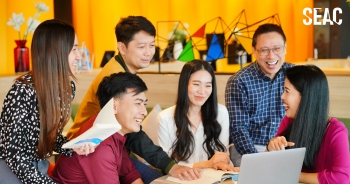 Economy
SEAC, a leading corporate and lifelong education innovator, is shaking up the Thai and ASEAN education market with significant investment to expand its SMART learning solutions across the ASEAN region.