Tet Holiday 2023
Expats Share Their Impressions of Vietnam's Joyful Tet Season
Foreign friends living in Vietnam are impressed with the way local people treasure family time and practice tradition customs in Tet, the most important holiday of the year.
Ekaterina Makarova (Russian Federation): "[Tet is] a heartwarming holiday on the moon!"
The Russian translation of "Tet" means "New Year according to the Moon's calendar." So I told my mom that I had a holiday on the moon and she was curious.
Ekaterina Makarova (third from left) enjoyed Vietnamese traditional dishes and lucky money exchange in Tet holiday.
Ekaterina Makarova (24 years old, from Russia) is a student at the Faculty of Vietnamese Studies and Vietnamese Language - University of Social Sciences and Humanities (VNU Hanoi).
The most impressive thing about Tet for me is that people return home to celebrate the new year with their families. In Moscow, most businesses and shops remain open during the first days of the year. People are still busy with their daily work. People celebrate Tet with their families, while in Russia we celebrate the New Year with relatives, friends, or lovers. I feel that Tet in Vietnam is about the warmth of the family ambience and affection.
The first time I celebrated Tet was in 2018, while I was on an internship in Vietnam. A friend invited me over to his house. I really like Vietnamese traditional dishes as well as the custom of lucky money exchange.
The year after that, I spent the Tet holiday with Vietnamese friends at Moscow Aviation Institute (MAI). Although it was snowing everywhere outside, but in my room, I felt very warm as if I was in Vietnam.
The Lunar New Year 2023 is the second year that I can celebrate Tet in Vietnam. I can feel that the exciting atmosphere has already filled the streets to welcome the new year. On both sides of the road, I see people selling many peach blossom trees, kumquat trees, beautiful decorative Tet accessories.
This year I will spend the holiday time in Ho Chi Minh City with friends. I know that the North celebrates Tet in cold weather, and the South celebrates in warm weather with yellow apricots. So I am very excited to experience the custom of celebrating Tet in the South, and have more beautiful memories during my time studying in Vietnam.
Joseph Kwon (South Korea): "Family gathering in Tet is a great tradition"
As a foreign artist living in Vietnam, this time of the year I am busy filming television shows. In these shows, my friends and I would go to a Vietnamese friend's house and experience traditional Tet customs, like making chung cake and spring rolls. It's a very fun experience for me.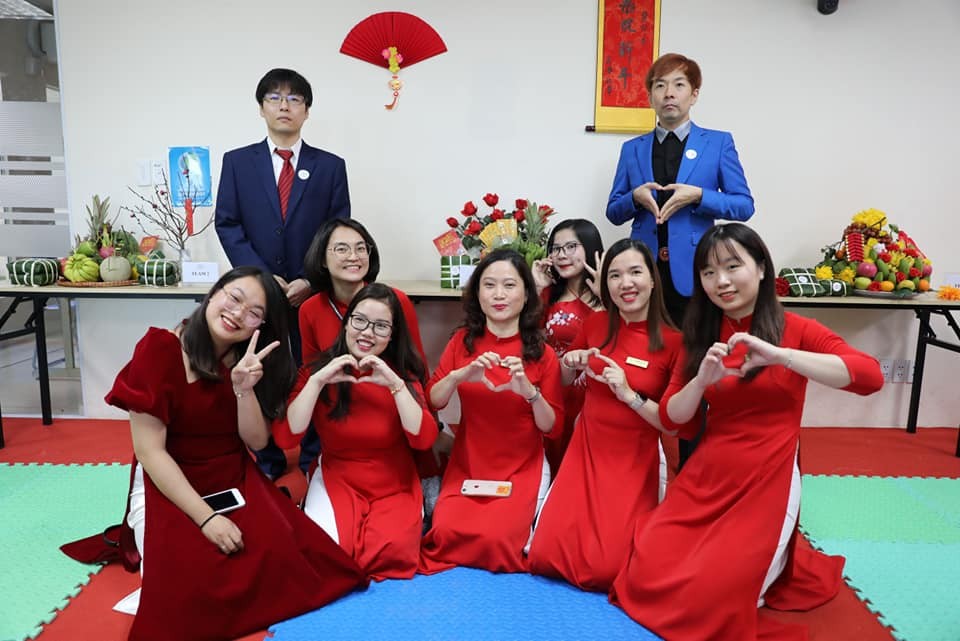 Joseph Kwon (standing, right) is busy with shooting schedules during Tet.
Korean artist Joseph Kwon has been living in Vietnam since 2019. He released many popular songs, such as "Waiting For You - 5000 Years" and "Butterfly Flakes". Also for these music videos, in 2022, he was among the Third Prize winners at the 8th National External Information Service Awards in Vietnam.
I have a special memory of Tet. I went to my friend's house in Nghe An on Tet holiday in 2018 and I was warmly welcomed by my friend's family and relatives. There was a lot of eating and drinking! It was a big party! Vietnam tradition of family reunion in Tet holiday is amazing. In my country, there used to be a similar holiday tradition but now more and more Koreans choose to travel abroad instead of going home to reunite with their family.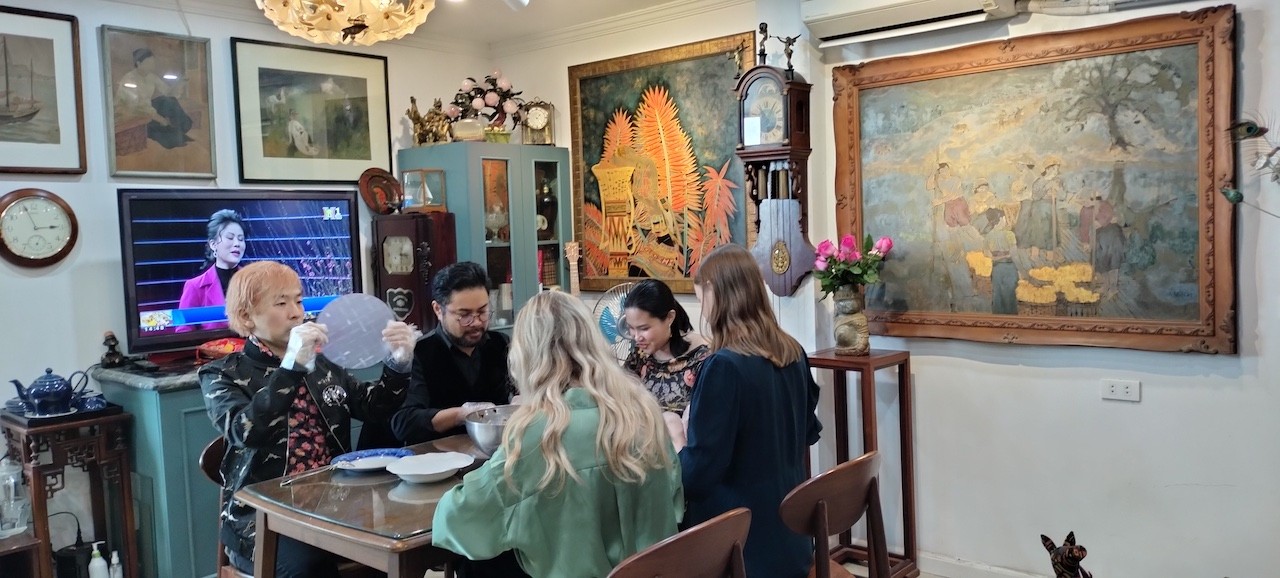 Joseph Kwon (first from left) learned to make spring rolls at friends' house in Hanoi.
While in Vietnam, I also experienced traveling during Tet holiday. I went to popular destinations such as Ho Chi Minh City or Da Nang. These are among the rop favorite tourist places for Korean tourists.
However, for me, holidays are only once or twice a year, so it is very important to celebrate these occasions with family. My plan this year is that if I have time, I will also visit my mother in Korea during Tet.