Eco-Fashion Show Models the Green Charms of Sustainable Clothing
Keep Vietnam Clean's Green Gem Shop presented "wearable-artworks" that gave used clothes a brand new life.
Under the warm lights of The Neighbourhood (Tay Ho, Hanoi), dozens of multicultural models of the "Eco-Fashion Show" walked down a makeshift runway in eye-catching designs. All are used clothes from Green Gem Shop, and painted or redesigned by 6 local and foreign artists: Natalia, Cris (Spain), Minh and Pan (Vietnam), Livy (UK) and Kate (Russia).
The "Eco-Fashion Show" is a collaboration hosted by Green Gem Shop of Keep Vietnam Clean to remind people of how the development of the fashion industry can be dangerous for the environment.
Attending the show is a mix of Hanoi residents who are curious to learn a "greener," more fashionable way to dress up. The crowd applaused and cheered non-stop, all eyes were fixed on the colorful collection. The pieces represented naturein some way, with abstract symbols for the sun, the moon, and flowers. Others boasted realistic, bold illustrative drawing of animals or mythical creatures. The collection reminded everyone of the great outdoors.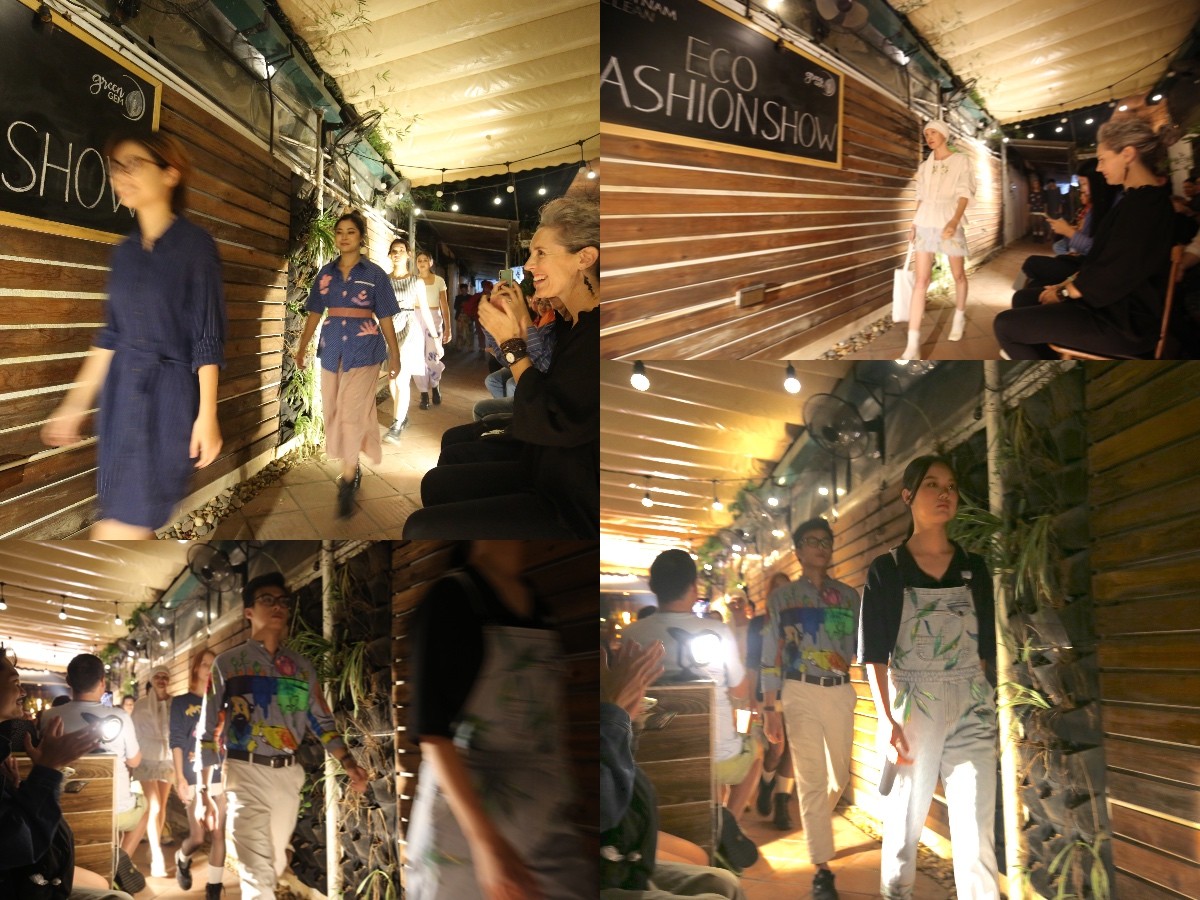 The catwalk show introducting designs from 6 Hanoi-based local and foreign artists (Photo: Zoey Nguyen).
Speaking at the event on the evening of Nov 10, Spanish artist Natalia Peraita, the Fashion Advisor of Green Gem Shop and Keep Vietnam Clean, stressed the goal of "Eco-Fashion Show" is to demonstrate another way of interpreting fashion by up-cycling clothes.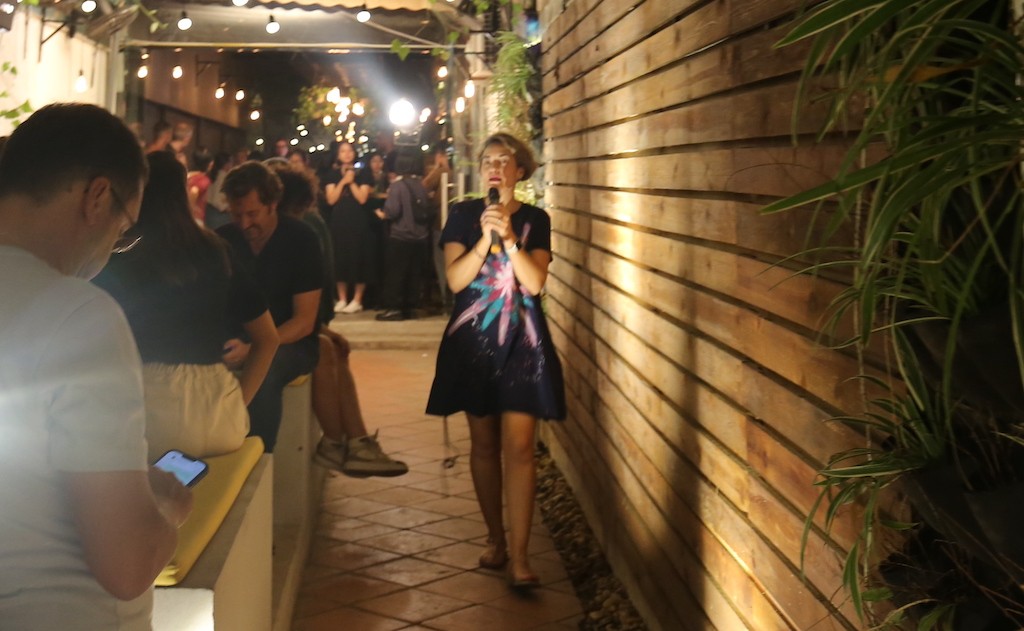 Spanish artist Natalia Peraita, the Fashion Advisor of Green Gem Shop and Keep Vietnam Clean, at the show (Photo: Zoey Nguyen).
"Fashion is amazing, it is a way for us to tell the world 'Hey, this is me!' But mass-produce fashion items - known as 'fast fashion'- is a real threat to the environment," said Natalia .
"Every year millions of tonnes of discarded clothes are incinerated or dumped in landfill. This contributes to fashion being the second most polluting industry in the world."
The Spanish host also emphasized how guests at the show can actively contribute during the "Eco-Fashion Show".
Participants also had the opportunity to speak with guests about how to produce their own recycled wardrobes.
Secondhand fashion code: Dress to impress
While a night of fun and fashion, the event aimed to raise awareness to the benefits of sustainable clothing. The team behind Keep Vietnam Clean hopes the Eco-Fashion Show will become a routine tradition in the Tay Ho community, as it encourages people to be more responsible and conscious with their clothing choices.
Although it was their first fashion show, participants were impressed by the efforts of Keep Vietnam Clean.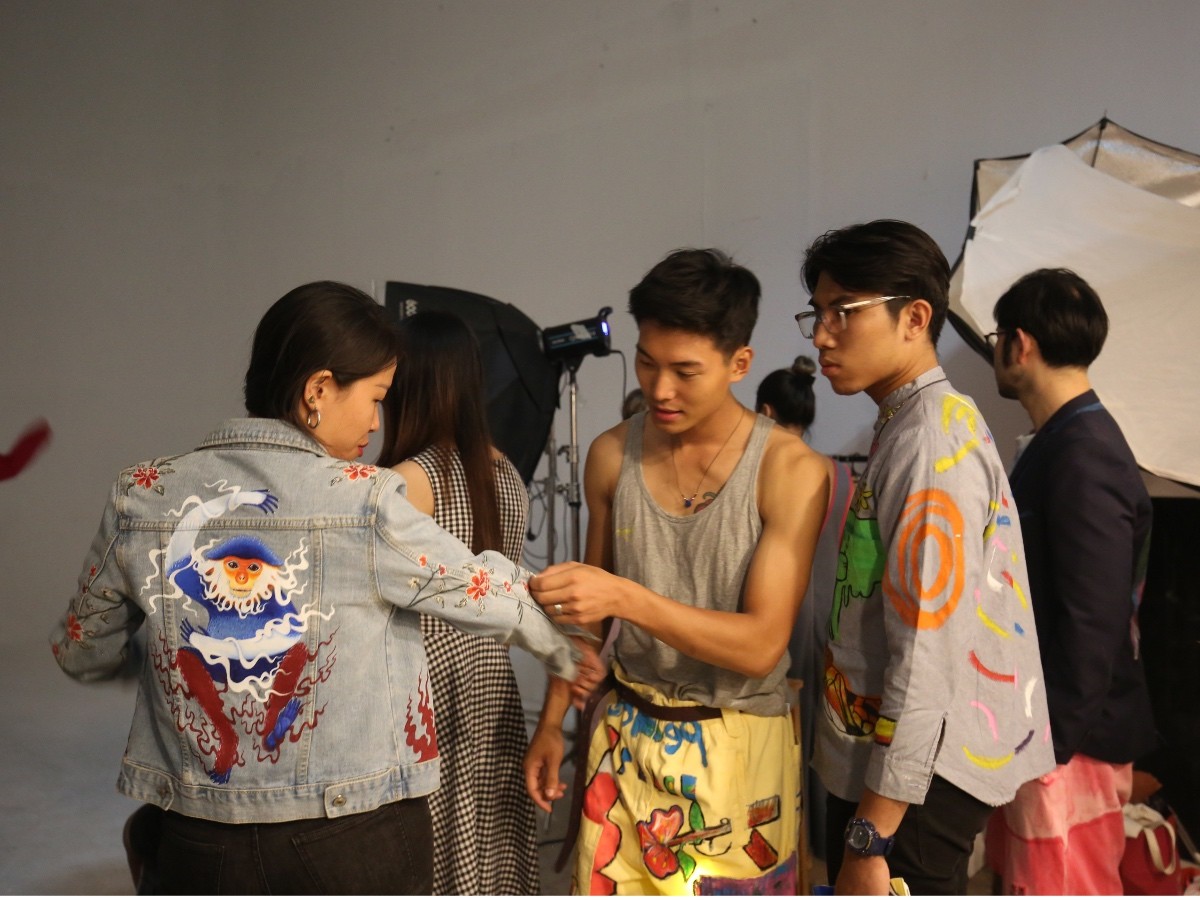 Models and aritsts of the Eco-Fashion Show at the pre-show photoshoot (Photo: Zoey Nguyen).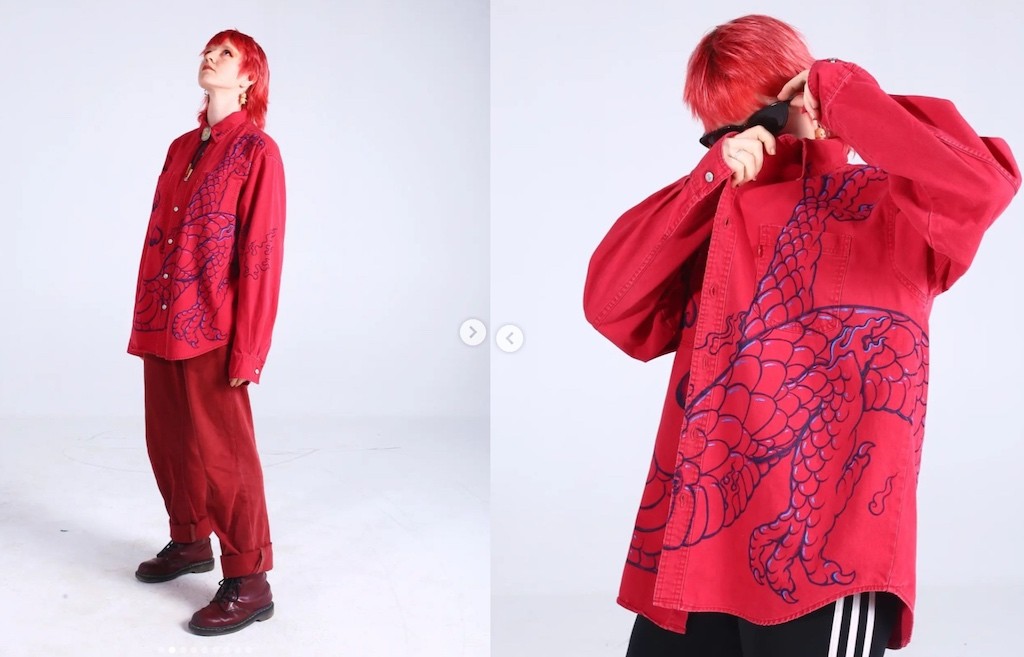 One of the designs in the Green Gem Collection, created and modeled by artist Livy (Photo: @livyhaslife).
Attending the show were a mix of first-time-secondhand cloth buyers as well as frequent customers of Green Gem Shop.
Hanoian residents Phong Nguyen and Linh Tran love secondhand fashion because they can find many items that make them stand out at a reasonable price.
They were most impressed with the uniqueness of the Green Gem Collection.
"It was a great show, perfectly executed. I am amazed by how the artists get creative using secondhand clothes to make them new and fashionable," said Phong.
Yeonhwa Lee, an expat from South Korea, enjoyed the special experience, claiming that there is also a recyled fashion trend in her home country at the moment. What she looks forward to see in future fashion shows like this is "more elegant style" with options for many age groups. Yeonhwa believed that would make more people interested in these designs, not just teenagers or young adults but people in their 40s or older.
A trio of Spanish expats named Vanessa, Maria and Montse stressed that the most enjoyable thing about the show is the meaningful goal. It was about more than fashion, it was special designs of secondhand clothes that makes them interesting.
A celebration of fashion and environmental advocacy
The Green Gem Collection is months of hard work, according to the organizer. Although some of artists are inexperienced working with farbic, they took on the challenge knowing the meaningful purpose of the show. By up-cycling clothes, these artists wants to inspire people to reconsider their consumption of clothes.
Natalia, the Spanish host, explained that after transforming plain clothes with her colorful firework-like design, the cloth showcased both her artistic self and is wearable again instead of being thrown away.
Cris, another Spanish artist, painted a "Day version" dress and a "Night version" dress. Both versions are abstract natural landscapes with the sun, the moon, water and earth. The dresses are Cris' surreal compositions in which "the sky, earth and ocean are intermixed, the objects fly and the horizon fades." Cris confessed that this collection is a challenge for her as artist but as a nature lover, it was a pleasure.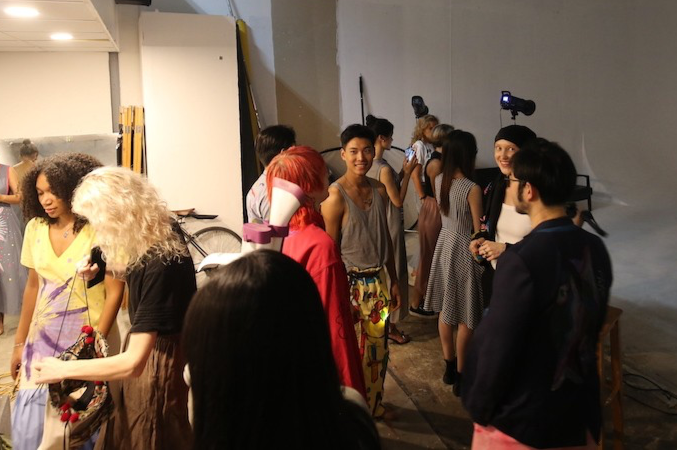 Models and aritsts of the Eco-Fashion Show at the pre-show photoshoot (Photo: Zoey Nguyen).
The artists also integrated other related themes such as endangered animals or protecting Mother nature into their designs.
Embroidery artist and Russian expat Kate Lam showcased flowers designs like rare orchids and wild medicinal plants because she believed they deserved the public attention now more than ever.
"Medicinal plants are disappearing at a very high speed. The degradation and destruction of habitats are major causes of the loss of plants. We must save our planet to save our health and our life," said Kate.
As the concept of upcycled fashion is drawing more and more attention from the public, the fashion show attracted a much bigger crowd than expected, said the organizer. Many items were already sold out, giving them a second, even a third life.
| | |
| --- | --- |
| Vanessa - Spanish resident in Hanoi brought a denim jacket with fireworck details by designer Natalia (Photo: Zoey Nguyen) | Many designs from The Green Gem Collection were brought at the event (Photo: Zoey Nguyen). |
Green Gem Shop is a thrift shop which raises funds for environmental projects of Keep Vietnam Clean (previously known as Keep Hanoi Clean) through the sale of second hand clothes, donation items, and eco-products.
Keep Vietnam Clean, founded in 2019, is a non-profit organization with many environmental programs and activities such as: weekly clearance of irregulated garbage dumps throughout the central districts of Hanoi. Over the years, Keep Vietnam Clean has formed a community of Vietnamese and international "green leaders" who contribute to clean up the environment.
Come find The Green Gem Collection at the Green Gem Shop (Lac Long Quan, Tay Ho) or the Better World Hanoi (Xuan Dieu, Tay Ho)..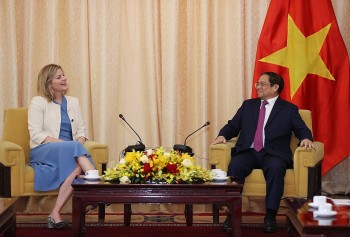 National
The Netherlands committed to cooperate with Vietnam, and together find innovative and sustainable solutions to accelerate green economy transformation.