Explore 3 specialties of An Giang province
(VNF) - If you happen to visit An Giang province, don't miss the chance to try these three specialties.
(VNF) - If you happen to visit An Giang province, don't miss the chance to try these three specialties.
Bánh xèo (fried pancake)
Visitors to Cam Mountain – a famous sight of interest in An Giang province can see many eateries selling banh xeo (rice pancake filled with steamed shrimp, sliced pork and bean sprouts) on either side of a path from the foot to the top of the famous mountain in the Mekong Delta province of An Giang.
As part of the imposing That Son Mountain Range, Cam (forbidden) Mountain is a popular destination for pilgrims. The mountain attracts a large number of visitors near and far, so many eateries have come to life to serve a wide selection of dishes including banh xeo.
Banh xeo in Chau Doc (source: VNE)
Banh xeo, which literally means sizzling cake, has a crispy yellow crust made from Vietnamese rice flour and coconut milk. A common banh xeo is filled with steamed shrimp, sliced pork, bean sprouts, and green beans while a vegetarian banh xeo only has bean sprouts and green beans inside.
What makes banh xeo at Cam Mountain special is that the dish is served with over 50 kinds of vegetables including medicinal plants. Cam Mountain is home to many types of medicinal plants and herbs which can help prevent and cure some diseases, so they are often served with dishes. The bitter and sweet flavors of these plants are said to whet visitors' appetite for the dish, which is named for the sizzling sound it makes when the rice batter is poured into a hot pan.
A diner can have one to three banh xeo whose price ranges from VND10,000 to VND15,000 at the eateries at Cam Mountain.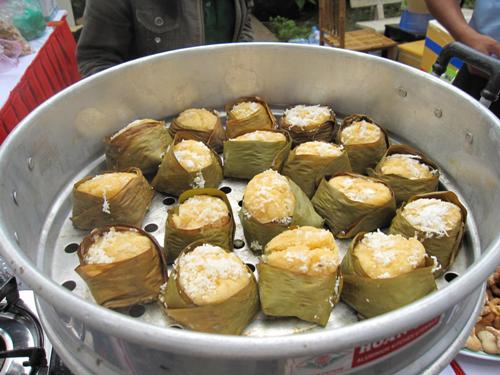 Chau Doc-style sponge cake (soure: VNE)
A woman identified as Thuy makes the cake in a traditional style of Cham people in combination with her own skills of making traditional Vietnamese cakes.
Born into a Vietnamese family in Phu Tan District, An Giang Province, Thuy learned the technique of making traditional Vietnamese cakes from her mom. Later, she left her hometown for Chau Doc City and settled down near Cham villages where she learned how to make the Cham traditional sponge cake.
More than a decade ago, Thuy moved to Saigon and failed in a couple of business plans before she realized the city is a food heaven.
Keeping that in mind, Thuy opened the stall in Thu Duc District four years ago to make the Cham sponge cake in her own style. The cake is made from a mixture of flour created from her own recipe. The flour is then mixed with sugar made from the sweet juice of thot not, a popular sugar palm plant in An Giang, and coconut milk.
Thuy's typical day starts at 2 a.m as she has to mix flour for two hours before putting it on the clay ovens so that the sweet hot sponge cake can be ready for customers early in the morning.
Thot not sugar and coconut milk help create a mouthwatering smell. Costing VND5,000 (22 U.S. cents) per unit, the cake has a crunchy outer ring and a soft and greasy inner layer, as well as a lightly sweet flavor.
So far, the cake has not only come as a snack but a breakfast for many local students and workers. On special occasions such as festivals or parties, Thuy also receives big orders from companies.
Migrant workers from northern and central regions often buy the cake as a gift for family and friends when they return home.
Mắm (Fish sauce)
Located in Chau Phu A Ward, Chau Doc market is a tourist destination that travelers should not miss. The market opens from early morning to noon. The most famous specialty of Chau Doc market is salted fish. There is a zone for salted fish of all kinds. with a distinctive smell. They are placed on high shelves, with prices labelled clearly.
Chau Doc's perse types of fish sauce (source: Phunuonline)
Salted southern crab is a famous product at the market, much favored by customers and tourists for its special taste.
Pork and beef sausage are also specialties of An Giang, with fresh colors.
Local fish sauce makers say any kind of fish can be used to make sauce. The most preferable kinds of fish are snakeheads, minnows, and gouramis. Fish supply is available all the year but the peak is the flood season from July to November.
Chau Doc authority has effectively supported fish sauce makers to expand their production and trading. They have established cooperative trademarks to learn scientific knowledge and techniques and upgrade equipment to produce higher quality products in shorter time, save cost, and ensure quality standard.
It's easy to find the fish sauce area by its typically strong flavor in Chau Doc market. There are hundreds of fish sauce brands of tens of fish sauce producers. A lot of people prefer 55555 fish sauce of Mrs. Khoe and Hai Xuyen fish sauce in Phuoc Loc district. Nguyen Thi Anh Mai, owner of a shop in Chau Doc market, said. "Chau Doc's specialty is sauces made from freshwater fish and dried fish. Visitors to Chau Doc always head to the market to buy fish sauce. In the beginning of the year, a lot of pilgrims from other places to An Giang province also come here to buy fish sauce."/.
( VNF )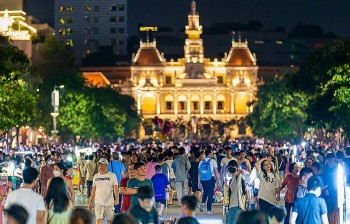 Economy
Vietnam Business & Weather Briefing (August 17): Vietjet offers tickets for Lunar New Year 2023 with super saving prices, reference exchange rate up VND 19 .