Financial Times: Vietnam One of the Seven Economic Wonders of A Worried World
Here are seven that stand out in a world tipping towards recession and higher inflation: Vietnam, Indonesia, India, Greece, Portugal, Saudi Arabia and Japan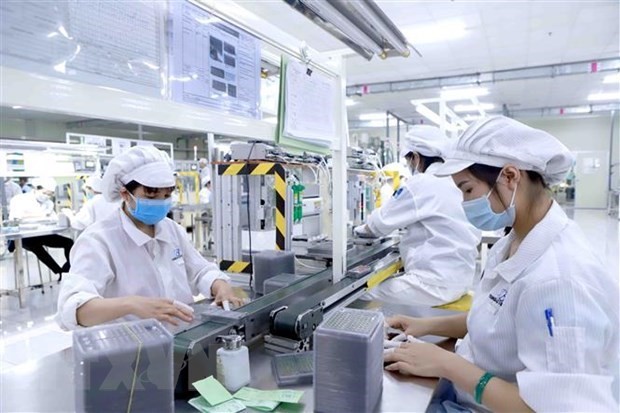 The Vietnamese economy is recovering strongly after the COVID-19 pandemic. Photo: VNA
A writing published by the London-based Financial Times recently described Vietnam as one of the seven economic wonders of a worried world, according to VNA.
It noted in periods of gloom like this one, when commentators see nothing but faults in most countries, it is worth highlighting the few that defy the prevailing pessimism. The seven that stand out in a world tipping towards recession and higher inflation are Vietnam, Indonesia, India, Greece, Portugal, Saudi Arabia, and Japan.
They share some combination of relatively strong growth, moderate inflation or strong stock market returns – compared with other countries.
The writing said the least surprising name on the list is Vietnam, adding that by investing heavily in the infrastructure required of a manufacturing export power and opening its doors, Vietnam is growing at nearly 7%, the fastest pace in the world.
For the remaining economies, the article also analyzed factors that help them steer clear of a global economic recession.
It held that any of these economies could falter, but these nations are already among the top-performing stock markets this year. Amid well-founded worry about global prospects, a new set of winners is emerging.
Despite the global supply disruptions induced by the pandemic, Vietnam still exported more than USD 35.1 billion worth of goods to the EU in 2020 and over USD 40 billion last year.
Meanwhile, the Southeast Asian nation imported USD 14.6 billion and USD 16.7 billion worth of commodities to the bloc in the two years, respectively.
In the first eight months of this year, Vietnam's export revenue to the EU was valued at USD 31.9 billion, up 23.6%, resulting in a trade surplus of up to USD 21.6 billion, a rise of 46.4%.
The figures have reflected the positive impacts of the EU-Vietnam Free Trade Agreement (EVFTA).
The Business Climate Index (BCI) released by EuroCham shows that European business stakeholders' confidence in Vietnam's investment environment declined slightly in the second quarter of this year to 68.8% due to external factors.
Up to 60% of respondents predicted that the Vietnamese economy would stabilize or improve in the third quarter of 2022, 45% were significantly or moderately satisfied with Vietnam's efforts to attract and retain foreign direct investment (FDI), and 76% expected to increase FDI in the country before the end of the third quarter.
55% of respondents said Vietnam improved its FDI attraction and retention capabilities since the first quarter.
Regarding the link between green growth and FDI, nearly 90% of respondents said that Vietnam should increase green economy development to attract more foreign investment.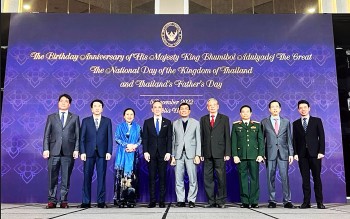 Friendship
The Royal Thai Embassy organises the reception on the occasion of celebration of the Birthday Anniversary of His Majesty King Bhumibol Adulyadej the Great, the National Day of the Kingdom of Thailand and Thailand's Father's Day on 2nd December 2022 in Hanoi.