UNGA President Hails Vietnam's SDG Efforts
Vietnam has set an exemplary role model in economic growth coupled with environmental protection, says Csaba Korosi, president of the 77th session of the United Nations General Assembly.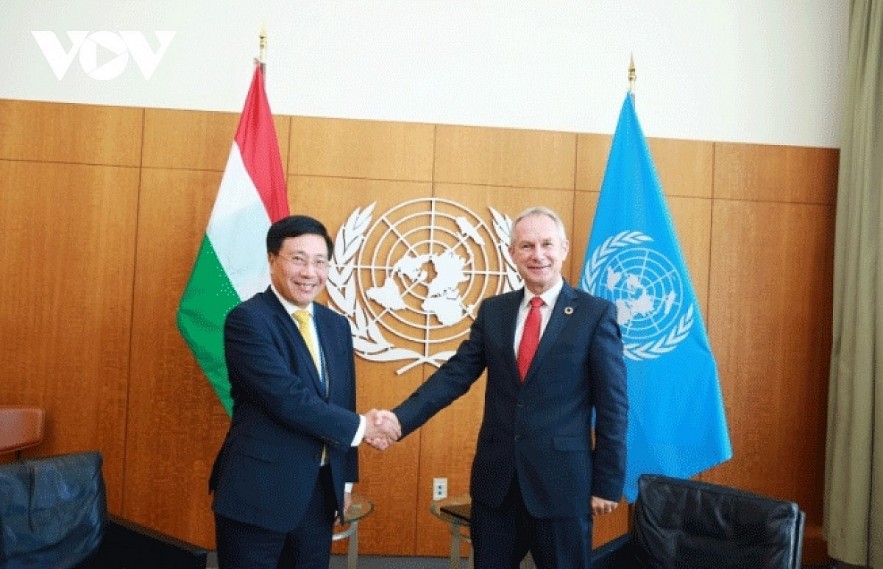 Deputy PM Pham Binh Minh (L) meets with UNGA president Csaba Korosi in New York on September 23.
Meeting with Vietnamese Deputy Prime Minister Pham Binh Minh in New Yrok on September 23, Korosi lauded the encouraging results Vietnam has recorded in implementing sustainable development goals (SDGs) set by the United Nations.
He talked about priority areas during his working term, including water resource management, and wished to cooperate with Vietnam in this field.
He noted that it is necessary to promote measures to prevent water crises, build a water data system at regional and global levels, and at the same time align national policies on water and climate change.
The UNGA president expected that Vietnam would actively participate in and share its experience at the UN Water Conference slated for March 2023.
For his part, Deputy Prime Minister Pham Binh Minh affirmed that Vietnam, as vice chairman of the UN General Assembly, would actively back and contribute to the success of the session.
He expressed his support for the president's initiatives and proposals, noting Vietnam considers water an important security issue due to the impact of droughts, floods, sea level rise and over-exploitation of water sources.
Vietnam does not sacrifice the environment in exchange for economic growth, but needs a balance between economic development and environmental protection, he told the UNGA president.
Deputy PM Pham Binh Minh is in New York for the 77th session of the United Nations General Assembly themed 'A watershed moment: transformative solutions to interlocking challenges'.
VOV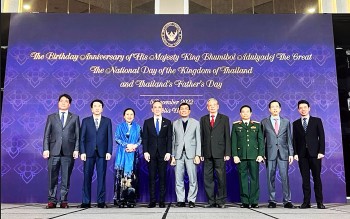 Friendship
The Royal Thai Embassy organises the reception on the occasion of celebration of the Birthday Anniversary of His Majesty King Bhumibol Adulyadej the Great, the National Day of the Kingdom of Thailand and Thailand's Father's Day on 2nd December 2022 in Hanoi.