First Mother's Milk Bank Opens in Hanoi
The Vietnam National Children's Hospital has established the first human milk bank in Hanoi.
The National Pediatrics Hospital officially opened its Human Milk Bank with the support of the Ministry of Health and the Government of Ireland, Alive & Thrive and Newborns Vietnam.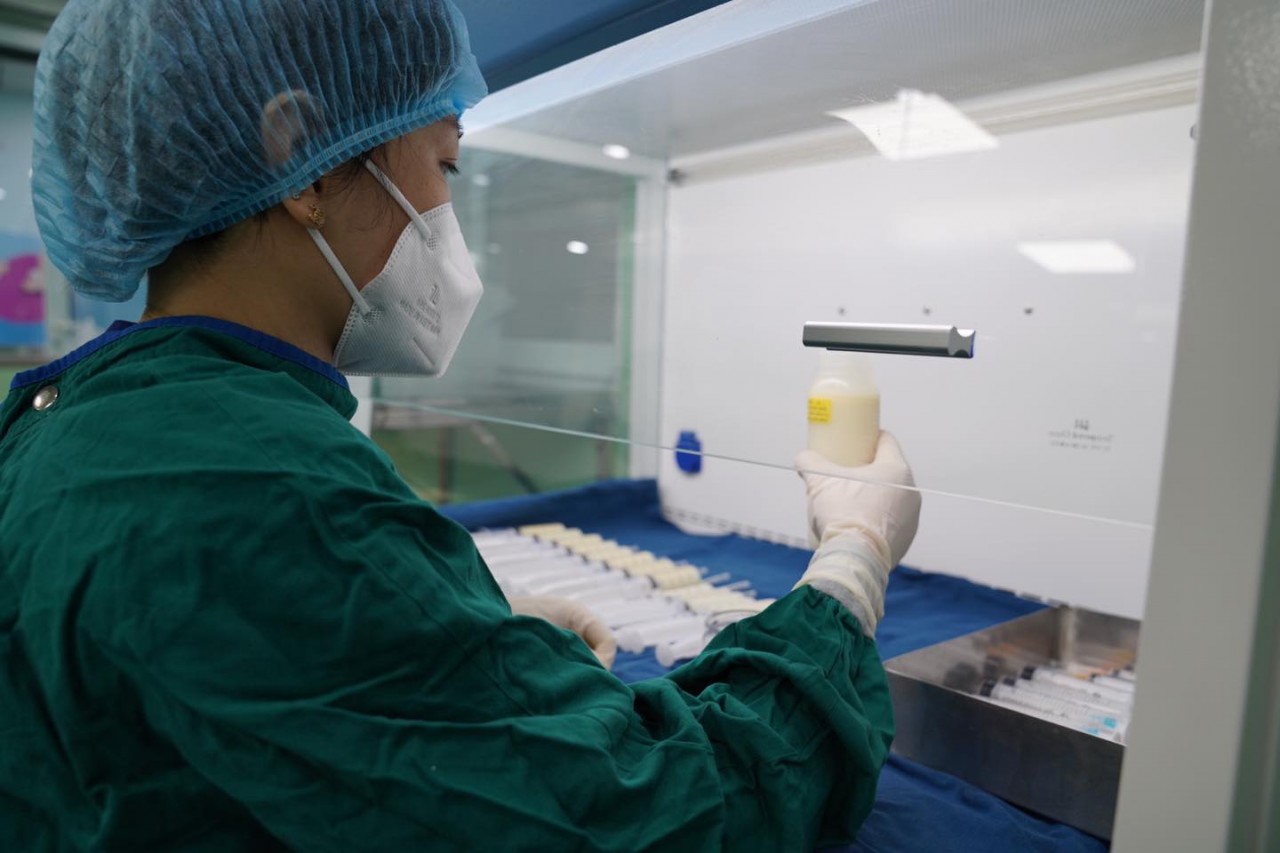 The milk is pasteurized, stored in aseptic conditions and provided to infants who do not have access to breast milk. Source: Embassy of Ireland
This is the first human milk bank in Hanoi, which will provide donated breast milk for more than a thousand at-risk babies treated at the National Children's Hospital, who are temporarily unable to access their own mothers' milk.
Ireland supports this work through the partnership with Alive & Thrive which promotes nutrition improvement and the establishment of breastfeeding-friendly hospitals in Vietnam, Laos and Cambodia.
Speaking at the event, Dinh Anh Tuan, deputy director of Maternal and Child Health Department, Ministry of Health congratulated the breast milk bank of the National Children's Hospital, helping many children to access quality breast milk, stressing that it is a valuable source of nutrition for a child's early life.
At the same time, he emphasized that the process of operating breast milk banks in Vietnam is built on the best practices, which are clearly defined in the technical and professional guidelines for setting up and operating breast milk banks of Vietnam's Ministry of Health.
Seán Farrell from the Embassy of Ireland addressed the opening of the new human milk bank, which will bring life-saving nutrition to thousands of infants in Hanoi.
"I would like to honor the mothers who donate milk and the staff of the breast milk bank at the National Children's Hospital as well as at others across the country. It is you who are the silent people who are doing miracles every day," said Farrell.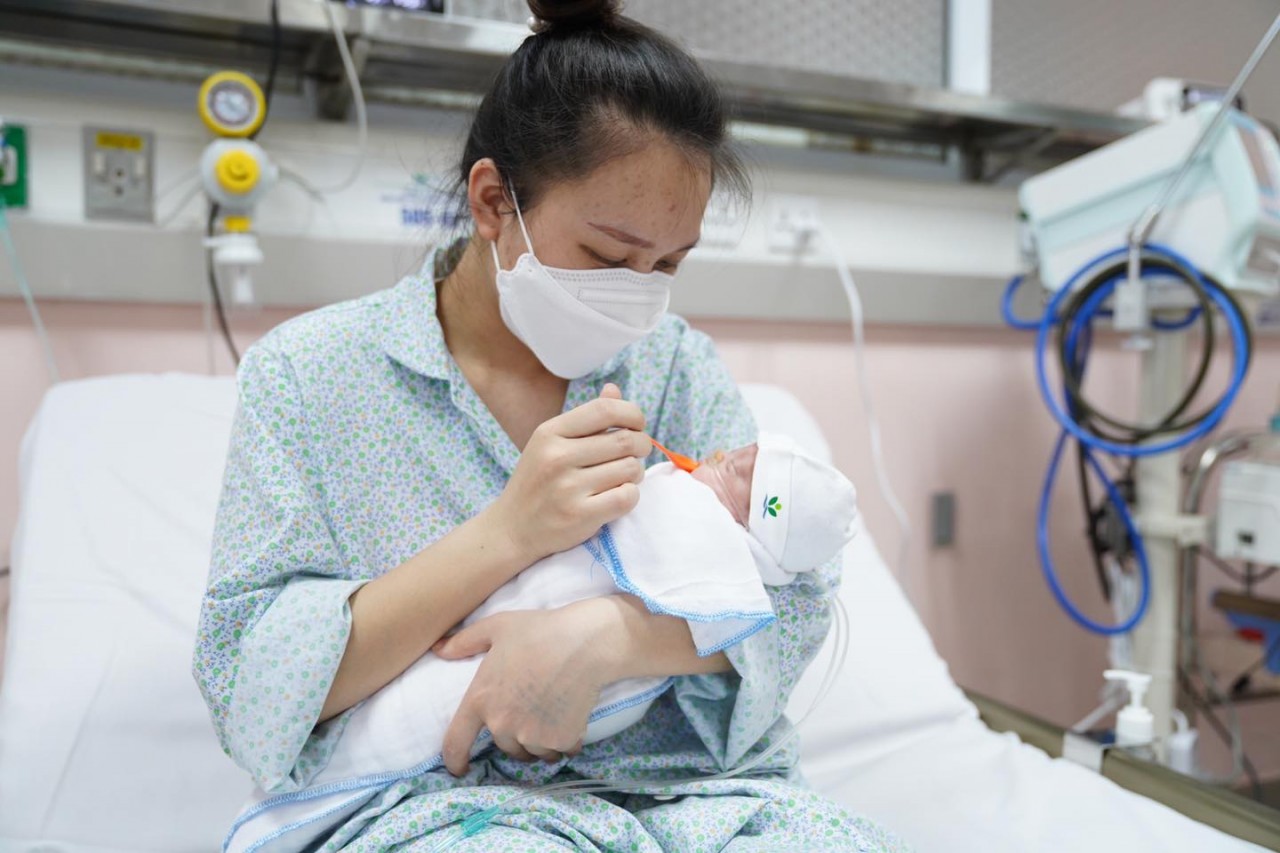 Breast-milk is also an important source of energy and nutrients in children aged 6–23 months. Source: Embassy of Ireland
At the ceremony, Roger Mathisen, manager of Alive & Thrive in Southeast Asia, and Suzanna Lubran, managing director of Newborns Vietnam also shared about the importance of breastfeeding and the benefits of pasteurized breast milk when babies have not been breastfed.
Doctors said pasteurized and screened human donor milk is a life-saving medicine that increases vulnerable infants' chance of survival and good health.
The breast milk bank of National Children's Hospital operates under the model of collecting voluntarily donated milk from mothers who are breastfeeding their babies.
Donors are selected by doctors from mothers who do not have medical conditions and do not have risk behaviors affecting the milk.
After that, the milk is pasteurized, stored in aseptic conditions and provided to infants who do not have access to breast milk, especially those born prematurely, with low birth weight, with many dangerous diseases.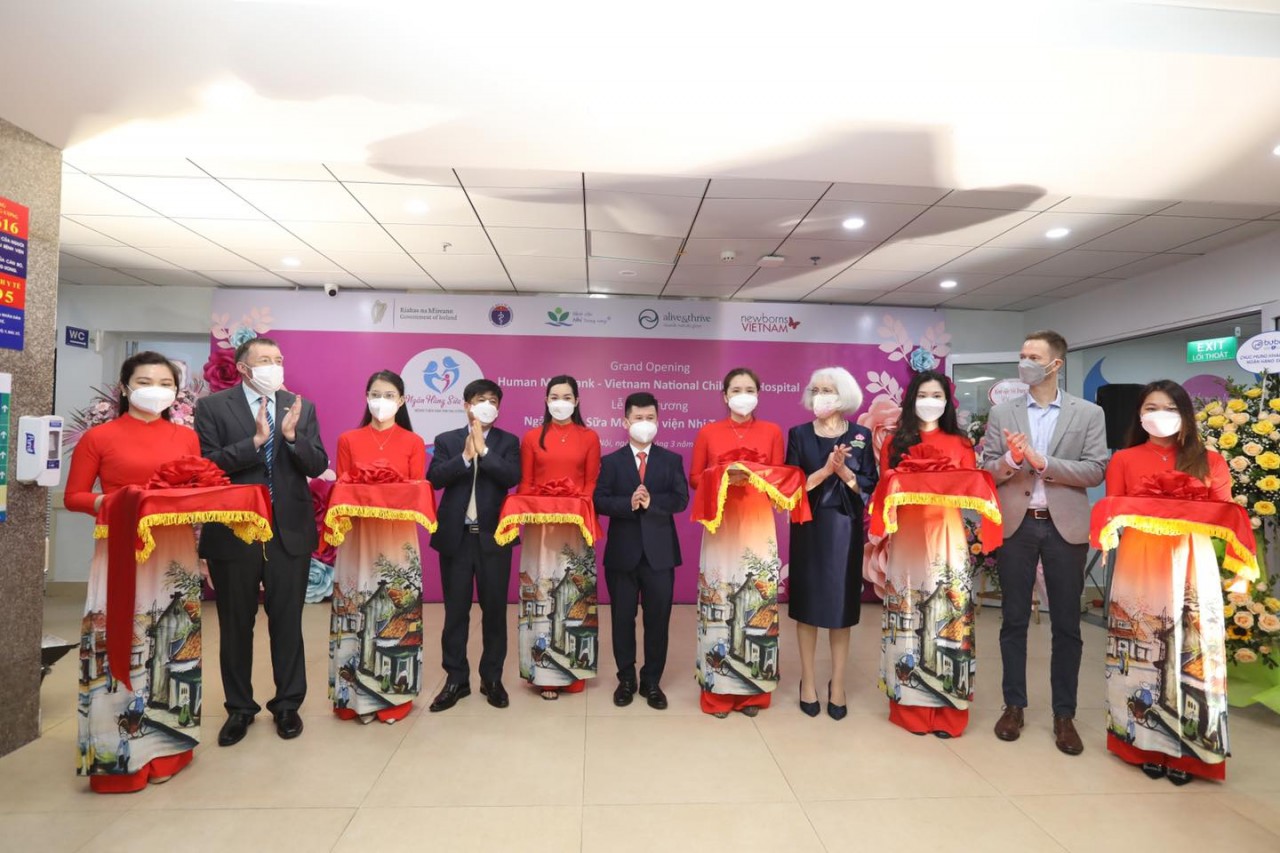 At the ribbon-cutting ceremony. Source: Embassy of Ireland
According to Le Thi Ha, director of the Neonatal Center, National Children's Hospital, pasteurized breast milk should be considered as medicine, helping to nourish newborns during the period of active resuscitation and boosting immunity, saving treatment costs.
Since October 2021, the Human Milk Bank has received over 600 liters of donated human milk from 38 mothers whose infants were undergoing treatment at the hospital.
Doctors said that pasteurized human milk had been provided to 280 babies, including 62 babies affected by Covid-19, either infected themselves or with mothers with Covid-19 too severe to breastfeed.
After the opening ceremony, the delegates went to the Neonatal Center to witness the ribbon-cutting ceremony of the Breast Milk Bank and visit the bank.
Alive &Thrive is an initiative in Vietnam aimed at improving infant and young child feeding by increasing rates of exclusive breastfeeding and improving complementary feeding practices.
Newborns Vietnam is a UK-based NGO operated in Vietnam with the mission of reducing infant mortality in Southeast Asian countries, especially in Vietnam. The UK medical experts provide training to doctors, nurses, and midwives in order to improve their knowledge, thereby taking better care of babies.