Saigon Children's Charity to Hold Bike Ride Fundraiser
Join Charity Cycle Adventure to raise fund to help vulnerable children stay in education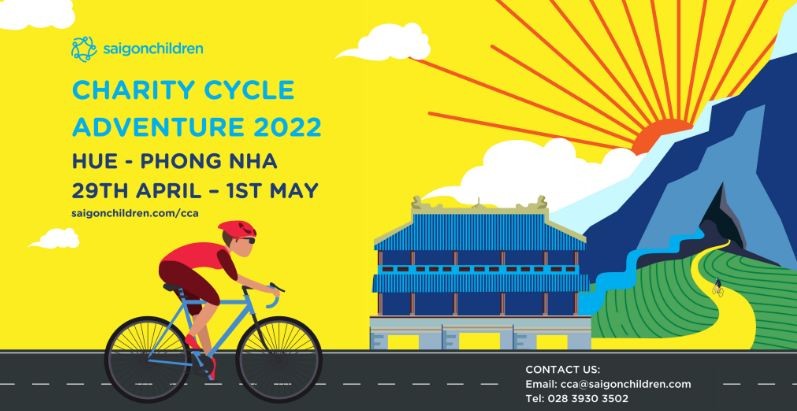 CCA2022 will start on April 29, with all riders beginning their journey from Hue city. Photo: Saigon Children's Charity
The annual Charity Cycle Adventure (CCA), a longstanding annual charity ride organised by Saigon Children's Charity, will take place April 29-May 1.
Every year participants will ride to a spectacular destination in Vietnam, while helping Vietnam's most disadvantaged children get an education and build a bright future for themselves
Charity Cycle Adventure is an event for both experienced and less experienced riders, who love to combine their love of cycling with raising funds to support underprivileged children.
Over 11 years, this event has raised over US$560,000, providing substantial support for the critical work that Saigon Children's Charity does in Vietnam.
This year, riders will be able to enjoy a three day, fully supported and guided ride through Hue - the former royal capital in the central coastal province of Thua Thien - Hue to Phong Nha - a UNESCO World Heritage site famous for the world's largest cave and Asia's oldest limestone mountains in Quang Binh province.
On day 1, riders will commence riding from Hue, passing through the ancient citadel to ride alongside the lagoon, then follow a coastal route viewing the elaborate tombs characteristic of the area, have lunch in a beachside restaurant and finish at the Vinh Moc tunnels.
Driven cyclists can have an option of cycling a further 45km to the hotel in Dong Ha. A bus will transport those less driven to the hotel in Dong Ha.
On day 2, riders will enjoy the spectacular scenery along Ho Chi Minh Ho Chi Minh Road near the Laos border, lunch in an ethnic village and opportunities to cool down in the clear waters of the Long Dai river before ending the day in Phong Nha.
On the final day, participants will ride downhill from the Da Deo pass to the valley where the "Kong: Skull Island" movie was filmed and enjoy the spectacular limestone rock formations along the way.
After a bowl of pho, the group will take on a mountain pass and meander back along country lanes for the closing party in Phong Nha.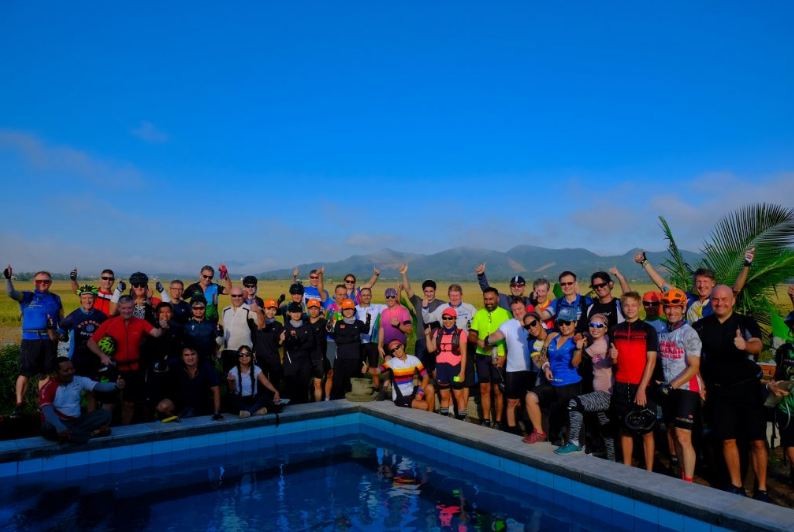 Charity Cycle Adventure in Phong Nha, Quang Binh, 2020. Due to the Covid-19 pandemic, Saigon Children's Charity was unable to host this event in 2021. Photo: Saigon Children's Charity
Each rider is asked to pay a registration fee of US$ 460 (single room) or US$ 390 (shared room). This fee covers accommodation, meals (except dinner on days 2 and 3) and a fully equipped cycling support team to lead the navigation of the ride, support in case of breakdown and provision of drinks/snacks along the way.
It also includes a bus in case participants want to shorten the ride due to fatigue or injury.
In addition to the registration fees, each rider also commits to raise a minimum of US$ 500 through sponsorship which goes directly to support saigonchildren's programmes.
The ride fundraising target does not include the registration fees.
Saigon Children's Charity is an NGO registered in the UK in 1992, which works exclusively in Vietnam.
It works in eliminating barriers to education by granting scholarships, providing vocational and life skills training, building schools in rural areas, and by supporting other organisations that help students with disabilities.