First Regular Flights from Europe Arrive in Vietnam after Pandemic Hiatus
The first two commercial flights from Europe operated by national flag carrier Vietnam Airlines landed at Hanoi's Noi Bai International Airport on January 26 after a gap of almost two years due to the Covid-19 pandemic.
Most of the passengers were overseas Vietnamese returning home for family reunions during Tet (Lunar New Year), Vietnam's biggest and most important holiday. Photo: Sai gon Giai phong
The first flight departing Frankfurt with 190 passengers arrived at 9:30 a.m. (local time) and another from London carrying 300 landed at 9:55 a.m, VnExpress reported.
Most of the passengers were overseas Vietnamese returning home for family reunions during Tet (Lunar New Year), Vietnam's biggest and most important holiday.
From February 8, the carrier will operate flights once a week each Tuesday on the Hanoi-London route and Hanoi-Paris-Frankfurt routes every Thursday.
Before the pandemic, Vietnam Airlines was the only carrier in Vietnam to operate direct flights to Frankfurt, Paris, London and Moscow.
Vietnam had closed its borders and grounded all regular international flights in March 2020, only allowing in its nationals and foreign experts, investors and highly skilled workers coming by special flights.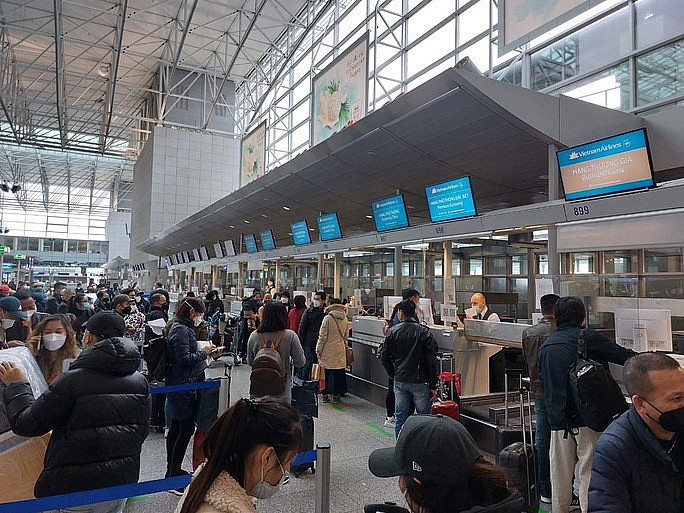 Passengers wait at Frankfurt Airport in Germany for a flight to Hanoi, January 25, 2022. Photo courtesy of Vietnam Airlines
Vietnamese aviation officially reopened regular flights between Hanoi, Ho Chi Minh City and Bangkok, Phnom Penh, San Francisco, Seoul, Singapore, Taipei and Tokyo from January 1 this year.
Vietnam Airlines earlier announced to resume regular flights between Hanoi, HCM City and Sydney from January 16.
Head of Vietnam Airlines' branch in the UK Phan The Thang was cited by VietnamPlus as saying that after the Government gave the green light, the carrier has quickly launched regular flights to the UK and Europe to meet the demand of Vietnamese there to return home for family reunions on the occasion of the Tet (Lunar New Year) festival.
Nguyen Hoang Viet, a passenger on the flight, said the Government's policy on resuming international flights is timely and it serves as a great source of encouragement for Vietnamese abroad who want to return home for Tet.
Nguyen The Hung, who has lived in the UK for over 20 years, expressed his delight at the Vietnamese Government's approval of the resumption of flights between Hanoi and London.
Information on requirements for entry into Vietnam is available on website www.vietnamairlines.com.
Bamboo Airways starts selling tickets for flights to Germany, Australia, UK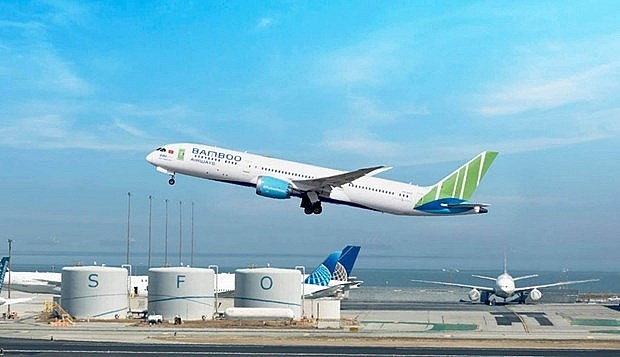 A Bamboo Airways flight. Photo: VNA
Bamboo Airways' tickets for flights in the direct routes between Vietnam and Germany, Australia and the UK have been on sale, the budget carrier announced on January 25.
As scheduled, Bamboo Airways will operate two return flights per week in the Hanoi-London route from March 22, along with two round-trip flights per week in the HCM City-Melbourne route from February 19.
Meanwhile, there will be two flights per week on the Hanoi-Frankfurt route from February 25. The flight frequency will increase depending on the demand, according to the airline.
Bamboo Airways is also taking steps to launch regular flights on the HCM City-Frankfurt route as well as others connecting Vietnam and Munich and Berlin of Germany.
The opening of regular direct flights between the country and Germany is part of Bamboo Airways' wider plan aimed at strengthening its international flight network from the beginning of the year. The airline plans to expand its international routes to 40 in 2022.
Earlier, Bamboo Airways officially announced the launch of the Vietnam-Germany direct route and its ticket agent in the German market – AVIAREPS Group.
Also in January 2022, Bamboo Airways started resuming regular flights to Taiwan (China), Japan, the Republic of Korea, Singapore and Thailand. It is preparing to expand its coverage to Laos, Cambodia and the US./.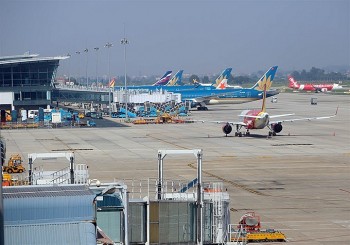 National
Vietnam News Today (May 20): Vietnam eyes 15-day visa exemption from Russia; Vietnam tops medal tally, exceeding gold medal target at SEA Games 31; HCM City, Cuba bolster co-operation in diplomacy, youth and cultural exchanges; Various activities held to mark President Ho Chi Minh's birthday.