Vietnamese Airlines Granted Permission to Resume Eight Overseas Flights
For foreign visitors and expats who want to travel in and out of Vietnam, Vietnamese carriers have been given permission to resume flights on eight overseas routes, according to CAAV.
The Civil Aviation Authority of Vietnam (CAAV) has licensed domestic carriers to operate services on eight of nine previously approved routes for resumption of commercial international flights.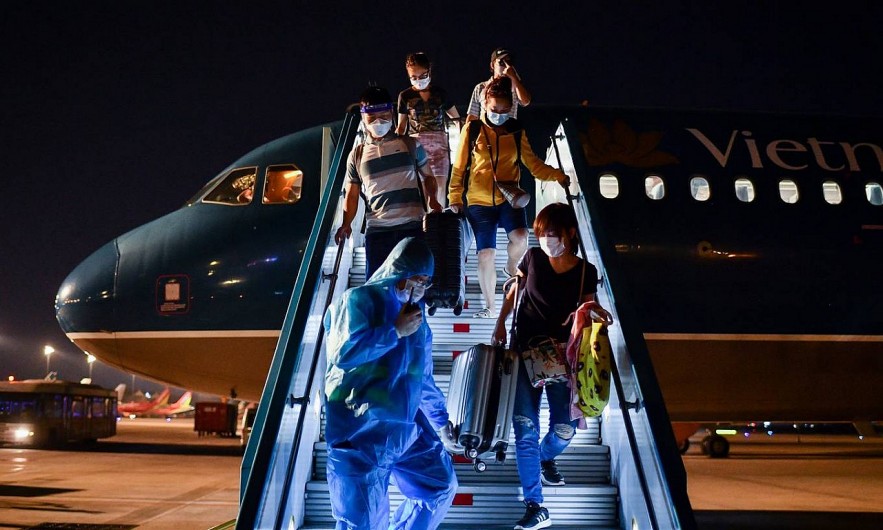 On January 1, 2021, passengers disembark from a Vietnam Airlines plane that arrived from Cambodia at Tan Son Nhat Airport in HCMC, the first regular commercial flight to Vietnam in two years. Photo: Vietnam Airlines.
Following the government's approval of a two-week pilot program to resume flights to nine destinations on January 1, the CAAV has given domestic carriers flying slots to eight of them: Bangkok, San Francisco, Seoul, Singapore, Taipei, Tokyo, Phnom Penh, and Vientiane.
Because Vietnamese aviation authorities have yet to finish agreements with their Chinese colleagues, flight slots to Beijing or Guangzhou in China are pending.
After flying to Cambodia's capital Phnom Penh on New Year's Day, Vietnam Airlines will fly to Japan on January 5, South Korea (Hanoi-Seoul) on January 6, Thailand (Hanoi-Bangkok) on January 8, Laos and Taiwan (Hanoi-Vientiane and Hanoi-Taipei) on January 11, and Singapore (HCMC-Singapore) on January 12, according to VNExpress.
After gaining approval from the CAAV, a spokeswoman for Vietnam Airlines stated that the airline will be ready to fly to Europe and Australia later this month.
Budget airlines Vietjet Air and Bamboo Airways have also confirmed the restart of flights on three routes: the former to Japan and Taiwan (Taipei to Hanoi and HCMC), and the latter on one route to the United States (Hanoi-Taipei).
According to aviation officials and industry experts, the recovery rate of each international market would vary based on the vaccination procedure and the country's re-opening plan.
According to the International Air Transport Association (IATA), the Asian market would progressively recover by 2022, but at a slower pace than Europe and North America.
According to Vietnam Airlines, air transport volume this year would be 70-75 percent of what it was prior to the epidemic, with foreign transit accounting for roughly 20-25 percent of the total.
Insiders' view
Vietnam halted international flights in March of last year as it prepared for a long struggle with Covid-19. Foreigners arriving on chartered planes had to be professionals, investors, or highly trained workers, whereas Vietnamese people were allowed to return on repatriation flights, according to VNExpress.
The return of regular commercial flights on the first day of the New Year, according to Bui Doan Ne, general secretary of Vietnam Aviation Business Association (VABA), was a positive indication for the aviation industry.
"The reopening of regular flights was really necessary at this time. If the country is slow in resuming international flights, it would suffer huge economic damage and the recovery of the aviation market would be slower than that of foreign giants."
According to the general secretary sharing on VNExpress, choosing markets from nations and regions with effective disease management and high vaccination rates is totally fair to achieve the dual goals of economic development and epidemic avoidance.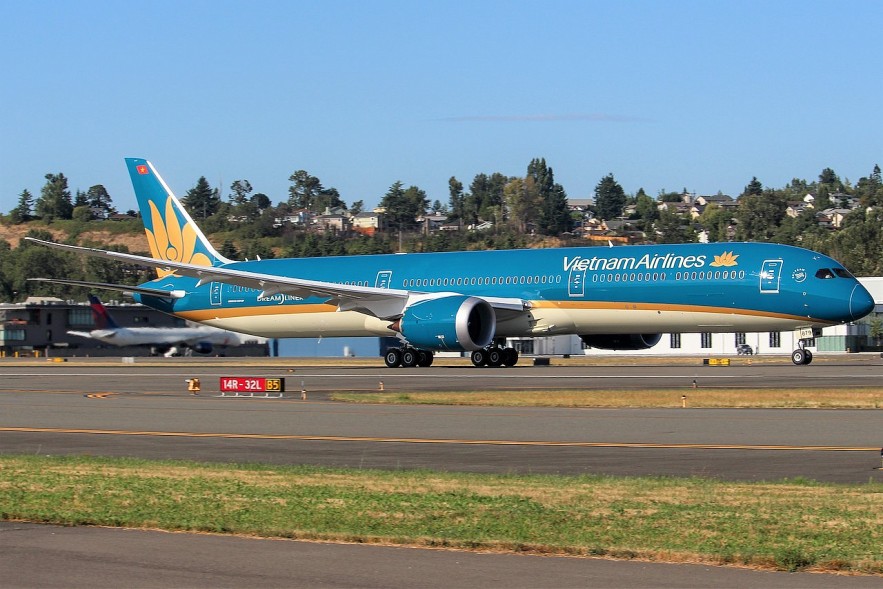 From December 2021, VNA will regularly operate direct flights between Ho Chi Minh City and San Francisco with a frequency of 2 flights/week. Photo: Vietnam Airlines.
The resumption, according to Vietnam Airlines CEO Le Hong Ha, will bring more economic prospects to the aviation and tourism industries, which have been severely impacted by the pandemic.
International organizations such as the International Air Transport Association (IATA) have predicted that the domestic aviation industry will rebound in 2023 and the international segment market will return in 2024, according to Ha.
Aircraft in Hanoi's Noi Bai International Airport in 2021. Photo: VnExpress
The restoration of regular flights has brightened the outlook for the year, according to Nguyen Nguyet Van Khanh on VNExpress, deputy marketing head of large travel operator Vietravel.
She said his company aims to start outbound tours to Thailand, Dubai, Europe, and the United States this month, where Vietnamese are exempt from quarantine regulations.
Fully vaccinated individuals and those who have recovered from Covid-19 who arrive in Vietnam are only required to self-isolate for three days, rather than the previous requirement of spending a week in centralized quarantine facilities.
All arrivals, except children below two, must have tested negative for the novel coronavirus using the PCR method within 72 hours before departure.
Except for children under the age of two, all arrivals must have tested negative for the new coronavirus using the PCR technique within 72 hours of departure.
Because of the new variation Omicron, all travelers must now undergo quick Covid testing upon arrival at the Noi Bai Airports, Hanoi and Tan Son Nhat Airports, HCMC.
In March 2020, Vietnam locked its borders and halted all regular international flights, allowing only Vietnamese citizens and foreign specialists, investors, and highly qualified personnel to enter via special aircraft.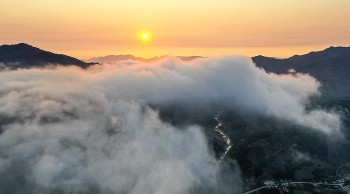 Multimedia
The gorgeous dawn behind a sea of fluffy white clouds creates a wonderful and beautiful picture of Truong Son Dong peak, Quang Ngai.