Fondation CHANEL, UN Women partner to accelerate rural women's economic empowerment
UN Women and Fondation Chanel announced a 850.000 USD programme to accelerate rural women's economic empowerment, many facing the brunt of climate change in Vietnam.
A consultation workshop for a project on sustainable livelihood for rural women amidst climate change and natural disaster risks was held in Hanoi on April 22 by the UN Women in Vietnam.
The event was part of a programme on improving women's livelihood and engagement toward increasing resilience to natural disaster risks and climate change impacts.
Vu Phuong Ly, a UN Women expert, said that ny addressing the barriers to women's economic empowerment, together we can help tap into a huge potential that is currently undervalued and underutilized, improving the lives of those inpidual women and building stronger communities and markets.
Women can make effective contributions to enhancing the capacity of recovery and sustainable development in their locality if their voices are listened, she added.
This will help reduce vulnerability of women and their family, thus contributing to the success of responding activities to the risks in the community, she said.
Ly held that improving economic conditions can be made through sustainable development models that are resilient to climate change and natural disasters. On the basis, the role and involvement of women as well as their leadership in natural disaster mitigation will be enhanced, while helping build policies and laws in the field.
In Vietnam, Fondation Chanel via UN Women will support four sustainable livelihood models in rural areas three years, said Ly.
The programme will help to increase women's resilience to natural hazards, disasters and climate change through propelling leadership and decision-making of women in rural areas. It will focus on building capacity of national institutions, as well as women's participation and voice to advocate for their needs and integrating gender concerns into the policy-making process, specifically agriculture and disaster risk reduction policies.
At the same time, it will strengthen the inpidual capacity of rural women, especially from ethnic minority groups in disaster prone areas, to develop stronger and/or alternative livelihood models for their economic empowerment and resilience helping them, and their communities, to better prepare, respond and adapt to disasters and climate change impacts.
At the event, representatives from the Vietnam Women's Association, the Agriculture Support Centres of some localities proposed and discussed numerous measures to implement the chosen livelihood models./.
VNF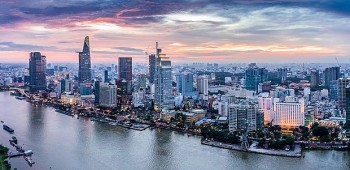 Economy
Japanese investors have been interested in the property market in Vietnam.