Foreign media report on Vietnam's new leadership
Many international newspapers and news agencies report on Vietnam's new president and prime minister elections at the beginning of April.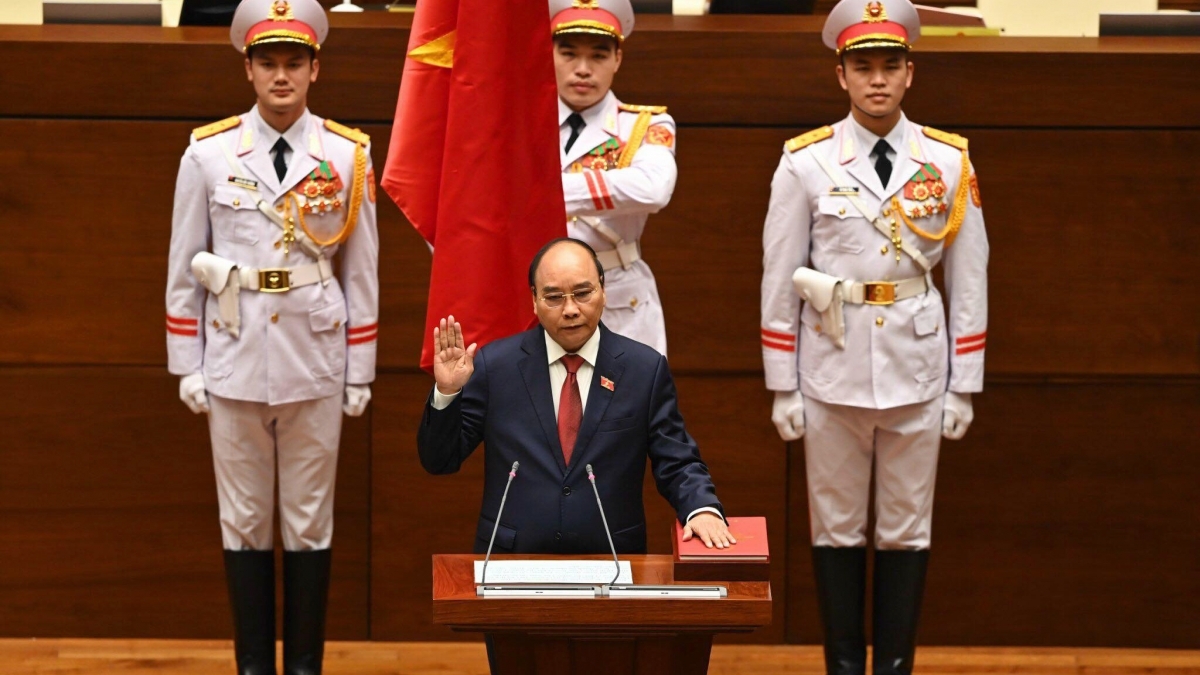 Nguyen Xuan Phuc has been sworn in as Vietnam's new president. Photo: VOV
According to Bloomberg, Prime Minister Nguyen Xuan Phuc, who oversaw rapid economic growth and successful virus containment, is poised to be elected president, possibly positioning him for the top Communist Party job in five years.
The National Assembly is expected to elect Phuc, 66, as president April 5 after he was put forward by the party's Central Committee as the sole nominee following a five-year term as the government's functional leader.
As prime minister, Phuc operated the levers of government through policy and allocation of funds. During his five-year tenure, the economy grew as fast as 7.08% in 2018 and foreign investment hit a high of about $30 billion, surging 44% in 2017 as the nation began benefiting from global giants such as Apple Inc. shifting their supply chains to the Southeast Asian nation.
The National Assembly said earlier this was "the first time ever a prime minister was nominated to the position of the president".
As reported by AA, Pham Minh Chinh, 62, a former deputy minister of public security who is known for the reforms he carried out while party chief of northern Quang Ninh province, was sworn in as prime minister on Monday.
Pham Minh Chinh speaks after swearing-in as Vietnam's Prime Minister at an official ceremony in Hanoi, Vietnam April 5, 2021. Photo: VGP News
Reuters cited that Chinh won 96.25% of the vote at Monday's National Assembly vote.
New Prime Minister Chinh said the role was an "honor" but also a "heavy responsibility".
The government will continue to be "persistent in fighting corruption and wastefulness" and is "determined to strongly protect territorial integrity and sovereignty", he added.
He was formerly head of the party's Central Organisation Commission, which has a long reach across party ranks, as well as deputy minister of the Ministry of Public Security.
Vietnam's annual gross domestic product (GDP) growth has averaged 6.0% over the past five years, and expanded 2.9% in 2020, despite a pandemic that crushed economies elsewhere.
The country has been lauded globally for containing the virus thanks to a centralized quarantine program and mass testing. It has reported around 2,600 infections and 35 deaths.
From 1989-1996, Chinh was posted to the Vietnamese embassy in Romania. He spent the next few decades at the security ministry, where he rose to the rank of Lieutenant-General.
From 2011-2015, he was party chief in Quang Ninh.