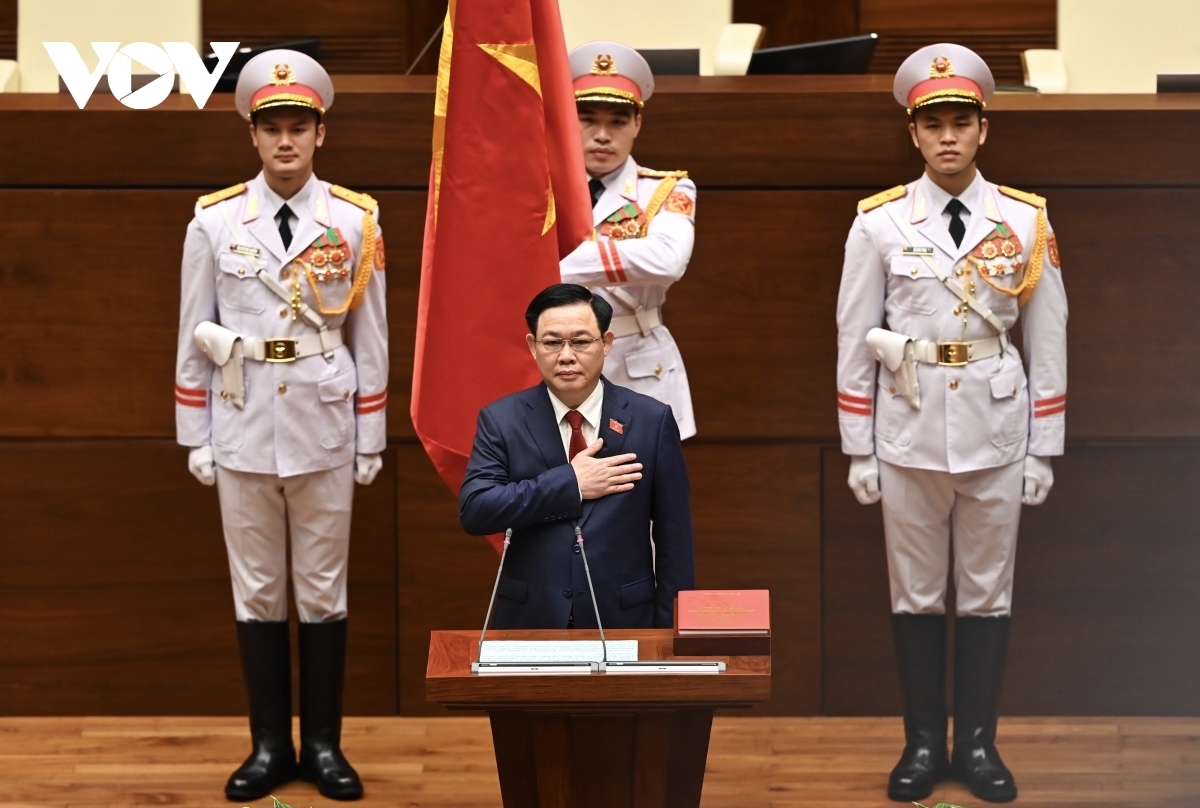 (Photo: VOV)
Cambodian NA President congratulates new Vietnamese NA Chairman
President of the Cambodian National Assembly Samdech Akka Moha Ponhea Chakrei Heng Samrin has sent a letter of congratulations to newly-elected Chairman of the Vietnamese National Assembly Vuong Dinh Hue.
In his letter, the Cambodian leader expressed his belief that under the sound leadership of Hue in his capacity as head of the Vietnamese legislative body, the long-standing good neighbourliness and comprehensive cooperation between the two legislatures and nations will continue developing fruitfully in the coming times for the benefits of both fraternal peoples.
He took the occasion to thank Vietnam for presenting Cambodia with 390,000 face masks to curb the spread of the COVID-19 pandemic, NDO reported.
Cambodian PM thanks Vietnam for support in fight against COVID-19
Cambodian Prime Minister Samdech Techo Hun Sen on April 2 sent a thank-you letter to Vietnamese Prime Minister Nguyen Xuan Phuc for Vietnam's donation of US$200,000 to support Cambodia's fight against the COVID-19 pandemic.
In the letter, PM Hun Sen expressed his thanks to the Vietnamese Government and people for the donation of US$200,000 to assist Cambodia in combating COVID-19 as well as PM Phuc's kind words of encouragement in his letter dated March 31.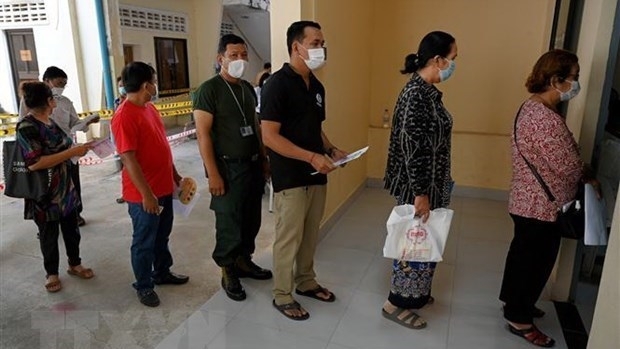 People wait in line for COVID-19 vaccinations in Phnom Penh, Cambodia. (Photo: AFP/VNA)
"This generous contribution amid Cambodia's third community outbreak of COVID-19 demonstrates Vietnam's spirit of good neighbourliness towards Cambodia in times of need," he wrote.
He reassured that Cambodia continues to treat all foreigners, including the people of Vietnamese origin, the same way as his country does with Cambodian citizens in the protection against the current COVID-19 pandemic, as reported by NDO.
The Cambodian PM also commended Vietnam in successfully containing the outbreak of COVID-19 and reaffirmed Cambodia's commitment to working closely with Vietnam in overcoming this unprecedented global crisis.
Politburo assigns Dinh Tien Dung as Hanoi Party Committee Secretary
The Standing Board of the Hanoi Party Committee held a conference in Hanoi on April 3 to announce the Politburo's decision to assign Minister of Finance Dinh Tien Dung as the Secretary of the Hanoi municipal Party Committee during the 2020-2025 tenure.
The event was attended by Politburo members Chairman of National Assembly Vuong Dinh Hue and Permanent member of the Party Central Committee's Secretariat Vo Van Thuong.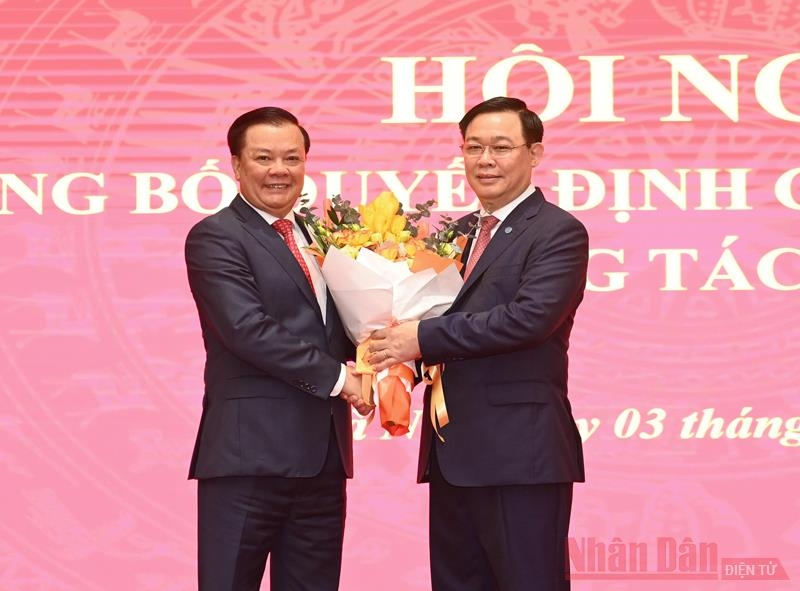 NA Chairman Vuong Dinh Hue (right) congratulates Secretary of Hanoi municipal Party Committee Dinh Tien Dung. (Photo: NDO)
On behalf of the Politburo, Nguyen Thanh Binh, Deputy Head of the Party Central Committee's Commission for Organisation, announced Politburo Decision No.35-QDNS/TW.
At the conference, Politburo member Vo Van Thuong congratulated the newly-elected NA Chairman Vuong Dinh Hue and the Secretary of Hanoi municipal Party Committee Dinh Tien Dung.
For his part, the new Secretary of Hanoi municipal Party Committee noted that he will try his best to fulfill all tasks assigned by the Party, State and the capital's people.
He also pledged to make great efforts to help the capital city overcome all difficulties and challenges to successfully implement the Resolution of the 17th Party Congress of the City and the Resolution of the 13th National Party Congress, according to NDO.
426 Vietnamese citizens safely repatriated from RoK
Can Tho International Airport welcomed the return of a repatriation flight on April 2 as a total of 426 Vietnamese citizens touched down in the country after travelling from the Republic of Korea (RoK). A range of strict security, safety, and hygiene measures were carried out throughout the entire duration of the flight in order to protect the health of passengers whilst preventing the potential spread of the novel coronavirus (COVID-19).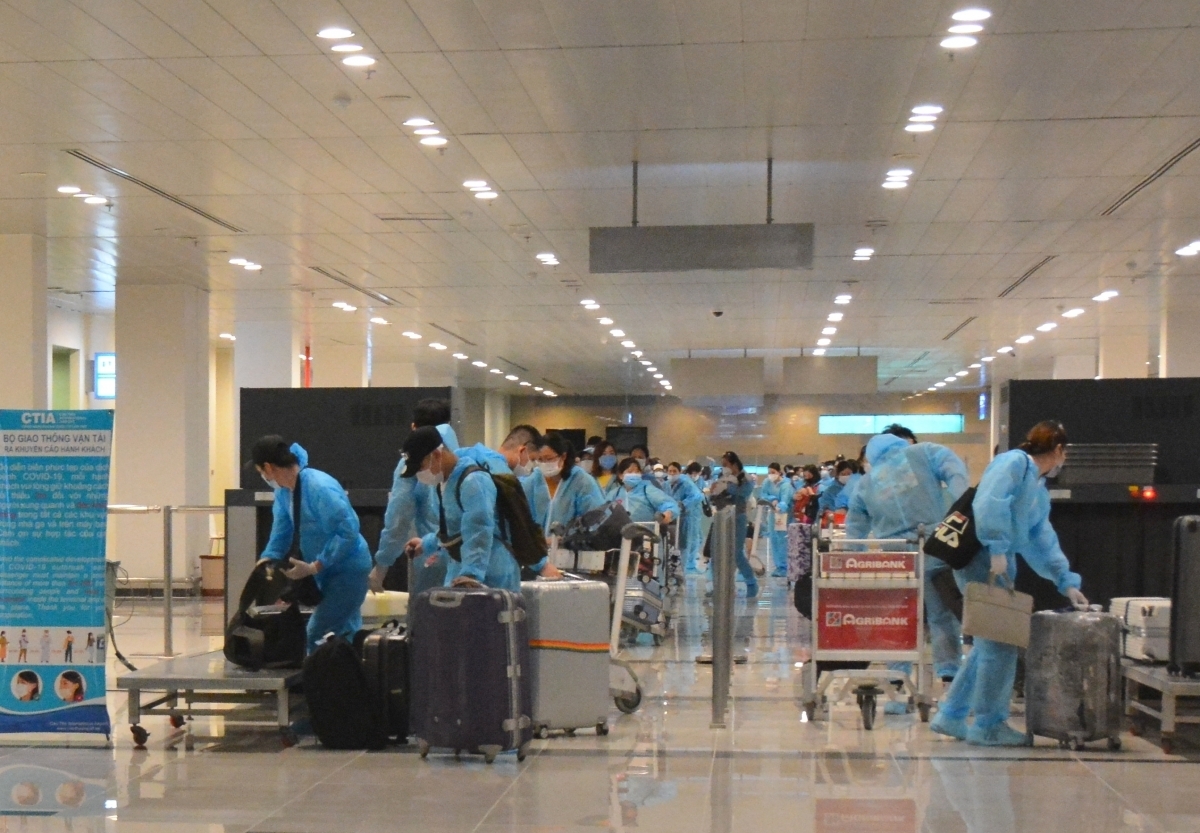 Passengers onboard the flight largely consisted of minors under the age of 18, the elderly, people suffering from underlying health issues, guest workers whose labour contracts had expired, students who have completed their courses but have no accommodation, and others in difficult situations.
Every crew member and passenger onboard the flight were immediately transferred to a quarantine facility in Bac Lieu province in line with COVID-19 prevention and control regulations after landing at Can Tho International Airport, according to VOV.
China leads FDI inflow in Vietnamese wood industry
China tops the list of 14 countries who made investments into the Vietnamese wood industry, with a total of 23 projects throughout 2020.
According to information released in a recent report, direct foreign investment (FDI) increases in the local wood processing industry showed a sharp increase last year, with over US$327.7 million being put into 63 new FDI projects in the industry nationwide.
Furthermore, 52 projects registered to increase additional capital of US$193 million, while 122 others registered for capital contribution and share purchase, with a total value of US$244.8 million.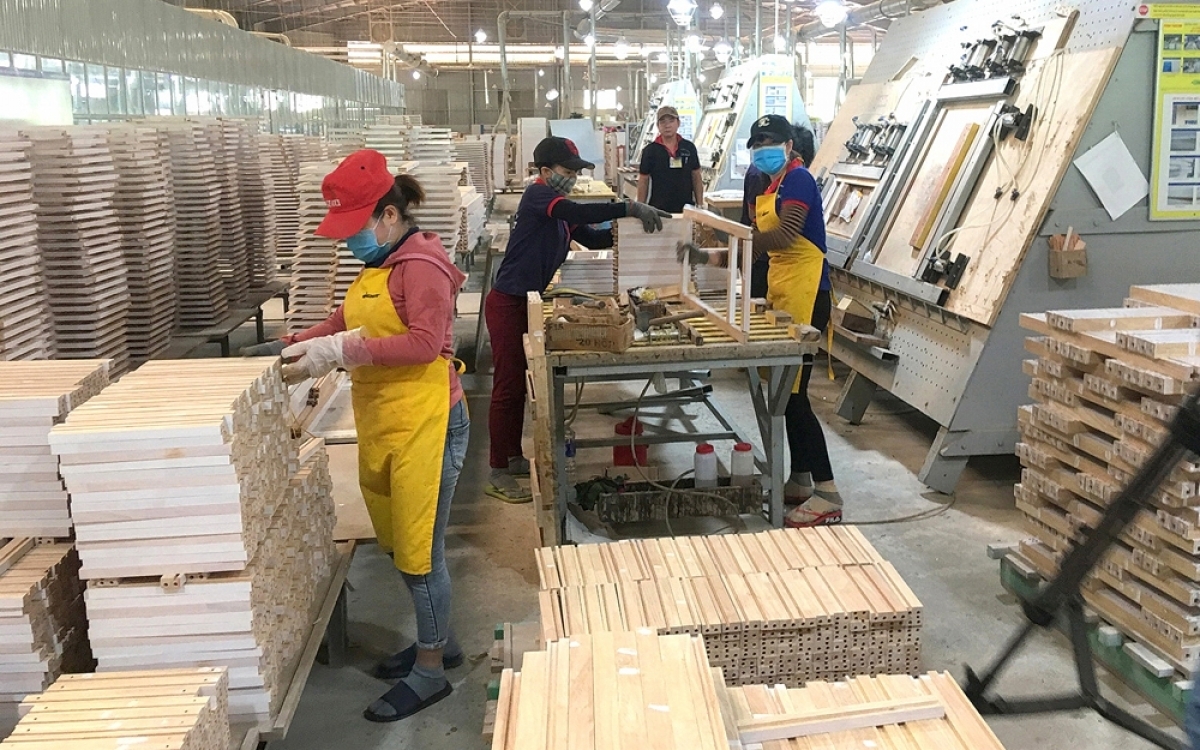 Out of a total of 63 newly-registered projects last year, China topped the list of the 14 foreign investors in the Vietnamese wood industry with 23 projects. Despite this, the amount of investment capital remained modest, with only approximately US$2.27 million being poured into each FDI project, a year-on-year drop of 37%, VOV said.
According to a report compiled by Forest Trends, and several local timber and forestry product associations, although the number of FDI enterprises operating in the wood industry only accounted for 18%, their exports made up 51% of the country's overall wood export turnover last year.
Jasmine Le