Foreign Retailers Come, Vietnam' Domestic Retailers Struggle to Survive
The increasing presence of foreign giants in Vietnam's market has put great pressure on domestic retailers.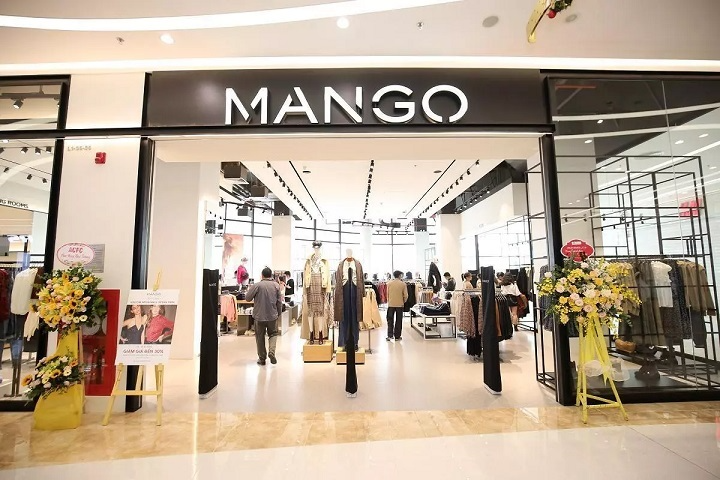 A store of Mango in Hanoi. Photo: VNN
Foreign giants in the market
Philippe Broianigo, CEO of Central Retail in Vietnam, recently stated that in the next five years, the group will invest about 35 billion baht (US$1.1 billion) to expand business in 55 provinces and cities of Vietnam. This year the Thai retail giant plans to disburse $211 million to open four trade centers in Vietnam.
The group owns 37 trade centers and 230 stores in Vietnam. It aims to expand this system to 55 provinces and cities in the next five years, to compete fairly with Vietnam's retail giants.
Takashimaya, a Japanese retailer, also plans to expand its network in Vietnam. Specifically, it will develop the Starlake commercial and office space project in the period 2022 - 2025, besides two other large-scale commercial projects in Hanoi. According to Nikkei, this Japanese retail giant will renovate a number of buildings it has acquired in Ho Chi Minh city and Hanoi, cited VNN.
Another Japanese group - Uniqlo – opened five more stores in Hanoi and Ho Chi Minh city within seven months. Coming to Vietnam after H&M and Zara, Uniqlo owns eight stores in Hanoi and Ho Chi Minh city.
Japanese brand MUJI also set its first footprint in Vietnam with a store in Ho Chi Minh city and most recently a store in Hanoi. Fila sports fashion brand has also opened two stores in Hanoi.
Japanese chain retailer Muji opened its first store in Hanoi in July after opening one in HCMC last November.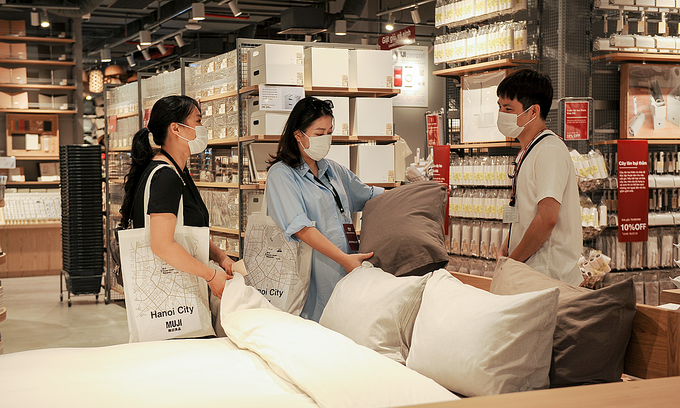 People check pillows inside Muji's first store in Hanoi. Photo: VnExpress
The store, which spans 2,000 square meters at Vincom Center Metropolis on Lieu Giai Street, is the second to be opened in Vietnam.
The flagship store in Hanoi provides around 5,000 products, ranging from fashion, cosmetics to household items, interior design and food, reported VnExpress.
Tetsuya Nagaiwa, Muji's head of Vietnam business, said the chain spent two years searching for a suitable location for the Hanoi store, a much longer process compared to its HCMC endeavor.
Tetsuya said Muji's current strategy is to take hold of Hanoi and HCMC, both major cities, to boost brand recognition. Afterwards, depending on factors like economic development and population, Muji would consider opening more stores in other cities.
What does this mean?
This new wave of FDI proves the attraction and prospect of Vietnam's retail market in the context of the world affected by the pandemic.
Regarding the retail market, Vietnam has a great advantage with a fast-growing economy in Southeast Asia. In the first quarter of 2021, Vietnam's GDP grew 4.5%, demonstrating its positive economic activities amid the global pandemic.
Committed FDI in the first quarter increased by 18.5%, while disbursed FDI rose by 6.5% over the same period last year. In addition, a steady increase in population and rapid increase in consumer spending also make the retail market in Vietnam attractive to foreign investors.
Vietnam is one of the fastest growing digital economies in the region, which has spurred international investors to invest more in the domestic e-commerce market, reported VNN.
According to the Ministry of Industry and Trade's data, 53% of the population participated in online shopping, pushing the growth rate of Vietnam's e-commerce market to 18%, with US$11.8 billion in 2020.
According to the National E-commerce Development Master Plan for the period 2021-2025, by 2025, up to 55% of the population will participate in online shopping, with the average value of online purchases of goods and services of US$600/person/year; B2C e-commerce sales to rise by 25%, reaching US$35 billion, accounting for 10% of the total retail sales of consumer goods and services nationwide. It is forecasted that 55% of Hanoi's total population will shop online on e-commerce platforms, with revenue growth of 20%/year by 2025.
Yoshio Murata, chairman of Takashimaya, said: "Vietnam still has a lot of room for us to expand our investment portfolio in many fields."
Keeping the home market
The increasing presence of foreign giants has put great pressure on domestic enterprises.
In the field of fashion, data from Euromonitor shows that the three businesses holding the largest market share in Vietnam's fashion market are foreign firms, with Adidas taking the lead with 1.5%. Vietnamese brands ranking after the top 3 are familiar names such as Biti's, Canifa, Viet Tien, and May 10.
In order to survive, according to the Vietnam Industry Research And Consultancy JSC (VIRAC), the domestic fashion industry must pay more attention to sustainability, including materials produced from environmentally friendly sources, renewable materials and using less chemicals in production process and ensuring energy saving factors and labor welfare. Distribution on e-commerce channels is increasingly popular, and more Vietnamese consumers turn to online channels.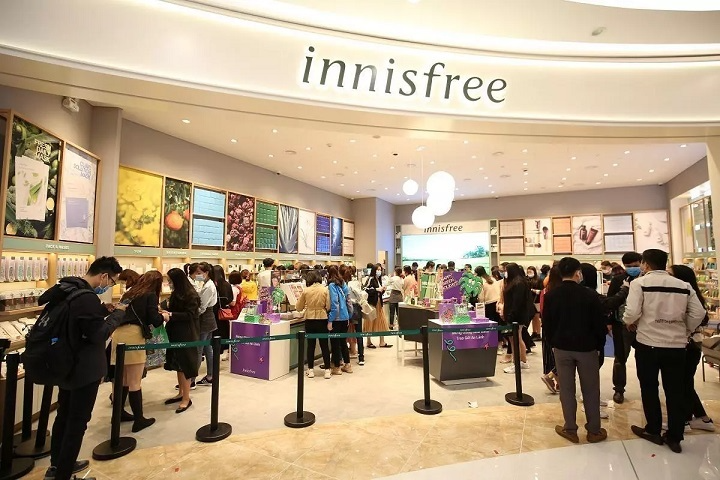 The store of a Korean cosmetics brand in Vietnam. Photo: VNN
The retail sector is an example. This field was warned that it can be acquired by foreign groups when many foreign firms enter the Vietnamese market. However, domestic companies have proven that they will not lose the domestic market easily.
Vietnam's retail market has been compared to a multi-billion dollar cake that attracted foreign retailers. The reports of market analysis firms all listed Vietnam among the most potential markets in Asia with an estimated growth rate of 37 percent per annum and the value of US$180 billion by 2020.
Though big retail players in the world have been present in Vietnam, the market is still dominated by domestic brands such as Vingroup, Masan and MWG, according to TienPhong.
Because of weak competitiveness, some foreign retailers have left the market. Meanwhile, some Vietnamese retailers successfully took full advantage of the departure to expand their chains by taking over the foreign retailers.
Vietnam is promoting international economic integration, so it is inevitable that it will be under pressure to compete with imported goods and foreign-invested companies.
Japanese retailers keen on Vietnam

Japanese conglomerate the Sumitomo Corporation and Vietnam's BRG Group announced in December the official opening of their first partnered supermarket, FujiMart, in Hanoi's Dong Da ...