Free English Exchange Night with Expat in Ho Chi Minh City Bring Joy to Children
Every weekend night, an Australian teacher and the local community of Thao Dien Street (Thu Duc City) host a free class for children to learn English.
Within one hour, special English class in Thu Duc City by native-speaker Samantha (Australia) guided children aged 3-7 to paint, read and communicate in English. Many parents also took advantage of the weekend to bring their children to participate in this brilliant activity.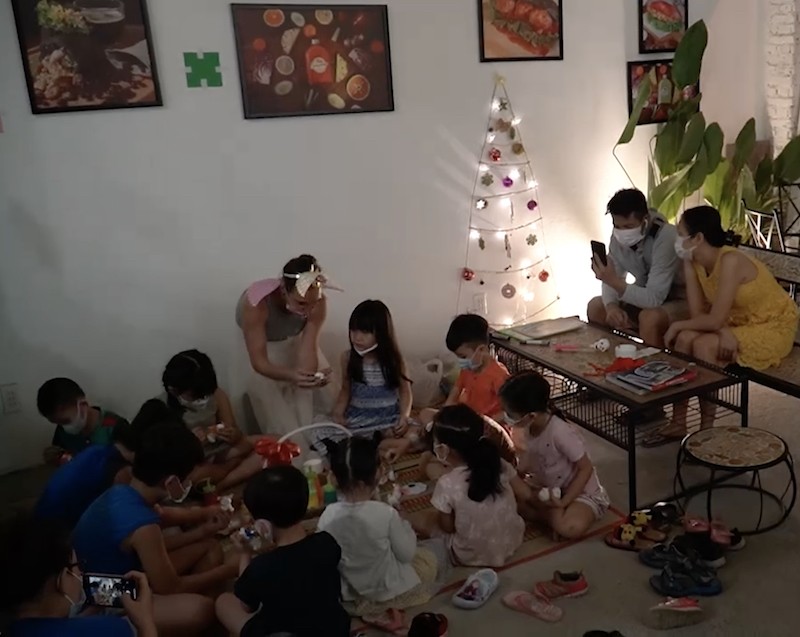 Story Night with teacher Samantha. Photo: Lao Dong
On the evening of January 1, Kim Lien (35 years old, living in Nha Be district), a mother of three came to a bakery on Thao Dien street (Thu Duc city, Ho Chi Minh City) called Banh Mi Cochinchine. They are at the store not to just buy delicious bread but to participate in an English class.
This special class is called Story Night and it is on every Saturday night at Banh mi Cochinchine. For one hour, the cozy space of the pastries store turn into a classroom.
Craft tools, coloring set, paper animals are laid on the ground for children to play with. Their instructor/partner for this weekend workshop is Samantha, an Australian native.
The lesson took place with a lot of laughter, the children listened attentively and read each English word with Samantha's instructions. Samantha and the owner of Banh Mi Cochinchine want to create a friendly environment for children to become familiar with English communication. They figured a one-hour-long play date would be perfect to achieve that goal.
Instead of books and lessons, fairytales and toys attract the children's growing curosity. They will learn English naturally by interacting with Samantha. They can also become close with friends of their ages and talk more confidently.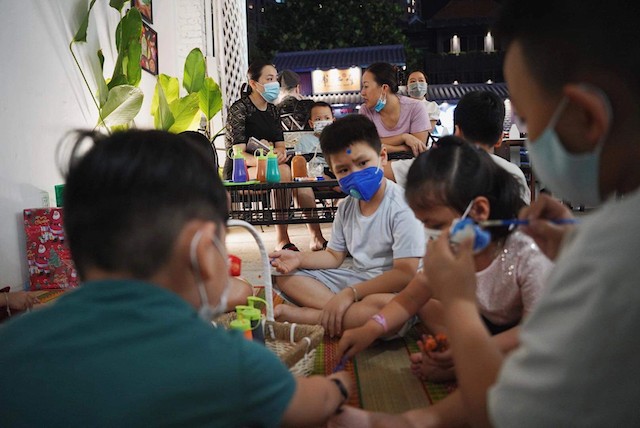 Participants are required to wear masks to prevent the spread of the coronavirus.Photo: Zing News
"My children have lived in the Netherlands since they were young, our family just returned to Vietnam not too long ago. When they return home, they only study online, not able to talk and interact face-to-face with friends and teachers, so I take advantage of the weekend in this English exchange class", said a parent at the class.
This is a fun weekend date for parents as well. Taking her child to class for the first time, My Lien (33 years old, Thu Duc City) could not be happier watching her 5-year-old son play with her and his friends. There are times when the son does not understand what the teacher says, Lien works as an interpreter to help him keep up with the story.
"On the weekend, since the whole family do not want to going to the public playground where there are a lot of people, I let my child experience a new activity to make him become more confident. This is my New Year's Day gift for him. After this class, if he wants, I will let him come to class more often," said Lien who wants to get her shy son to become more fluent in English in the new year.
When the social distancing rule is lifted, she wishes to have a space like this for more children to have fun and learn English through storytelling.
How to participate in Story Night
Classes start at the end of November and take place every Saturday, all activities are free of charge. There is no need for reservation but parents are advised to contact the store to let the staff know beforehand so they can prepare sufficient staff and art supplies.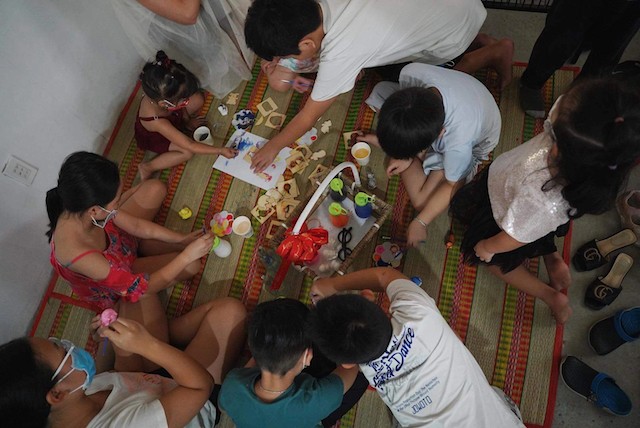 All activities are free of charge. Photo: Zing News
Alice Nguyen, the organizer of Story Night, thought the program succeeded beyond expectations when it received great attention from people in Thao Dien and surrounding areas.
"My goal is to bring back childhood memories, where imagination can go far through fairy tales," said Alice Nguyen.
At the beginning of the program, Alice Nguyen and her colleagues had difficulty finding books and activities suitable for both boys and girls but their effort paid off as more and more families come to class every week.
"This is an activity for the family every weekend. Our orientation is to bring value to the community with the cohesion of family members while having fun." said Alice.
Thinking about Banh Mi Cochinchine's 'Story Night' Project as a Storyteller? Contact the staff by messaging them on Facebook at Banh Mi Cochinchine to make more children in Vietnam happy!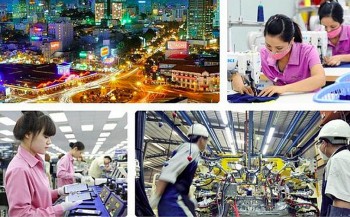 National
Vietnam News Today (Jan. 17): Vietnam records 15,643 new Covid cases; Northern region to turn severely cold from January 17; 'New normal' adaptation leads to positive forecast for Vietnamese economy in 2022; Vietnam-China clash tickets open for sale in two days.