Expat Special New Year Celebrations During Pandemic
Expats found their own ways to usher in the New Year with loved ones as many places across Vietnam banned outdoor celebrations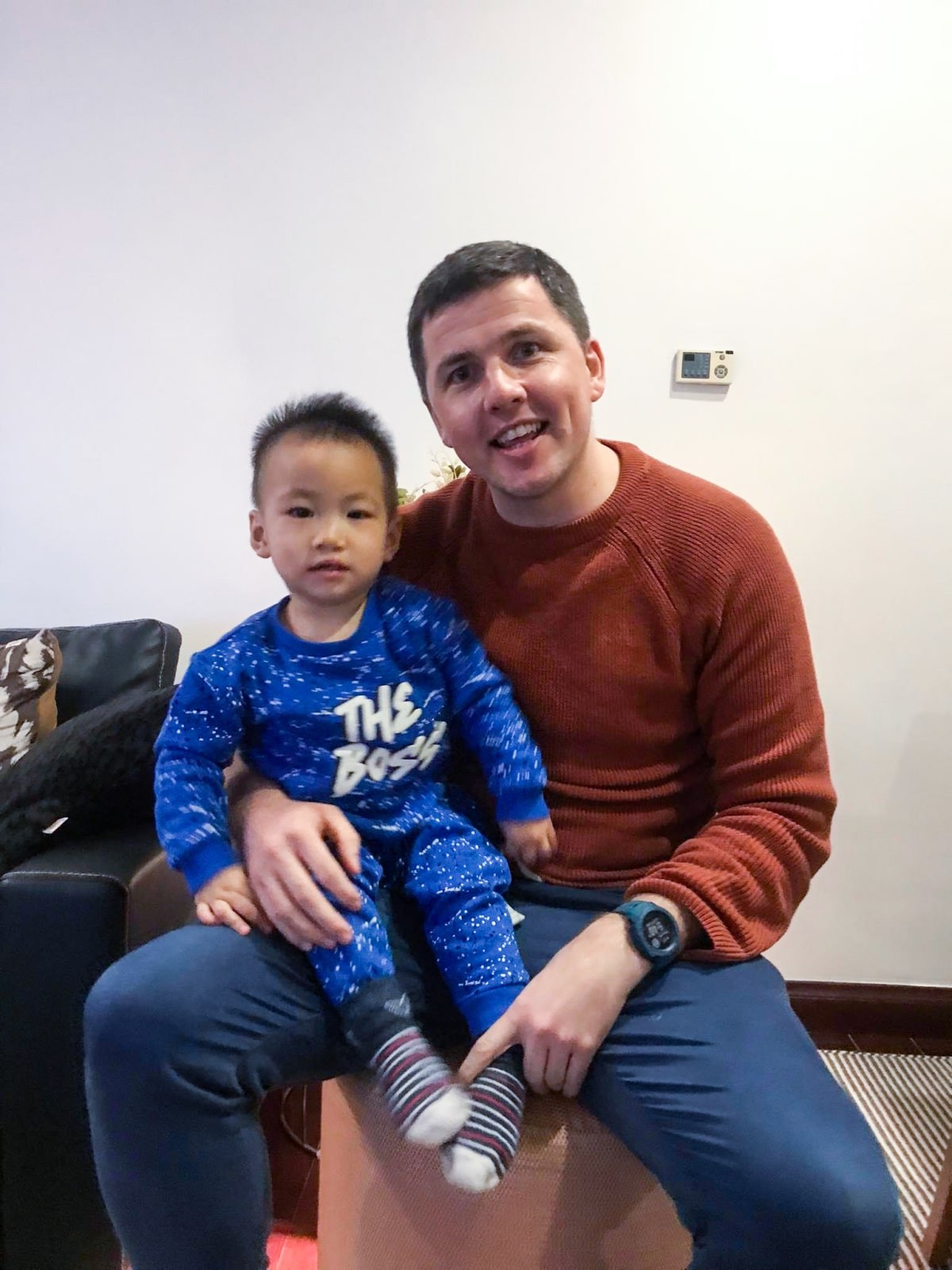 John Hennigan and his son Liam. Photo: VNE
2022 marks the first year John Hennigan, an English teacher of an international school in Hanoi, spent the New Year with his adopted son Liam in Hanoi.
On the last day of 2021, John and his 19-month-old son were invited over to a friend's house to have a year-end dinner.
"New Year's Eve is when I reflect on how lucky I was to adopt Liam, and that the two of us were healthy and happy in the past year is a blessing," the Irish father said in an interview with VNE.
"I reminisce about the wonderful milestones I had had with my son, including his first birthday, and his first time riding a bicycle."
John's decision to adopt a Vietnamese orphan the second he met and knew of Liam's circumstance in June drew much attention.
Liam was born in Hai Duong province, northern Vietnam, with a cleft palate. The newborn's biological parents, therefore, abandoned him.
Liam is now in good health condition after two successful cleft palate surgeries.
"Now, my son can run and jump a lot. He is able to pronounce both Vietnamese and English words, even though speaking a whole sentence might take him some time because he is learning both languages," he added.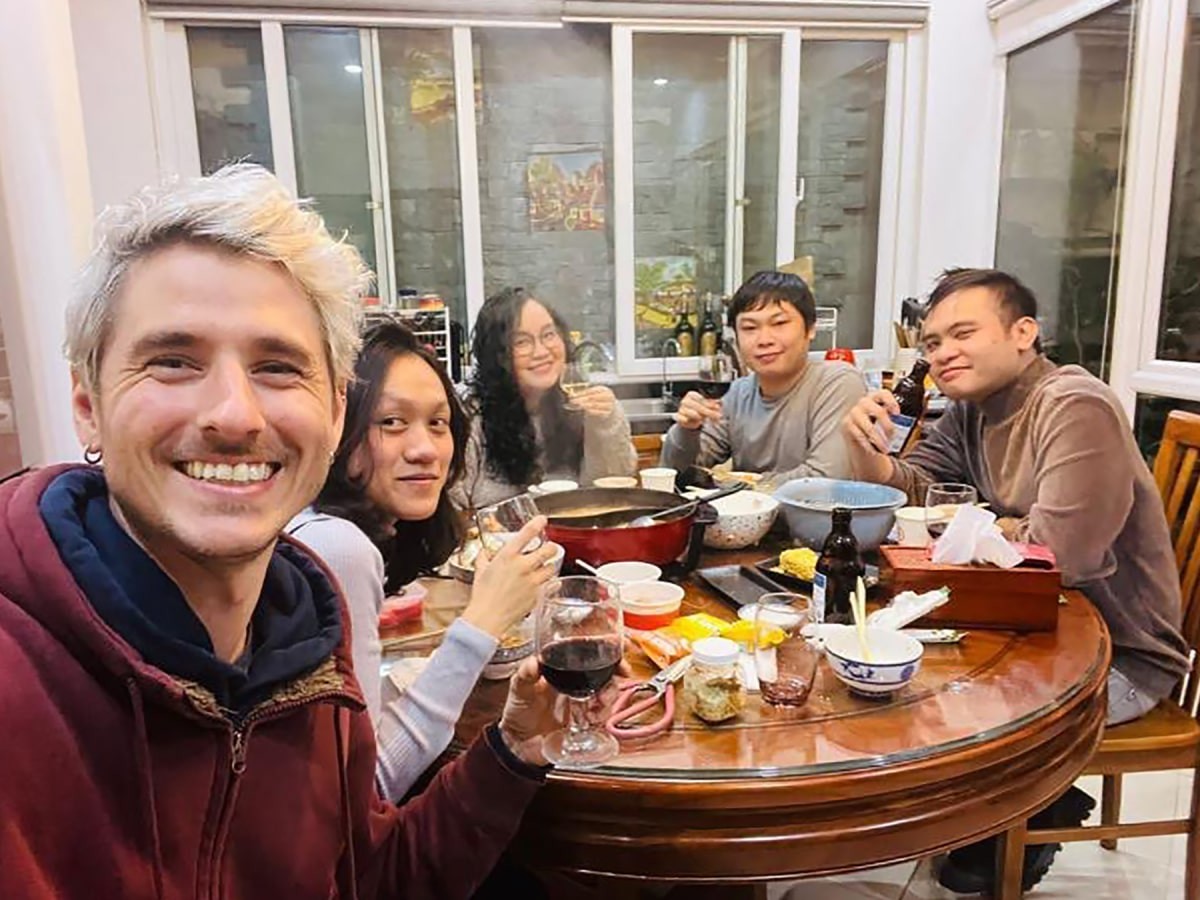 Paul Baudry (L) takes a selfie with friends at a year-end party. Photo via VNE
For French expat Paul Baudry, this is his third New Year celebration in Hanoi. The 31-year-old is a lecturer in the French Department at Hanoi University of Science and Technology.
He has been residing in Vietnam since Jan 2020 and lived in Hanoi for eight months between 2017 and 2018.
Baudry said his 2022 New Year celebration is pretty much the same as previous years.
"I'd like to gather at home with close friends rather than being at crowded places," he said.
In 2017, the expat joined the countdown party at one of his Vietnamese friend's houses. Last year, he had a "hotpot party" with his friends before watching the firework display from the rooftop. "That was a great night," he said.
This year, as Hanoi authorities banned all outdoor New Year celebrations to curb coronavirus spreading, he and his friends also throw a homey year-end feast, sitting around eating hotpot, having wines and playing games.
"My biggest wish right now is to reunite with my family in France," he said. "It's been two years since I last met them in person. I really miss them."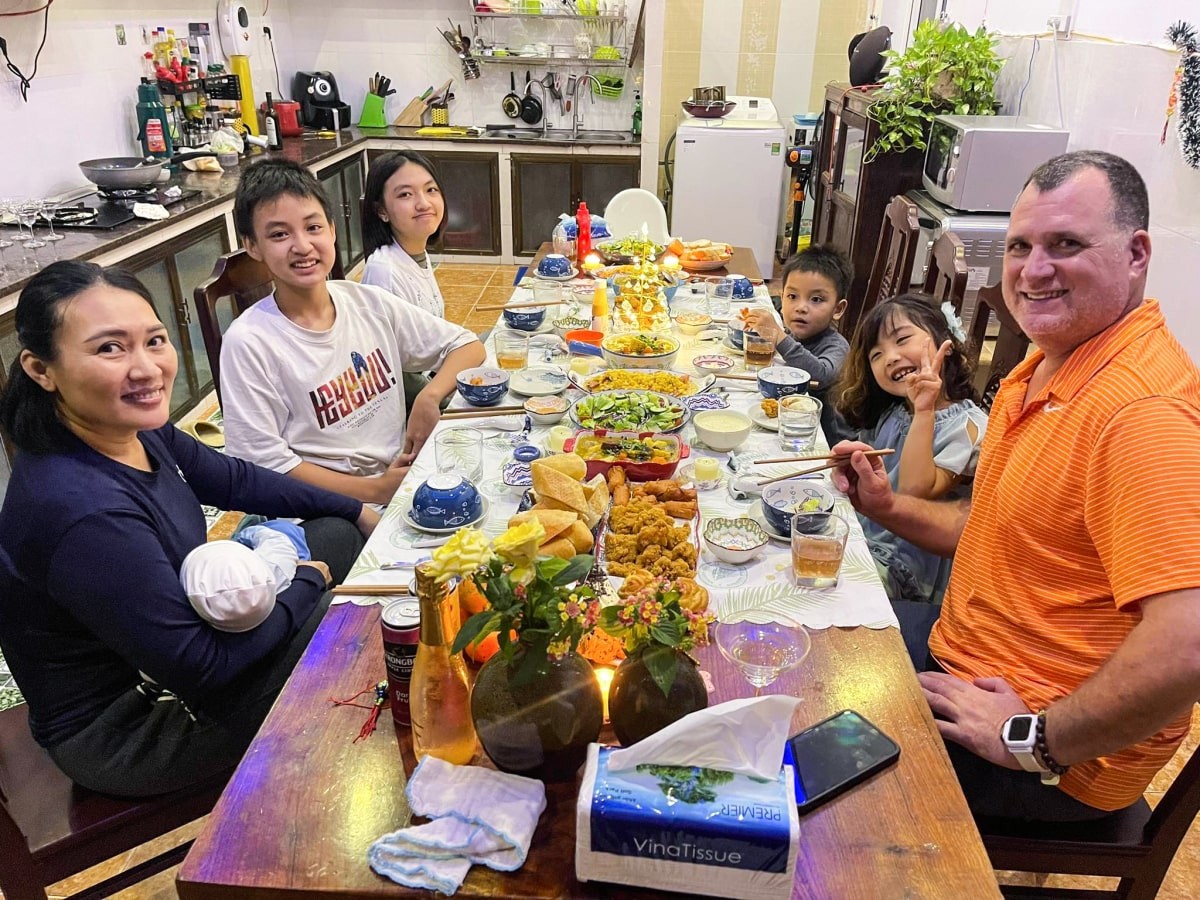 Eric Wedel made it home in time for the New Year. Photo via VNE.
Meanwhile, Eric Wedel was able to fly back to Hoi An, central Vietnam in time for the New Year reunion after finishing his fishing and sailing trip that lasted for over six months. Wedel is a fishing boat captain in Alaska, the US.
"What a rough journey for him to return home. But we were very determined and finally able to reunite on December 15," said Pham Thi Thu Trang, Wedel's wife.
Due to the Covid-19 pandemic, their New Year feast this year only saw 10 members from Trang's family.
Wedel prepared many dishes for the family get-together, including curry and salad.
Thomas Henry Wickings prepares dinner for a New Year party. Photo via VNE
On the balcony of a house in HCMC's District 7, Thomas Henry Wickings and his wife, Ding Vo, enjoyed BBQ party to welcome the first day of 2022.
Unlike previous years when the couple gathered with friends for a year-end dinner, this year Thomas and Ding shared the moments just between the two of them.
"2021 was quite a sad year for all of us. My husband and I chose a quiet place, just us with our pets to reflect on a tumultuous year," said Ding who has just recovered from Covid-19.
Wickings and Ding have been happily married for five years now. They have the habit of going on a date at least once a week to keep their romance alive.
Since the pandemic broke out, Wickings, deputy director of a foreign enterprise's branch in Vietnam, has been working from home while Ding also has spent more time at home. The couple has learned many cooking and cocktail recipes.
"We find that staying at home is funnier than we thought it would be," Ding said.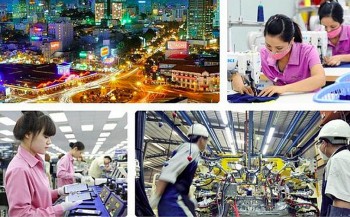 National
Vietnam News Today (Jan. 17): Vietnam records 15,643 new Covid cases; Northern region to turn severely cold from January 17; 'New normal' adaptation leads to positive forecast for Vietnamese economy in 2022; Vietnam-China clash tickets open for sale in two days.