Friendship Order awarded to Australia's Action on Poverty
Ambassador Nguyen Phuong Nga, authorized by President of Vietnam, on November 11 conferred Australia's Action on Poverty with the Oder of Friendship for their significant contributions to Vietnam's poverty reduction and sustainable development over the past 30 years.
(From the left) VUFO Chairwoman Nguyen Phuong Nga presented Friendship Order and Certificate of Merit to Mr. Megal Shah, AOP Australia Chief Financial Officer and Mr. Ta Van Tuan, Chief Representative of AOP in Vietnam
Speaking at the event, Ambassador Nguyen Phuong Nga, also the Chairwoman of the Vietnam Union of Friendship Organizations, said this is the most noble award of Vietnam to foreign organizations for their contributions to promoting friendship between Vietnam and other countries.
"AOP is Vietnam's longtime friend who made significant contributions to the country's poverty reduction and sustainable development", Ambassador Nga said.
Appreciating AOP's assistance to Vietnam over the past three decades, VUFO Chairwoman emphasized, not only financial values, AOP also brought in new approaches that can be replicated throughout Vietnam.
Ambassador Nga added, over the past thirty years, AOP has directly contributed to promoting understanding friendship and partnership between people of Australia and Vietnam. With these outstanding efforts and contributions, AOP and their staff has been recognized and honored by many Vietnamese agencies and local government.
For his part, Mr. Ta Van Tuan, Chief Representative of AOP in Vietnam, expressed his privilege to represent AOP to receive the noble award of the President of Vietnam.
"Vietnam is a special country program of AOP. To date, AOP has worked in 28 countries but has only opened an office in Vietnam, As the first Australia NGO to register the representative office in Vietnam, AOP has developed closed friendship with the communities we work with, as well as with central and local authorities to implement 60 projects with more than 250,000 direct beneficiaries in 35 provinces from the North to the South of Vietnam", said Tuan.
On behalf of Action on Poverty, Tuan expressed sincere thanks to President of Vietnam for the prestigious appreciation, the Vietnam Union of Friendship Organizations, and especially PACCOM for their support during past 30 years.
30 years ago, in 1989, a group of doctors who were also boards members of AFSP helped the city of Newcastle, Australia to ship medical equipment to their "Sister City" of Haiphong. They later travelled to meet the Mayor of Hai Phong and government officials to check on the equipment delivery in 1990. Afterwards, they met with government officials in Hanoi and laid the groundwork for an office to be established in 1996 as the Australian Foundation for the Peoples of Asia and the Pacific (AFAP), which became Action on Poverty in Vietnam in 2018.
VNF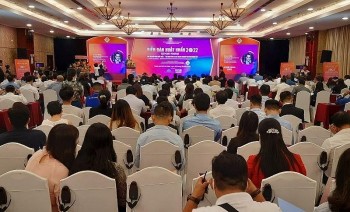 Focus
Vietnam News Today (Dec. 9): Vietnam - Singapore innovation centre helps firms transform production; HCM City among most searched destinations by travelers; Vietnamese digital technology industry's revenue estimated at 148 billion USD in 2022; Two Vietnamese films up for consideration at Oscars.