Friendship Order Bestowed upon Australian Ambassador
Australian Ambassador to Vietnam Robyn Mudie has been honoured with the Friendship Order of the Vietnamese State for her contributions to the friendship and strategic partnership between the two countries.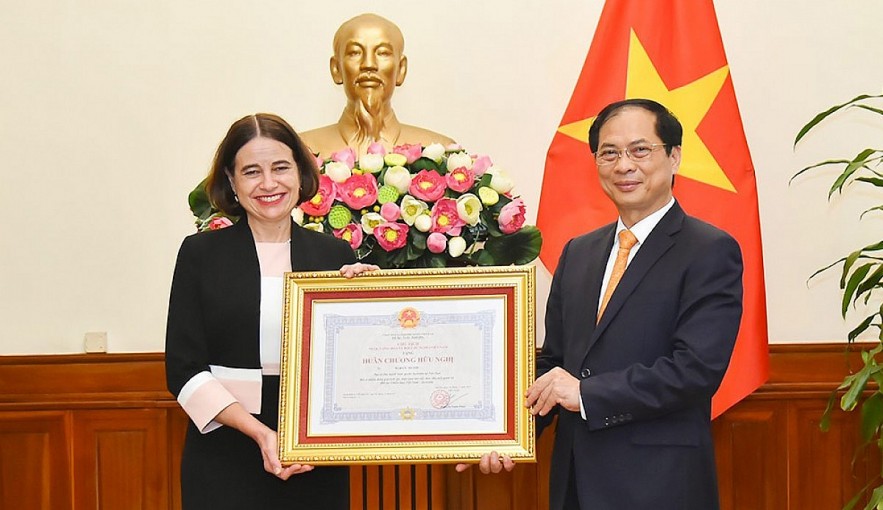 Foreign Minister Bui Thanh Son (R) presents Vietnam's Friendship Order to Ambassador Robyn Mudie in Hanoi on June 10. Photo: baoquocte.vn
Foreign Minister Bui Thanh Son, authorized by State President Nguyen Xuan Phuc, presented the Order to the Australian Ambassador in Hanoi on June 10, according to VOV.
Minister Son congratulated and appreciated Mudie's positive contributions to developing the bilateral strategic partnership in a substantive and effective manner.
He noted that the cooperation has yielded important achievements, especially in the fields of politics - diplomacy, defence - security, economy - trade - investment, science - technology, and agriculture.
The two countries have also maintained high-level visits, and coordinated well at regional and international forums, especially when Vietnam was the ASEAN Chair in 2020 and a non-permanent member of the United Nations Security Council for 2020-2021.
Vietnam always attaches importance to the strategic partnership with Australia, emphasized Minister Son, expressing his belief that the new Australian government would continue to promote friendship and cooperation with Vietnam.
For her part, the Ambassador thanked the Ministry of Foreign Affairs and Vietnamese ministries, agencies and localities for their support and cooperation during her tenure in the Southeast Asian country.
The Ambassador affirmed that she considers Vietnam her second homeland and would continue to contribute to the development of the friendly and cooperative relationship between Vietnam and Australia.
Earlier, President of the Vietnam Union of Friendship Organisations (VUFO), Ambassador Nguyen Phuong Nga also presented the "For peace and friendship among nations" insignia, the highest VUFO award, to the ambassador in recognition of contributions to the bilateral relationship.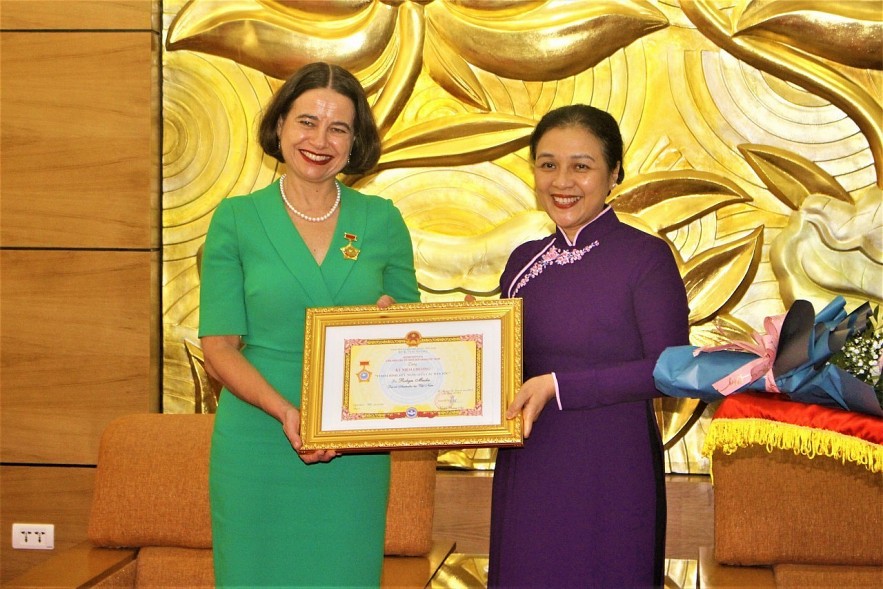 VUFO President Ambassador Nguyen Phuong Nga (R) presents the "For peace and friendship among nations" insignia to Australian Ambassador to Vietnam Robyn Mudie. Photo: VNT
Nga stressed that Mudie is a close friend of Vietnam, and she is among the diplomats with influences on Vietnamese. During the past three years and the Covid-19 pandemic fight, Ambassador Mudie played a pivotal role in promoting the strong development of all-round relations between Vietnam and Australia.
Mudie expressed her honor to receive the noble, affirming that VUFO plays an important role in strengthening bilateral relations between Vietnam and other countries./.
Last year, the two-way trade hit a record high of $12.4 billion, up over 49% year-on-year. Photo: VNA
Bilateral trade between Vietnam and Australia is growing strongly, reaching $1.38 billion in the first quarter of 2022, a surge of 32.36% against the same period last year, according to the General Department of Vietnam Customs.
A sharp increase was seen in Vietnam's export of various agricultural and industrial products to Australia like coffee (84%), aquatic products (51%), rubber (41%), and electric cable (26%). Notably, the shipments of iron and steel skyrocketed by more than 500% year on year.
Australia is emerging as a supplier of much-needed materials for Vietnam, including coal, iron ore, metal, cotton, wheat and cattle feed, enabling the latter to boost production.
Last year, the two-way trade hit a record high of $12.4 billion, up over 49% year-on-year. The same year, the two countries finalised the signing of the Australia-Vietnam Enhanced Economic Engagement Strategy to support their ambition of becoming each other's top trade partner and doubling bilateral investment.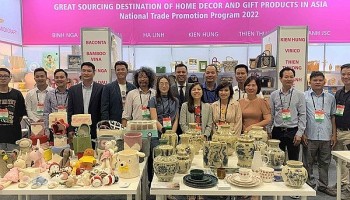 Economy
"Amazing ASEAN 2022 - Discover the flavors of Asia" campaign and the NY NOW exhibition are important events in August 2022 that introduced the rich and diverse goods and products from Vietnam to international markets.