From Zero to Hero: V Gaming is the Winner of Arena of Valor International Championship 2022
After a long wait, once again the AIC 2022 world championship trophy has returned to Vietnam.
Vietnamese e-sport fans cheered as V Gaming brought their best game and won the Arena of Valor International Championship 2022 on July 10.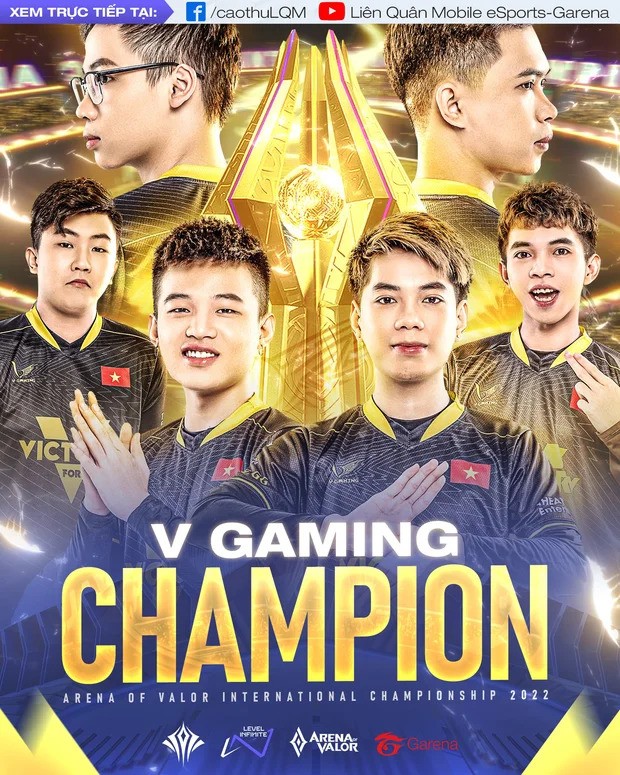 Photo: Kenh14
The Arena of Valor International Championship (AIC) 2022 will be the sixth iteration under the AIC franchise, organized by Garena and Tencent.
AIC 2022's total prize pool of up to US $2 million - the largest prize pool in the tournament's history.
AIC 2022 takes place from June 16 to July 10, with 16 of the strongest e-sport teams from 10 regions around the world. The Vietnamese representatives in the tournament are Saigon Phantom, V Gaming and Team Flash. The defending Vietnamese national champion, Saigon Phantom, was eliminated from the group stage while Team Flash also eliminated in the quarterfinalsm losing to V Gaming and Bacon Time (Thailand) with the same score 0-3.
From 2019 to 2021, the championship title went to Team Flash of Vietnam (AIC 2019), MAD Team from Taiwan, China (AIC 2020) and Buriram United of Thailand (AIC 2021). Starting from 2022, AIC is a penultimate-level championship with AWC 2022 now represents the world championship.
V Gaming: From Zero to Hero
In previous tournaments, V Gaming was known as an average team. After becoming the runners-up of the AIC 2021, their rank improved and AIC 2022 was considered their big break.
V Gaming's lineup in the grand final includes Nguyen Van Hieu (BirdLB, position: Dark Slayer lane), Nguyen Quang Hai (Quang Hai, position: jungle), Nguyen Quoc Huy (Maris, position: mid lane), Lam Van Hoang (HoàngTĐ, position: Abyssal Dragon lane), Dang Huy Truong (ĐHT, position: mid lane), Nguyen Quoc Han (Han, position: support).
The start of the tournament was not so good for V Gaming. In Group Stage Phase 1, they lost two matches, but still qualified for Phase 2 with only one win.
In Phase 2, they topped Group D and also won their first knockout match with a dominating score of 3-0 against Team Flash.
In their second Knockout stage match, V Gaming showed a spirited performance against Taiwanese team Bikertopia Esports as they won the game with a scoreline of 4-1 and qualified for the Upper Bracket Final.
The Upper Bracket Final did not go as expected for the team, as they lost to ONE Team with a scoreline of 4–1. After dropping into the Lower Bracket, V Gaming again faced Bikertopia Esports in the Lower Bracket Final. This time, they got a hard-fought victory with a scoreline of 4-3 and moved to the Grand Finals.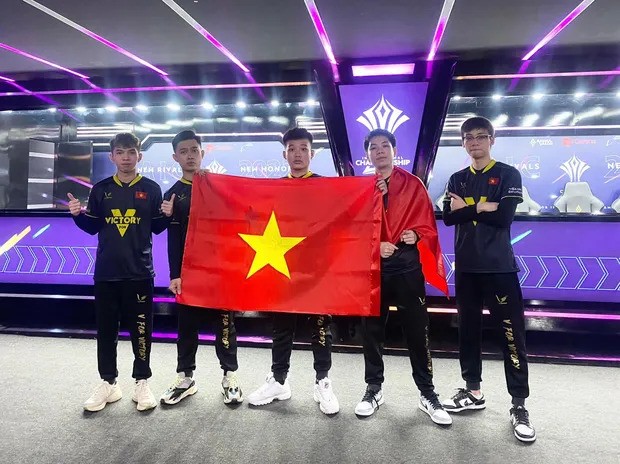 Photo: V Gaming Faecbook
V Gaming started the finale with a bad loss. They looked good throughout the match, until they made a fatal mistake in the dragon's cave which wiped out the whole Team. However, V Gaming made an outstanding performance in the following games, won the remaining matches.
Defeating ONE Team (Taiwan, China), V Gaming came up from the losing bracket to became the champion and won $US $700,000 (VND 16 billion). Meanwhile, the runner-up team will be awarded with US $350,000 (about 8 billion VND).
This year's final MVP also belonged to V Gaming's member - Maris. Maris received the prized of US $30,000.
Player Maris shed tears as V Gaming become champion of the AIC 2022. Video: V Gaming Facebook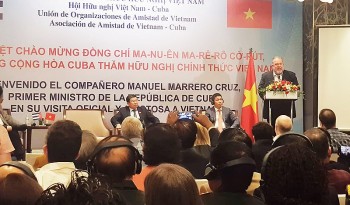 Friendship
Cuban Prime Minister Manuel Marrero Cruz met representatives from the Vietnam-Cuba Friendship Association in Hanoi on September 30, as part of his visit to Vietnam from September 28 to October 2.