Fun Vietnamese Classes for ESL Teacher in Hanoi
Check out Hanoi's community of foreign English teachers who love dicovering Vietnamese culture through language exchange.
Through getting a Vietnamese tutor, foreign teachers in Hanoi can discover the fun of mastering a new language. Vietnamese classes are not only to help them learn the language but also is their gateway to understand more about the local community, its identity, and to connect with like-minded people.
Classes for teachers
Vietnamese teacher Quynh Huong and her students in a class, The students are ESL teachers in Hanoi (Photo courtesy of Le Quynh Huong).
Native English teacher Lloyd Cole from UK came to Vietnam 3 years ago and soon realized he needed to learn the language. Encouraged by friends with high level of Vietnamese proficiency, he realized many benefit of knowing Vietnamese, especially at work.
"In class, there are times when I need to speak in Vietnamese. I would correct mistakes by reading the students' English sentences in Vietnamese if the sentences don't make sense. I can help them with their exercise and we all have a good laugh."
Lloyd is thankful for his Vietnamese teacher, Ms. Quynh Huong because her lessons are both fun and effective. He has been studying with Huong for about two and a half years. He improved, especially in listening and speaking skills, are is focused on writing. The British teacher used to be able to chat for 5-10 minutes with Huong at the beginning of class, now they can talk for almost 30 minutes.
Two times a week, Lloyd spends 1 hous studying with Huong at a cafe. Sometimes, class is for only once a week, since Lloyd is now more confident with his Vietnamese proficiency. Also, he has another tutor named Hung who is responsible for speaking and hearing at a higher level. After 6 months practicing with Hung, Lloyd showed great progress
"Since Huong's female voice is high, so I studied with Hung - a male friend of my age. Every Monday, I study online with Hung for an hour in the morning. He would read for me, I write down what he said to practice hearing, vocabulary and writing skills."
Lloyd also finds many ways to learn Vietnamese quickly and effectively, he followed a friend's advice about using Vietnamese every day, even texting and calling friends in Vietnamese. He is at the Intermediate level now. Going to the gorcery store or having a meaningful chat with others are now something easy for Lloyd to do in Vietnamese.
Turning lesson into a game
The method of learning while playing in classes like Huong's has many similarities with English classes. The class atmosphere is lively with games, especially when there are 3 or more students. In class, English is used when explaining grammar, and students are encouraged to use Vietnamese during class time.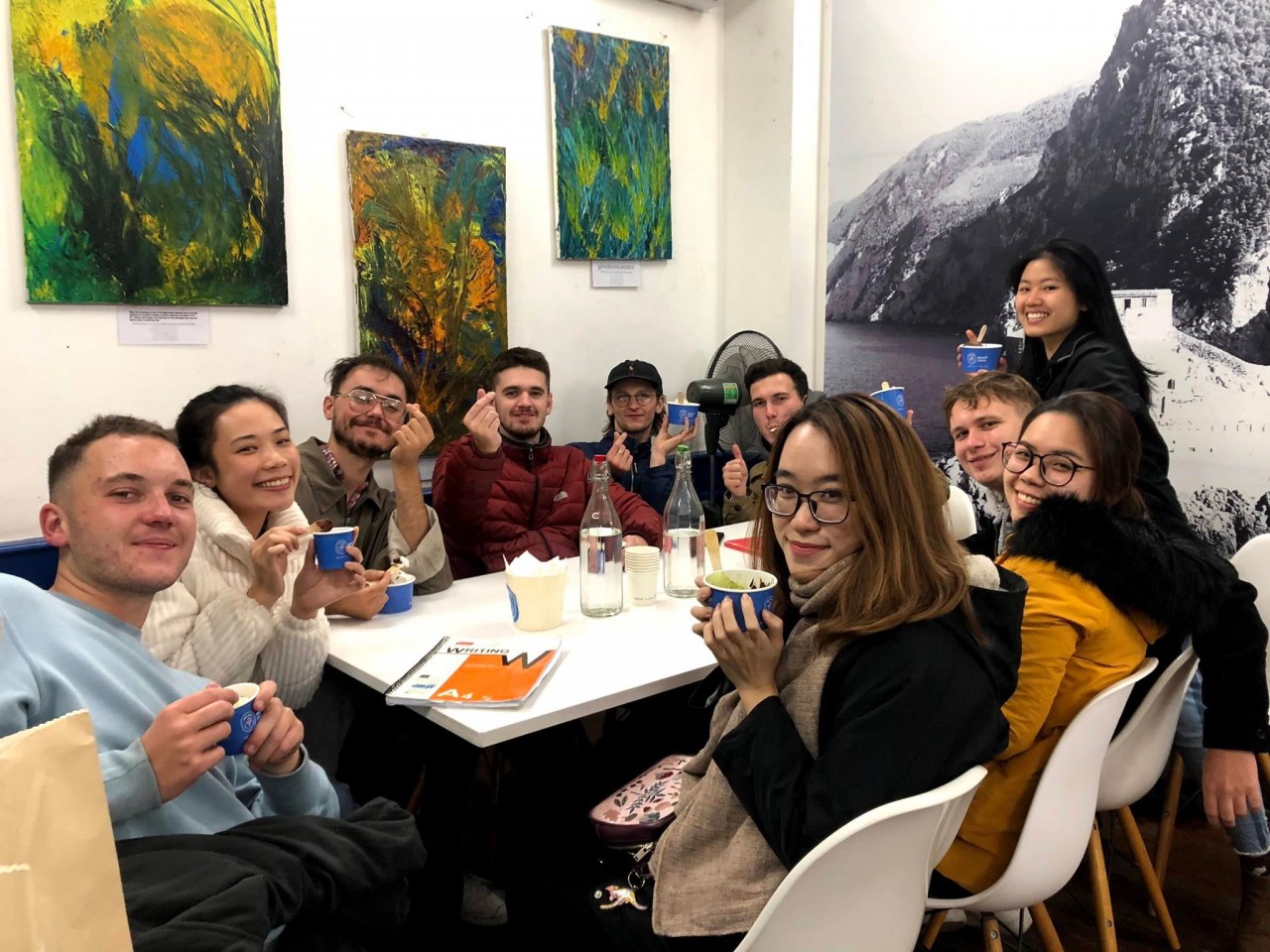 Huong's students at a cafe chatting after taking a test (Photo courtesy of Le Quynh Huong)
Students especially enjoy taking tests by playing games because more than anyone else, they understand the pressure of studying for exams and grades. Therefore, instead of sitting at desks, students can take a test by playing "Human Bingo", which means they have to go out to ask names and communicate with strangers until they get a Bingo. Students also enjoy solving puzzles while playing games that put sentences together into a complete and meaningful story.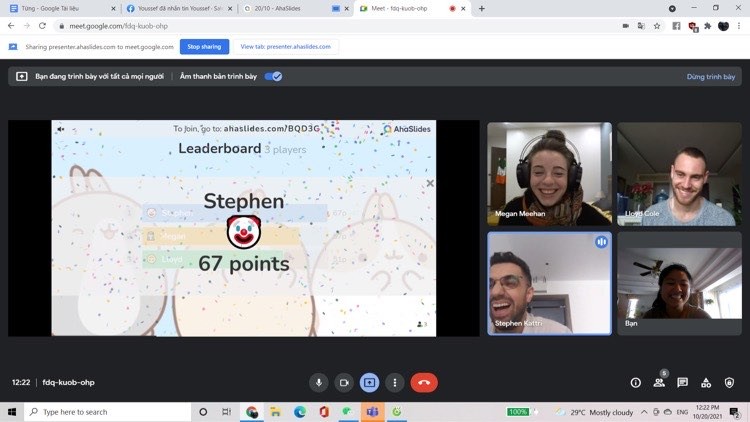 Even in online class, Huong and students have fun with games (Photo courtesy of Le Quynh Huong)
Interesting way of "gratitude"
Huong's students are encouraged to communicate with the locals. They can practive Vietnamese when going to the market, buying goods, and asking for directions. When the students can use Vietnamese comfortably, their teacher is the first to know.
"I talked for a long time with the grab driver", "I heard how much money is," reports Huong's students. The Vietnamese teacher is happy to see the results of her work.
Also, through Facebook, students show their gratitude to Huong by recommending her class to their friends, especially for ESL teachers who are new to Vietnamese.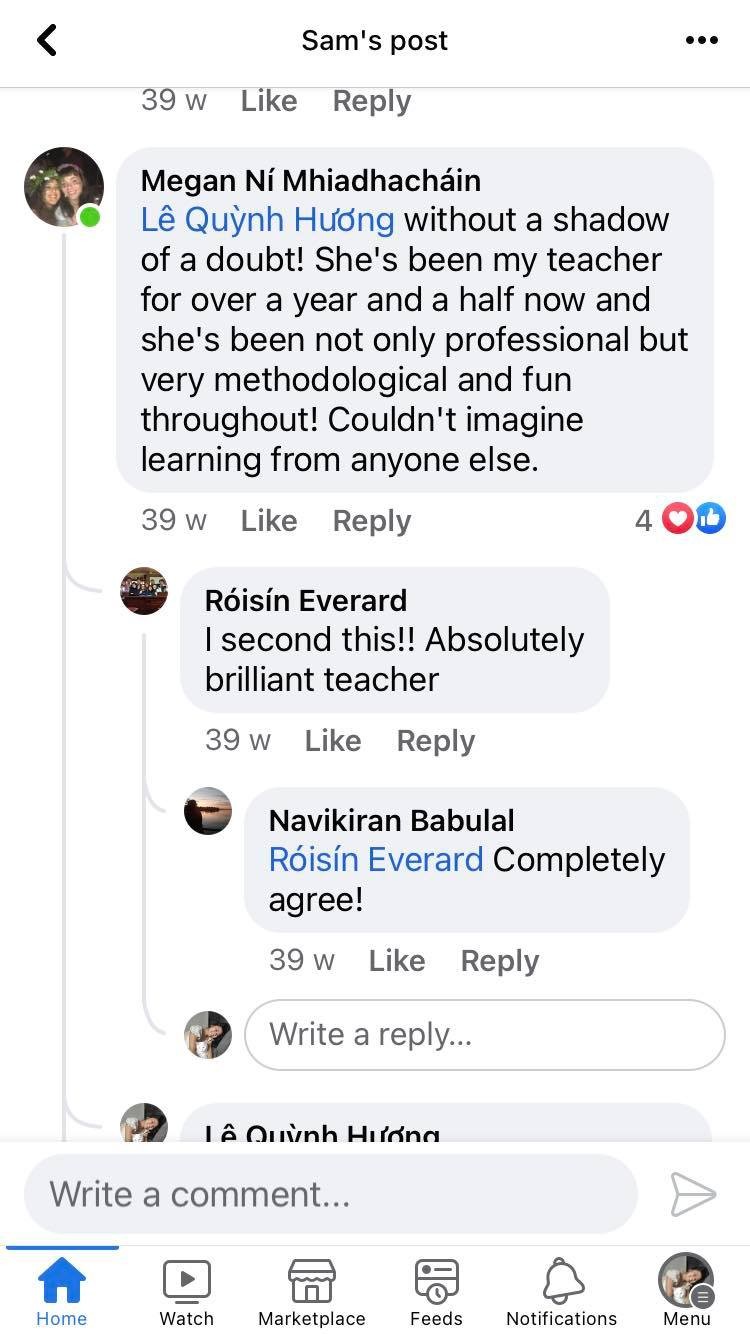 (Photo courtesy of Le Quynh Huong)
Megan and Roisin (Irish) - Quynh Huong's former students recommended Huong's class to new ESL teachers, sending appreciation for Huong's professionalism, methodology and worh ethics. Megan wrote: "Couldn't imagine learning from anyone else."
When receiving such compliments, Huong was very surprised. She realized that her Vietnamese classes brought her not only students, but also new, supportive friends from the foreign community across Hanoi.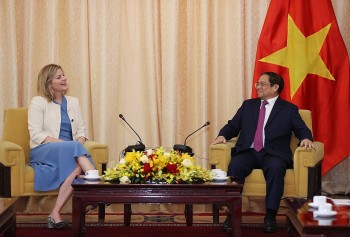 National
The Netherlands committed to cooperate with Vietnam, and together find innovative and sustainable solutions to accelerate green economy transformation.