Get A Glimpse of Vietnam's City of Ghosts in Thua Thien Hue
Families in a rural community of Vietnam are pouring up to US$70,000 into elaborate final resting places to honour their kin.
Drive along Highway 49 from Hue City to Thuan An beach and then continue along the coastal road about 30km to Vinh An commune (Phu Vang district, Thua Thien Hue province), you will encounter a land area of ​​about 40ha with many tombs are taller than the people's houses, varied in size and design.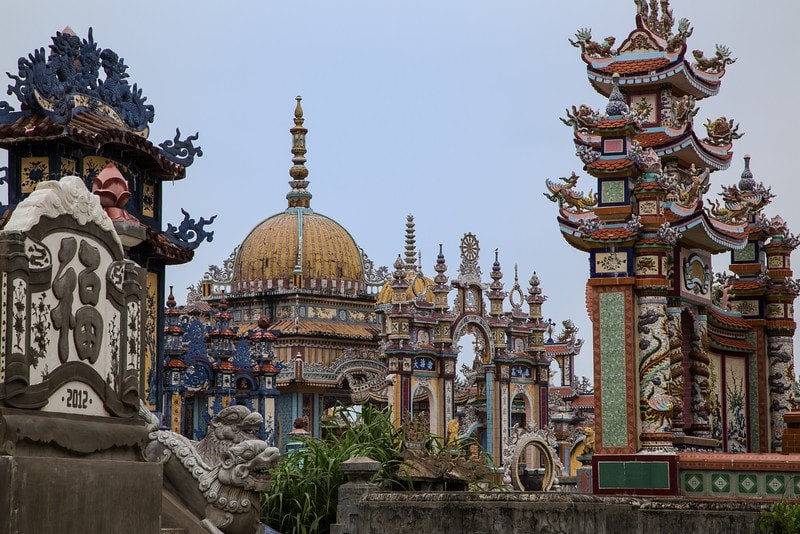 Running along the road to An Bang village, many people can't help but be surprised with the magnificent tombs of all sizes and designs lying on both sides of the road, mixed with residential areas. Source: Vietnam Timeless Charm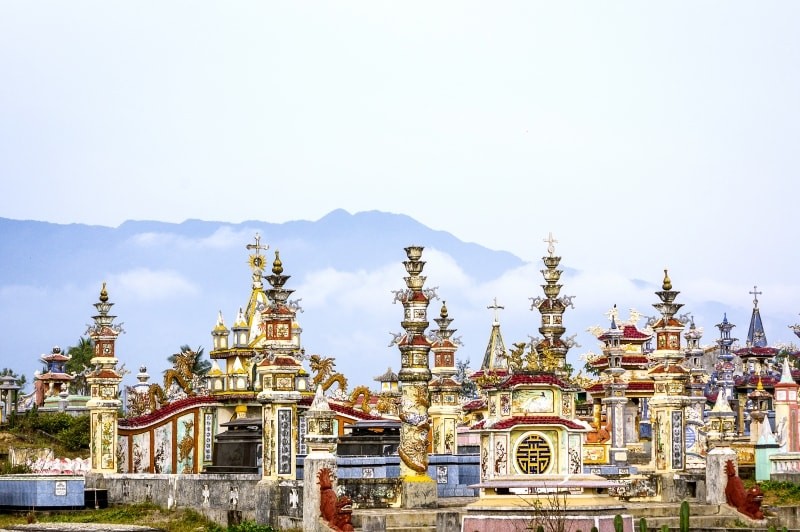 The 250-hectare site has earned the nickname "City of Ghosts" for its ornate tombs. Source: Vietnam Timeless Charm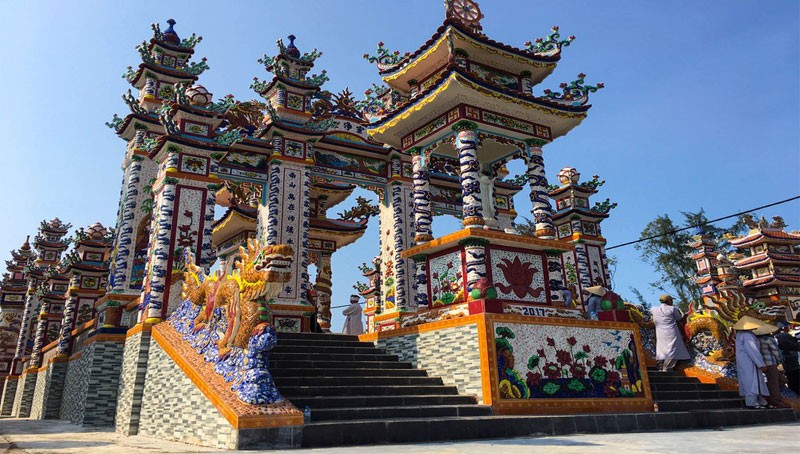 There are more than 1,000 graves from 40-400m2 wide with gates up to 7-8m high.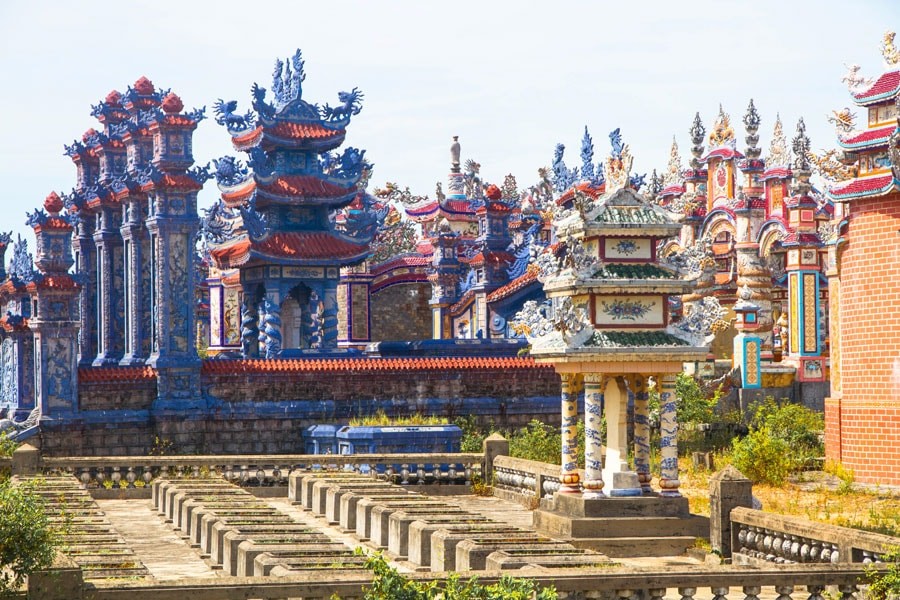 The architecture of these structures covers a variety of styles, from Buddhist temples to Gothic-inspired graves, Hindu, Islamic and Christian décor. Source: Vietnam Timeless Charm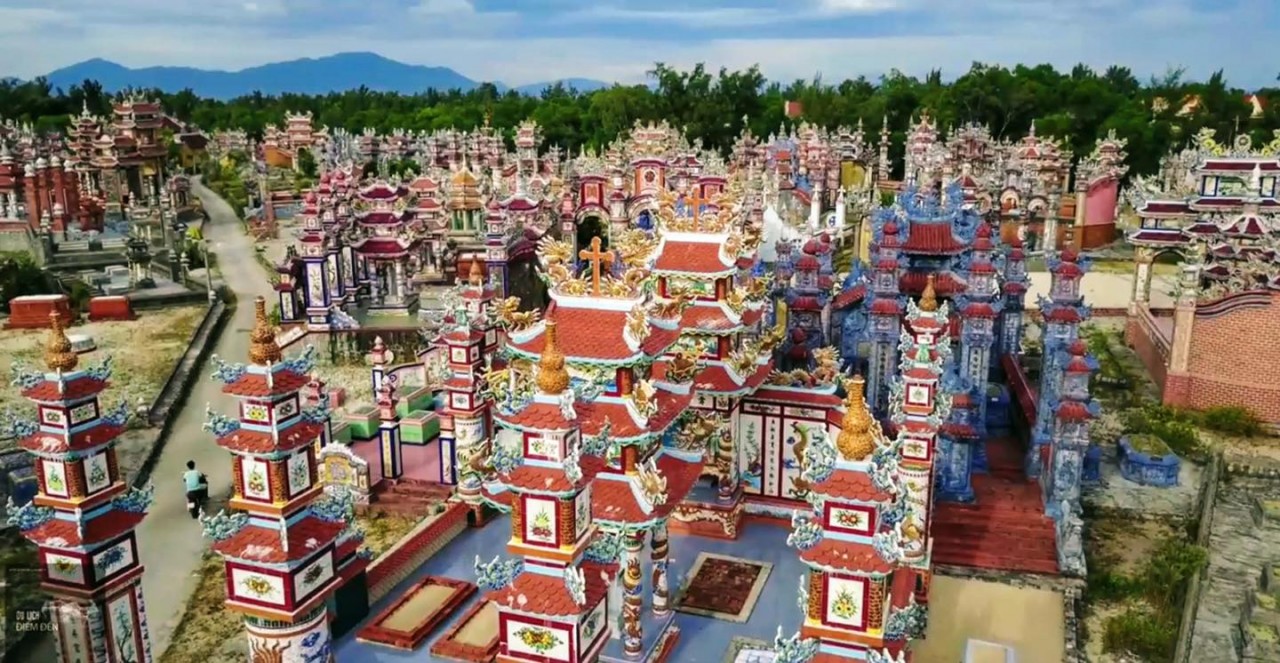 Source: Hue Viewers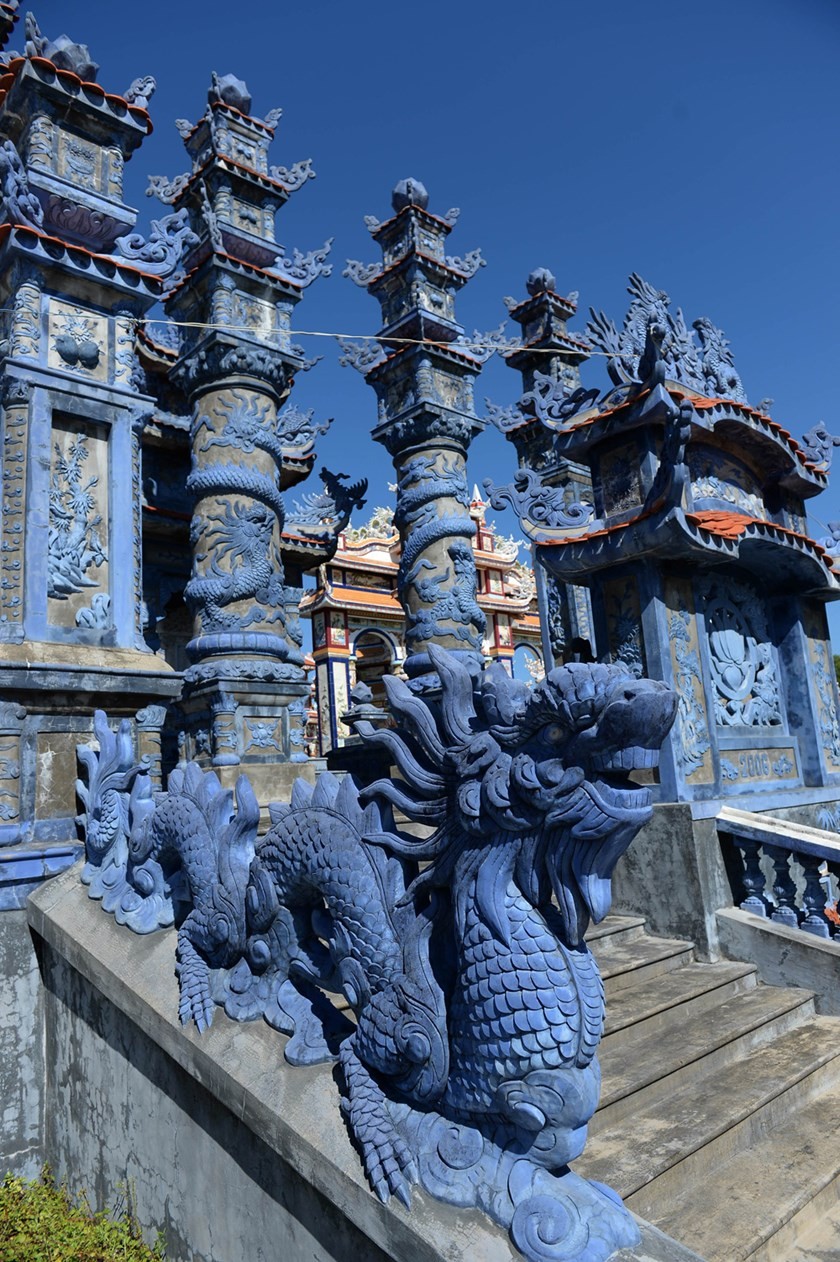 Ornate accents and heavily detailed carvings occupy most of the tombs. Source: Thanh Nien News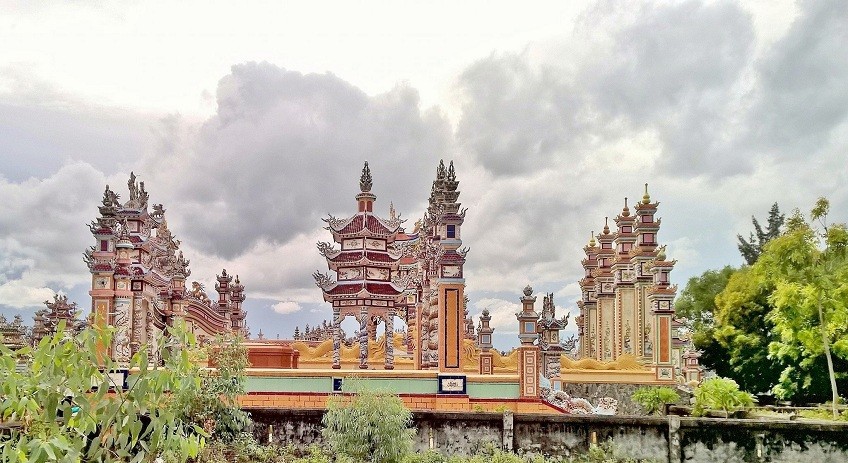 Villagers also believe that higher tombs afford better views for the dead, prompting An Bang locals to build two-story structures for their ancestors. Source: Vietnam Timeless Charm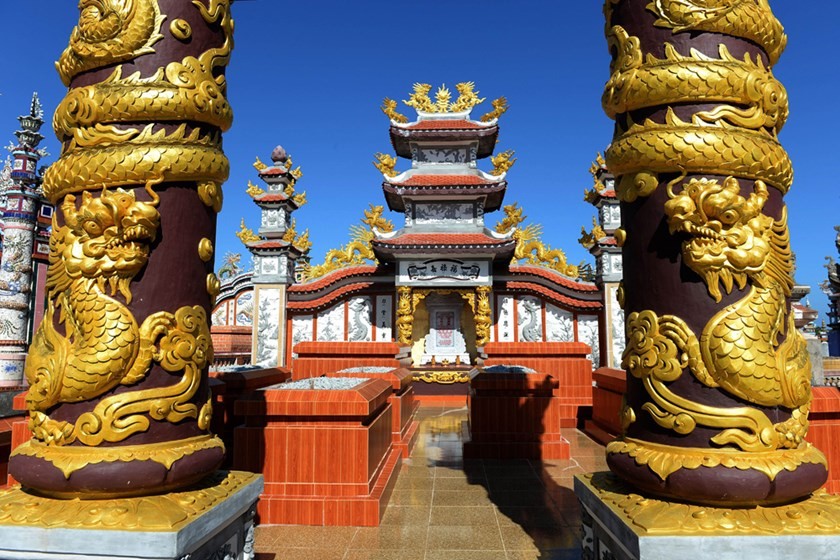 The motifs inlaid with crockery in the mausoleums are quite similar to the decoration at Khai Dinh tomb, making many people stunned about the meticulousness to every detail of the workers. Source: Thanh Nien News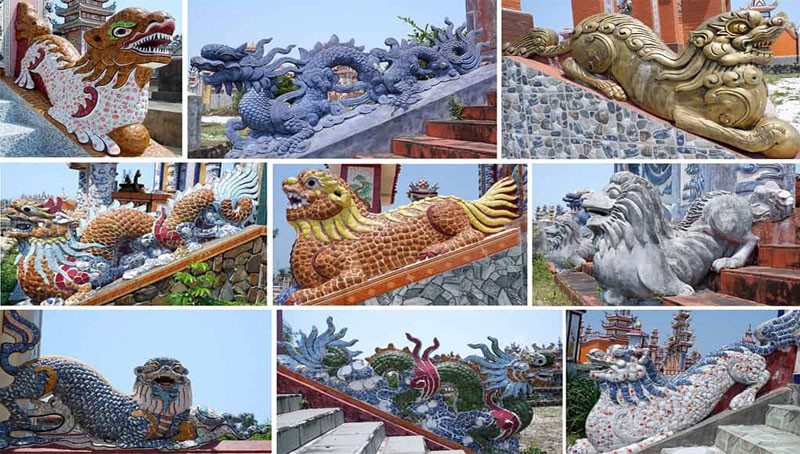 Each mausoleum is like a miniature palace with full of mascots (Dragon, Chinese Unicorn, Turtle, Phoenix) guarding.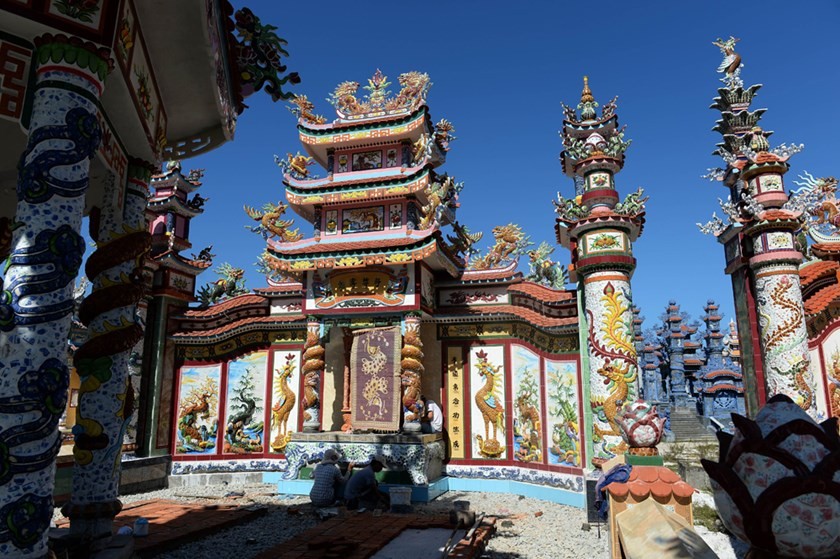 According to local news, in the past, the people of An Bang village struggled to make a living by fishing. In recent years, thanks to overseas remittances sent by family members living abroad, people were able to build enormous tombs, which is another way to show respect to the ancestors. Source: Thanh Nien News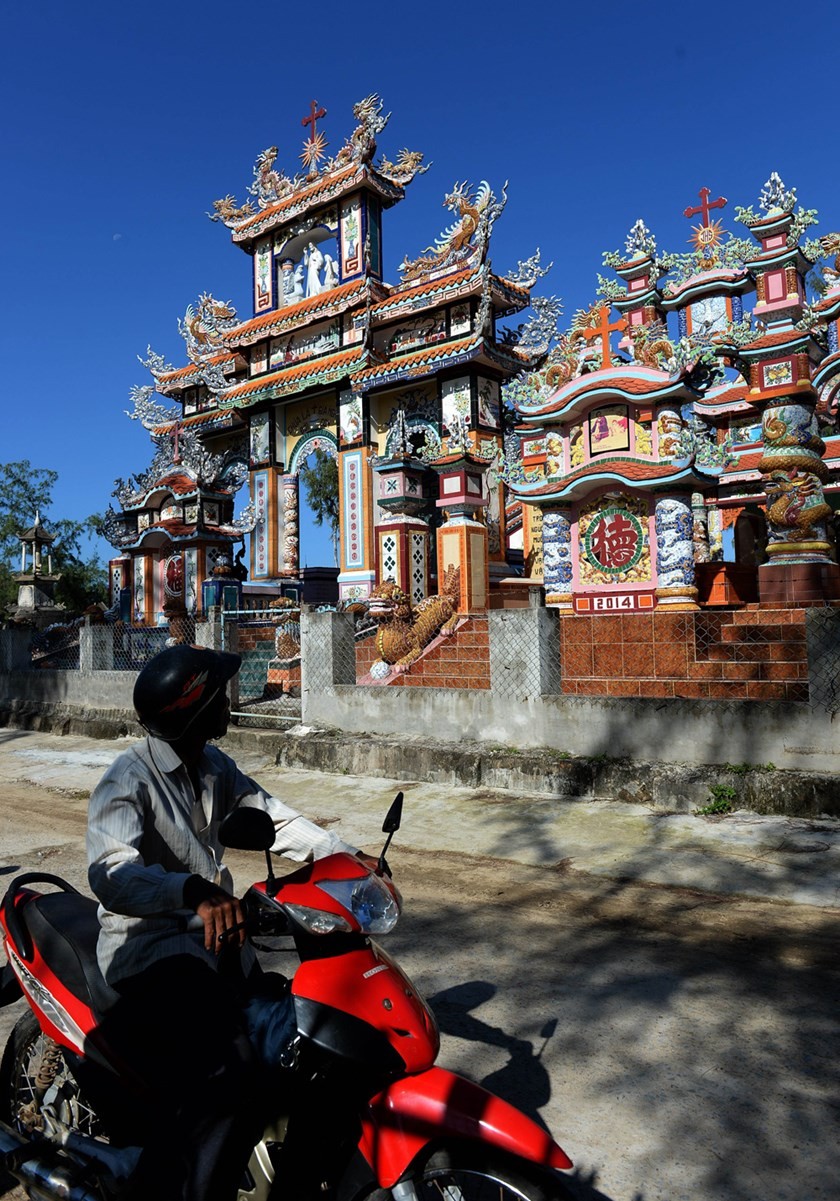 The service of lighting incense, guarding, cleaning the tomb, creating jobs for many people, each month a person can receive from VND 4 to 8 million from this. Source: Thanh Nien News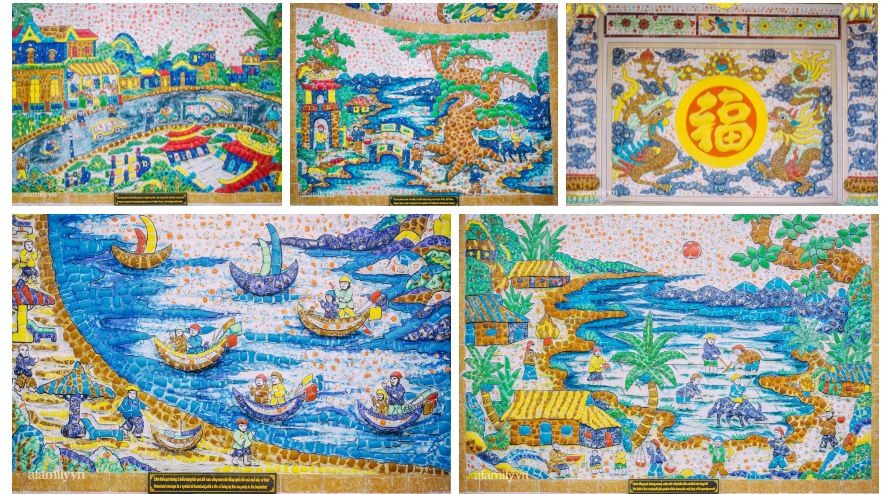 Exquisite handcrafted works made by the craftsmen here. Source: afamily.vn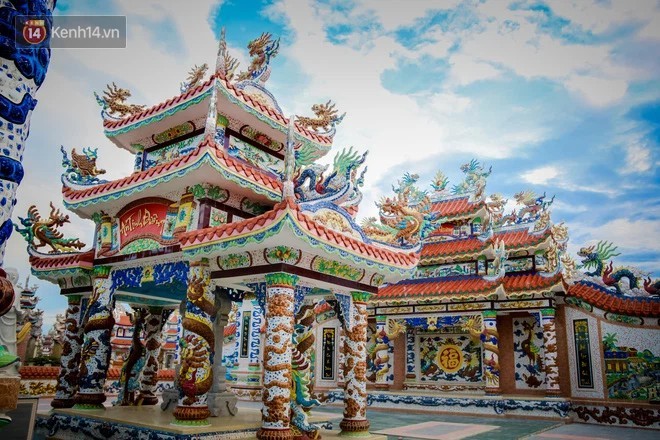 In addition to these unique tombs, An Bang cemetery also has countless spacious family worshiping houses. Along the concrete roads leading to each small hamlet, it is easy to see them everywhere, with high-walled gates and only open when it is time to pay respect to ancestors. Source: Kenh14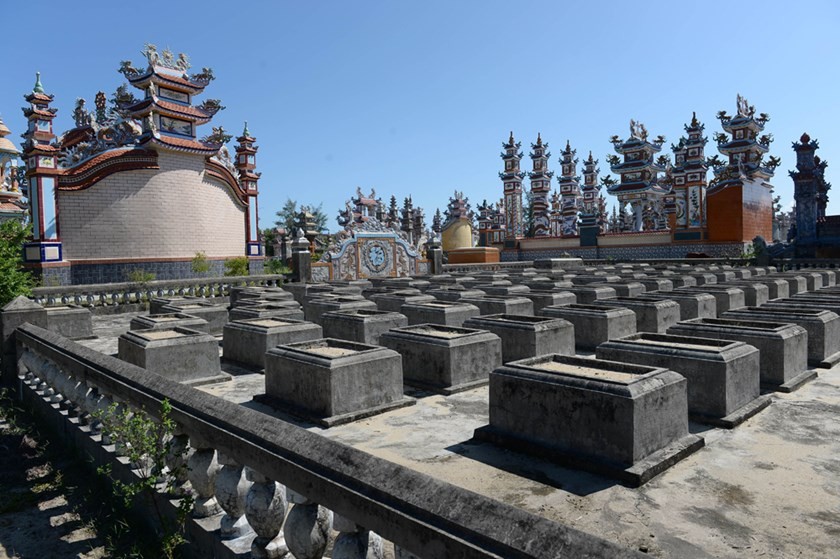 Family tombs at the cemetery in An Bang on December 2, 2015. Source: Thanh Nien News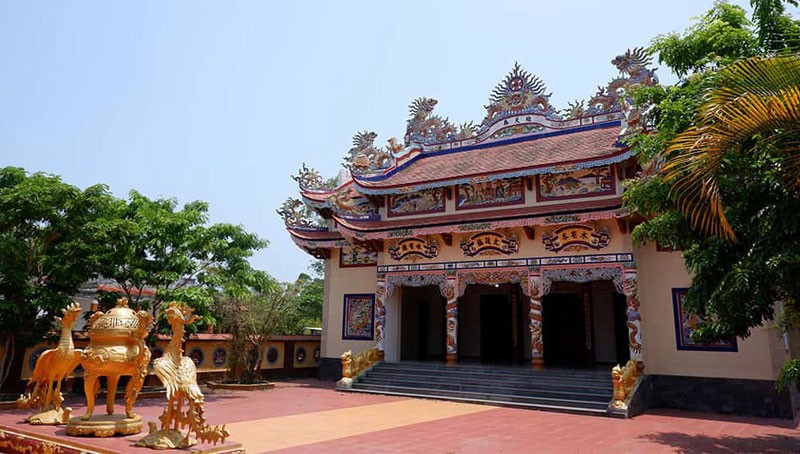 On special occasions like ancestors' death anniversaries or the Lunar New Year, special rites are performed to communicate with the dead.
Vietnamese families often visit their ancestors' tombs and clean gravesites whenever the Lunar New Year (Tet) comes, normally from the 23rd of the last month of the lunar year to New Year's Eve, VNA informed.
They light incense at the graves, sum up the family's major events during the year for their ancestors and invite the deceased to "come home" to enjoy Tet with their family in the land of the living.
Then family members uproot weeds, tend to the flowers growing on ancestors' graves, and clean the gravestones.
Vietnamese people believe everything, including the deceased's tombs, should be clean and bright in celebration of Tet in order to have good luck in the new year.
Ancestor worship, an ancient Vietnamese tradition, is the ritual practice that reflects the influence of patriarchy and Confucianism on Vietnamese culture.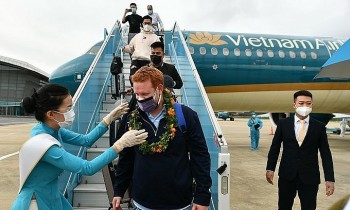 National
Vietnam News Today (Jan. 29): Vietnam records 14,892 new local Covid-19 cases; PM orders prioritizing pandemic control for safe and warm Tet; Vietnam scraps rapid Covid test requirements for int'l passengers; Vietnam-Australia trade hits all time high in 2021.