Thua Thien Hue Gifts Books to Lao Students in Salavan, Sekong Provinces
The Department of Foreign Affairs and the Union of Friendship Organizations of Thua Thien Hue province donated textbooks and learning tools to children in Salavan and Sekong provinces through the Laos - Vietnam Friendship Association.
The Thua Thien Hue Province's Department of Foreign Affairs, in collaboration with the provincial Union of Friendship Organizations, has implemented a program to support and mobilize donations from units and organizations in the province to support students from schools under to the Laos - Vietnam Friendship Association in the neighboring Lao provinces of Salavan and Sekong.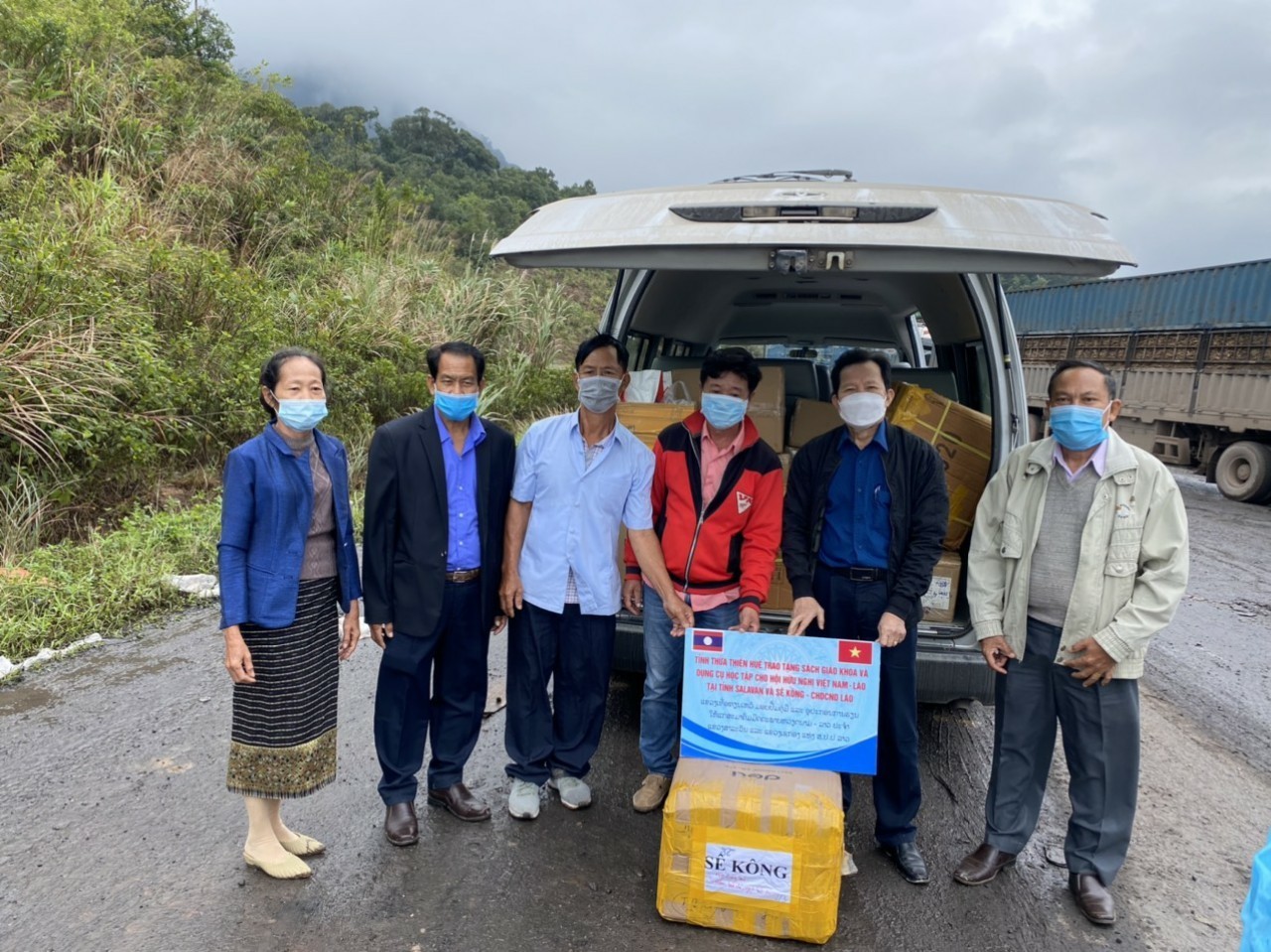 Representatives of the Laos - Vietnam Friendship Association in the two provinces of Salavan and Sekong receive gifts at La Lay - Salavan border gate. Photo: Thua Thien Hue Department of Foreign Affairs
The program to support Vietnamese language education within the framework of the 2021 working plan was unanimously funded by the Thua Thien - Hue People's Committee and received the support from many sides, especially Department of Education and Training, a company of books and school equipment and the Vietnam Buddhist Sangha (VBS) in the central province of Thua Thien Hue.
Textbooks and learning tools donated to Laos - Vietnam Friendship Associations in two provinces of Salavan and Sekong included children's comics, math and Vietnamese textbooks from grade 1 to grade 5, notebooks, learning tools and face masks with a combined value of about VND 60 million (USD 2,600).
Due to the increasingly complicated developments of the Covid-19 pandemic, on Dec. 10, the Department of Foreign Affairs asked the Lao Consulate General in Da Nang city to assist in transferring the gifts to students from schools belong to the Laos - Vietnam Friendship Association in Salavan and Sekong.
On Dec. 18, at La Lay international border gate which links the central province of Quang Tri and the Lao southern province of Salavan, the Consulate General of Laos in Da Nang city has handed over these gifts are given to the Departments of Foreign Affairs of Salavan and Sekong provinces to soon transfer to the two friendship associations.
These practical gifts contribute to cultivating the friendship between Vietnam and Laos, between Thua Thien Hue province and the two provinces of Salavan and Se Kong. At the same time, it will energize and motivate students to work hard in their studies.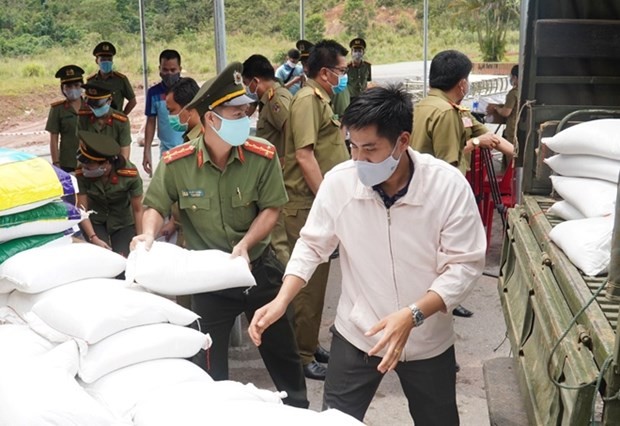 The Public Security Department of central Thua Thien-Hue province presents rice to the Security Departments of the Lao provinces of Salavan and Sekong in 2020. Source: cand.com.vn
Thua Thien-Hue shares a 84-kilometre border line with the two Lao provinces.
Relations between Thua Thien-Hue and Laos' Sekong and Salavan provinces as well as their border guard forces have been deepened over recent years with good diplomatic ties and regular exchanges for information sharing; enhanced cooperation in settling common border issues; and strengthened mutual understanding, solidarity and friendship.
The central province also had presented medical supplies and necessities to the Lao provinces of Salavan and Sekong to support them in the Covid-19 combat.
Border stations along the Vietnam-Laos border line have held a number of visits and presented gifts to armed forces and residents from Lao localities, further tightening solidarity between border guards and peoples in the two nations, contributing to improving the Covid-19 fight and protecting border areas.