Gifts Presented to Less Fortunate Children Ahead of 2022 Tet
Tet is an appropriate occasion to sit back and show care for each other, be it family or strangers.
Assorted activities are being held across the country to bring a warm and happy Tet (lunar New Year) to poor and disadvantage children ahead of the traditional festival.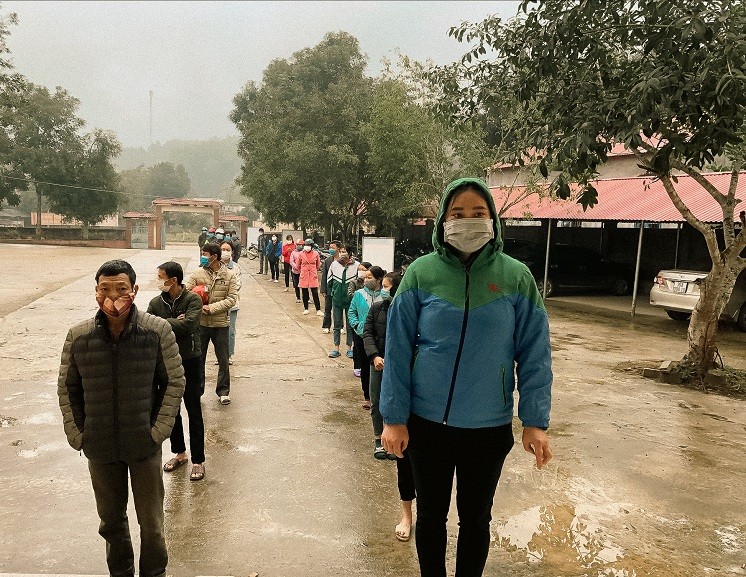 Households wait for their turn to receive the necessities. Source: World Vision Vietnam
Spring is the season of reunification, warmth and happiness. Of all people, young children are always eagerly waiting to wear new clothes to celebrate New Year, enjoy delicious sweets. Tet is the time when the streets are bustling and crowded with people, and children eagerly await trips with their parents.
Amid such a joyful atmosphere, there are, however, many children experiencing the pain of hunger or lack sufficient clothing, let alone enjoying the Tet. They are children of ethnic minorities, children in remote areas, border areas, or even Covid-19 quarantine and treatment areas, along with orphans, who wish to have a new shirt or a delicious cake when the new year comes.
Warm clothes, new bicycles, sweets, or a few necessities are deeply meaningful to Vietnam's most vulnerable groups.
Since mid-December 2021, Xuan Cao Commune, Thuong Xuan District (Thanh Hoa Province) has recorded nearly 100 cases of Covid-19 infection; thousands of households with difficult circumstances, including the most vulnerable children, needed to be quarantined or under treatment.
Faced with this situation, on Jan. 10, World Vision Vietnam joined hands with the Xuan Cao Commune Project Management Board, providing necessities for 123 households, including 420 children, in the quarantine and treatment areas.
Specifically, with a value of more than US$ 1,817, the support package included 2,040 kg of rice and 123L cooking oil.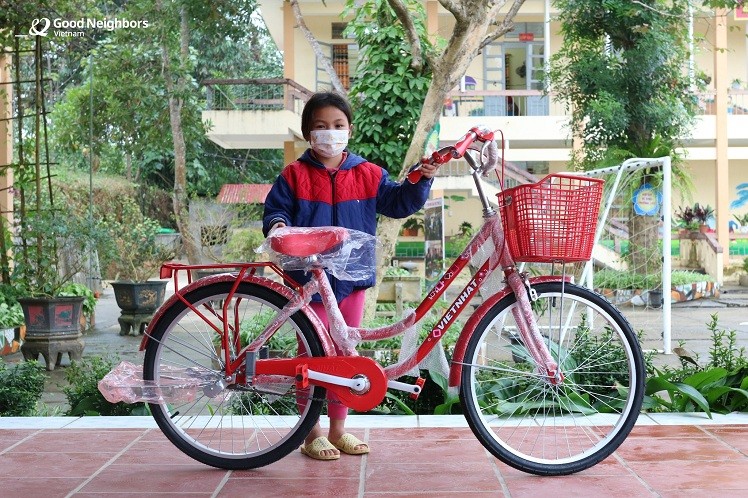 The bikes are funded with the hope that new bikes will enable them get to get to school early and to participate actively in school activities which eventually will enhance their academic performance. Photo: GNI Vietnam
For students in rural areas of developing countries, including Vietnam, the biggest barrier to education is oftentimes the ability to get to school. Children might not have access to or the financial means for transportation to schools far from home, or they could turn up late and exhausted after finishing household chores and having to walk a long way to school.
These factors could increase the chances of them leaving schools prematurely, while keeping children in schools has been shown to have a positive effect on breaking the cycle of poverty.
"I love getting my new bike, because I don't have to get up early to go to school anymore. My house is far from school, every morning my mother calls me up very early to go to school. But now that I have a new bike, I don't need to get up early anymore. I thank GNI very much," shared Trieu Hoang Uyen, a fourth grader at Yen Thanh Primary School.
Yen Thanh commune is an extremely difficult commune of Quang Binh district (Ha Giang province) with complicated mountainous terrain and scattered people, that's why the way to school for students here faces many difficulties. Many students from poor households do not have means to go to school, so they have to walk to school from early morning. Having a bicycle is the desire of many students here.
With the desire to share difficulties with the children, recently Korean non-governmental organization Good Neighbors International (GNI) has given bicycles to 30 students in here. Hopefully the new bicycles will be a companion to make their way to school more convenient.
Earlier, GNI also gave 50 warm blankets for children with difficulties in the Kindergarten and Primary school in Yen Binh town, Quang Binh district, Ha Giang province.
Although the value of those gifts is modest, GNI hopes that children are always in good health so they can study better.
GNI also has handed over 75 beddings to three kindergartens and primary schools in Tan Bac and Yen Thanh communes of Quang Binh district with a total value of more than VND 90 million (US$ 3,893).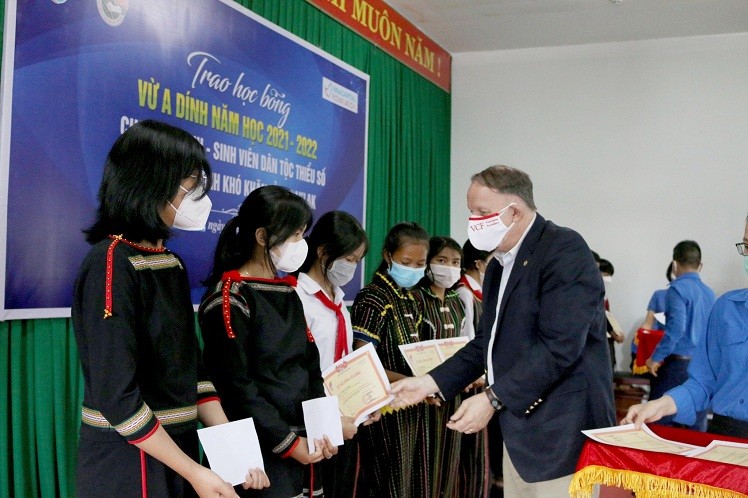 Scholarships presented to ethnic students in Dak Lak. Photo: VCF
On the same day, the VinaCapital Foundation (VCF) joined hands with Vu A Dinh Scholarship Fund, Dak Lak province's Department of Education and Training, and Dak Lak Youth Union to award 120 scholarships for excellent ethnic students in Dak Lak province.
90 scholarships worth 1 million VND ( US$ 44 each and 30 others of VND 1.5 million (US$ 66) each were handed over.
This activity was implemented through the Brighter Path program of the VinaCapital Foundation. Starting in 2010, the program has provided 1,364 scholarships to disadvantaged students across the country.
Dak Lak is a multicultural province which is home to 49 ethnic groups. There are approximately 159,600 ethnic students, or about 25% of the total, enrolling from kindergarten to high school in the province during the 2020 – 2021 academic year. Ethnic minorities present around 15% of close to 11,000 students pursuing study at universities and colleges across the province.
This sponsorship aims to motivate ethnic minority students to stay in school and strive to excel in their education.