GNI inaugurates Hop Hoa kindergarten In Tuyen Quang province
A kindergarten built with funds from Good Neighbors International (GNI) in Vietnam has been inaugurated in Hop Hoa commune, Son Duong district in the northern mountainous province of Tuyen Quang on June 27. This is the 37th school project in Vietnam funded by GNI.
The 37th school funded by GNI inaugurated in Tuyen Quang. Photo: GNI
In the past, children in the preschool age of Hop Hoa commune did not have a centralized school but attended 8 school branches which were distributed in small villages. There is a school branch that borrows a village cultural house to be a class.
All these school branches have been very degraded and unsafe for children on rainy days. Children 's supplies in the classroom are also very inadequate, not enough to meet the learning and living needs of children. The absence of centralized school site also hampers children's opportunities to participate in collective activities and extracurricular program, as well as the quality of meals - children's lunch breaks are also not guaranteed.
At the ceremony. Photo: GNI
In response to that situation, GNI has implemented the project "Letter of hope" to build in Hop Hoa commune a new and spacious school including 10 classrooms and 6 toilets, one operator building, one kitchen, one school gate, 95 meters fence and 1,348m2 concrete playground. The project worth VND 6,5 billion (USD 279.500).
The new school expects to bring better learning and living conditions for 580 preschool children from 3 - 5 years old, contributing to improving the quality of education in Hop Hoa commune.
The newly-built infrastructure contributes to improve quality of preschool education in Hop Hoa commune. Photo: GNI
Good Neighbors International (GNI) is a Korean non-governmental organization, established in 1991 working in the areas of water and sanitation, emergency relief, child protection, health, income generation. GNI is operating in 37 countries, supporting about 17 million people, including about 10 million children.
In 2005, GNI officially opened a branch and headquartered in Hanoi to implement community development projects in disadvantaged areas of Vietnam, in which GNI always consider children a top concern.
In May, Vinh Khang kindergarten in Vinh Loc district, Thanh Hoa province is the 36th school funded by GNI. The newly-built infrastructure on a total area of 4,000m2./.
VNF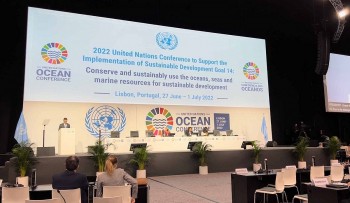 Viet's Home
Vietnamese representatives reaffirmed the nation's commitments to developing blue and sustainable oceans while attending the UN Ocean Conference (UNOC) held in Lisbon from June 27 to July 1.