Gold price today: Staying past-$2,000 off-late, recover happens quicker than expected
Gold prices keep the previous day's recovery moves from $1,976 while taking rounds to $2,002/03 amid the initial Asian session trading.
The yellow metal refreshed the one-week high on Tuesday following the US dollar index slump to May 2018 low. Though, follow-on consolidation dragged the pair to sub-$2,000 area before regaining the threshold by the end of North American session, according to FxStreet.
Gold prices rose nearly 1% on Tuesday after rising 2% on Monday and pushed through support which is now short-term resistance near the 10-day moving average at 1,988. Target support is seen near the 50-day moving average at 1,851. Short-term momentum has turned positive as the fast stochastic generated a crossover buy signal.
Medium-term momentum is poised to turn positive as the MACD (moving average convergence divergence) index is about to generate a crossover buy signal. This occurs as the MACD line (the 12-day moving average minus the 26-day moving average) crosses above the MACD signal line (the 9-day moving average of the MACD line). The MACD histogram is printing in the red with a rising trajectory which points to consolidation, FxEmpire reported.
In an interview with Kitco News, Ole Hansen, head of commodity strategy at Saxo Bank, said that he is not surprised that gold prices last week saw some of the most intense selling pressure in years; however, he added that the recovery has happened quicker than he initially expected.
Hansen explained that the gold market has managed to push above a critical retracement level, which could signal a return to all-time highs in the near-term.
Although there are real reasons for gold prices to be holding above $2,000, falling bond yields, a weaker U.S. dollar, overvalued equity markets and ongoing geopolitical uncertainty, to name a few, Hansen said that he would have like to have seen more consolidation.
"My biggest worry right now is actually that there's nothing to worry about. And that obviously makes me worried," he said. "I would have liked to see this market just consolidate, just to allow the investors to get used to these new, higher levels."
Hansen added that he isn't the only one concerned that the gold market appears a little over stretched. He noted that in a recent survey from a major investment bank, 31% of fund managers thought gold was overbought.
"That's the highest number, I think, going back at least almost 10 years," he said. "So fund managers are starting to get a little bit worried about these elevated levels."
Although the gold market might be a little too expensive for some investors, Hansen said that there is still plenty of value in precious metals.
While some investors are looking at silver as it starts to outperform the yellow metal, Hansen said that he is looking a little further down the value chain at platinum.
"Platinum's discount to gold is back above a thousand dollars. It peaked recently close to $1,100," he said. "If we do see this rally stretch higher than the relative value of players will try to look elsewhere. And right now the, the, the investments of speculative investment in platinum is, is quite low. This discount, could potentially attract some additional buyers."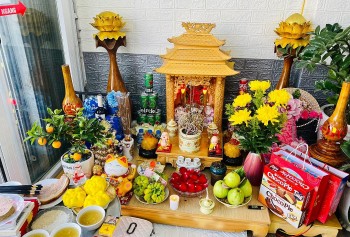 Handbook
Learn more about an ancient Vietnamese tradition that may bring you good fortune!