Gold prices today, August 11: Slipping for the second time in 3 days but undergoing a period of consolidation
After rising more than 14% in three weeks, gold prices fell today and bear a period of consolidation.
Gold
According to Economic Times, gold fell today as the dollar firmed after China slapped sanctions on US official in the latest tensions between two powerful nations.
Spot gold was down 0.5% to $2,017.98 per ounce by 0234 GMT, moving further away from a record high of $2,072.50 hit last week. US gold futures fell 0.6% to $2,028.10.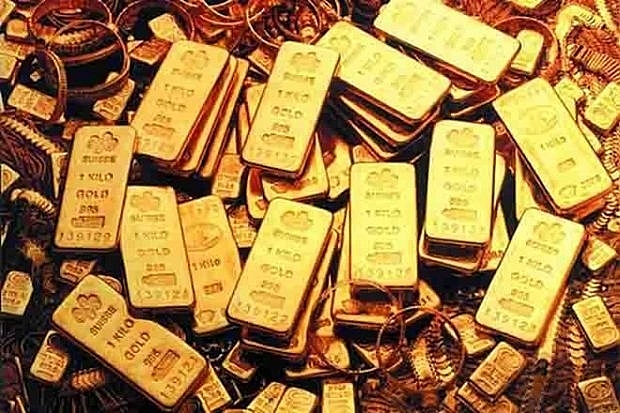 Photo: Financial Express.
"Gold trade attracted a lot of fast money last week, and I believe a washout of speculative long positioning sets gold up for a more balanced rally going forward," said Jeffrey Halley, a senior market analyst at OANDA.
In global markets, gold prices fell today, pressurized by a stronger dollar. But the losses were capped amid escalating U.S.-China tensions and surging coronavirus cases. Investors also monitored the progress on fiscal stimulus plan in the US. Spot gold was down 0.3% at $2,021.32 per ounce while US futures eased 0.3% to $2,033.60, Live Mint reported.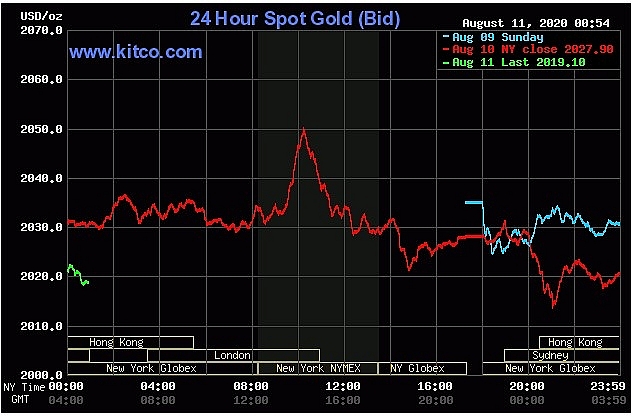 24 hour spot gold. Photo: Kitco News.
Silver
Among other precious metals, silver dropped 1.2% to $28.81 per ounce while platinum fell 0.9% to $978.10.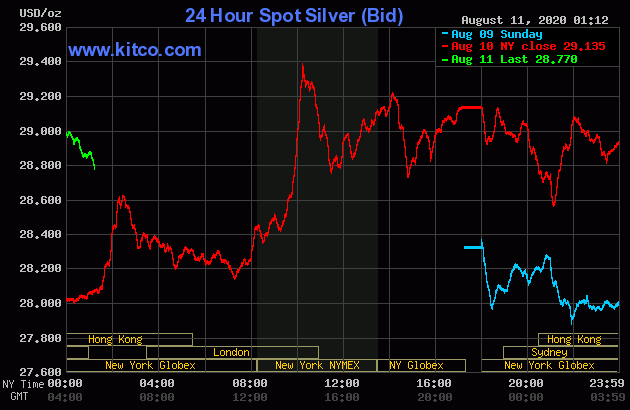 24 hour spot silver. Photo: Kitco News.
Dollar
The dollar index rose 0.1% to hold near a one-week high against its rivals after slumping to a two-year low. A stronger US dollar makes gold more expensive for holders of other currencies.
Recommendations for investors
Investors are also keeping an eye on the deteriorating relationship between Washington and Beijing.
China today said it will sanction 11 Americans in retaliation for similar measures imposed by the US, but the list doesn't include any members of the Trump administration.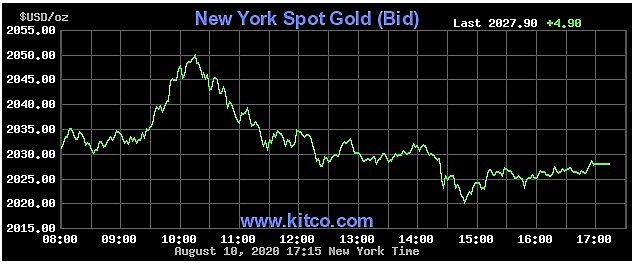 New York spot gold. Photo: Kitco News.
Investors were also keeping a watch on the progress on talk over stimulus deal in Washington, driving US bond yields off multi-month lows.
U.S. congressional leaders and Trump administration officials said on Monday they were ready to resume negotiations on a coronavirus aid deal
How high gold can go
Asked how high gold can go, Barrick Gold (NYSE:GOLD, TSX:GOLD.TO) CEO Mark Bristow deferred and rather focused on gold's aftermath, Bloomberg reported.
Bristow said he is less concerned with where gold is going as opposed to where it settles.
"If you look back to 1972 there have been two gold spikes: 1980 and 2011. And of course we are busy with one right now," said Bristow. "But what is imporant: if you look post each big gold price hike there is a new base that is formed. What happens when gold prices run-up like this is that the paper money is at risk. And on top of that, you get a flight to safety."
Bristow said gold and the flight to safety will ease as the global economy stabilizes.
"You don't have to be a rocket scientist to realize all this money printing is going to cause damage to core global currencies."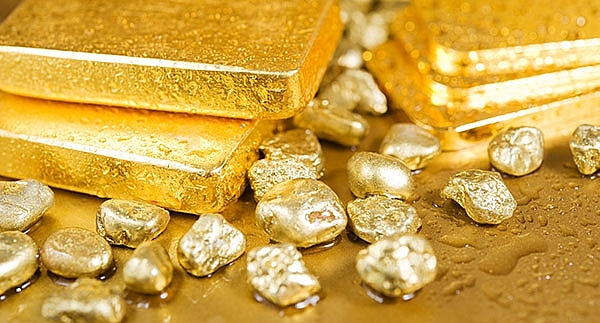 Photo: US Funds.
According to Kitco News, Bristow believes there will be a new base for gold but warns there will be lots of volatility getting there.
"This is an unprecedented global event. At the end of the day there will be a new base, and we will wait to see what that base is."
Bristow said Barrick is built to operate for the next 10 years at $1,200 gold.
"Sticking with $1,200 as the price for gold is the right thing to do. For us to change the gold price in which we allocate capital, we would take away from our margins."
Bristow said there are some changes that can be made at the margins that will allow Barrick Gold to take advantage. But he said there will be no core changes until gold finds its new base.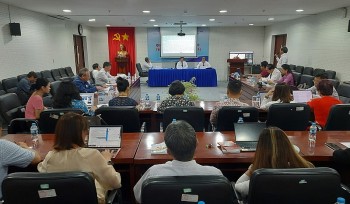 Friendship
The Vietnam - India Friendship Association's Ho Chi Minh City branch, the Ho Chi Minh City Union of Friendship Organizations (HUFO) and the Southern Institute of Social Sciences on March 21 held a scientific seminar themed "Vietnam - India relationship: tradition and present".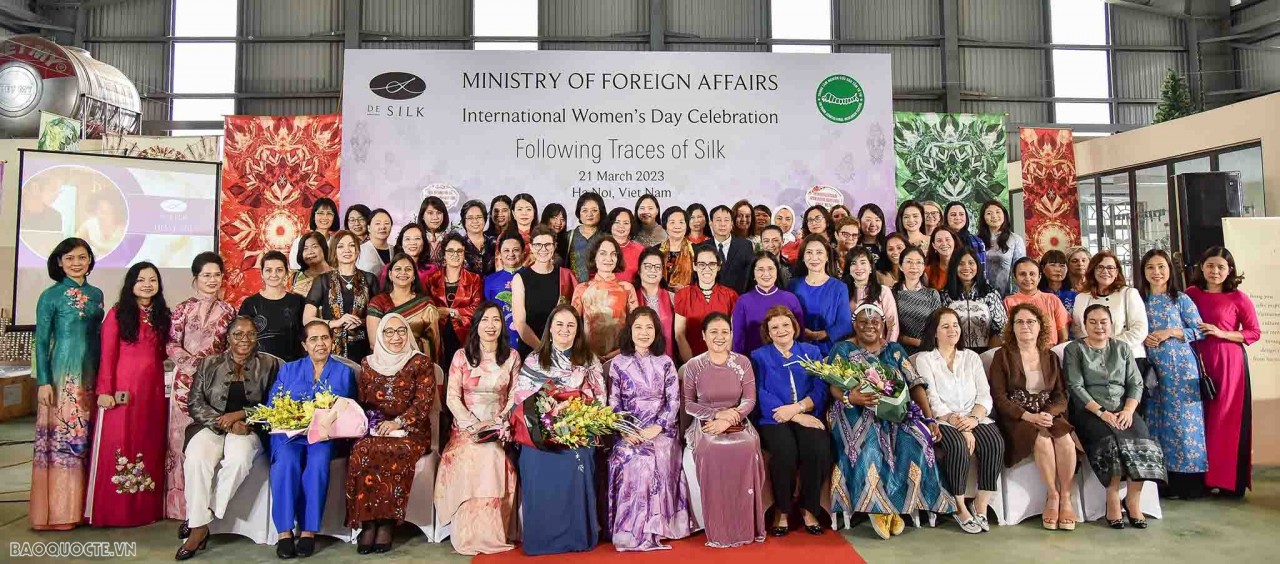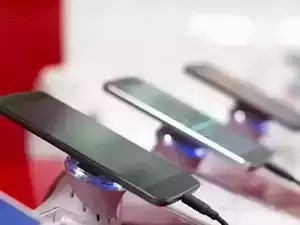 Economy
In the first two months of 2023, India's mobile phone exports exceeded $2 billion, equivalent to over Rs16,500 crore, due to increased production and shipments from manufacturers, particularly Apple and Samsung. This surge in exports brings the total export value to over $9 billion since April 2022.
March 22, 2023 | 15:00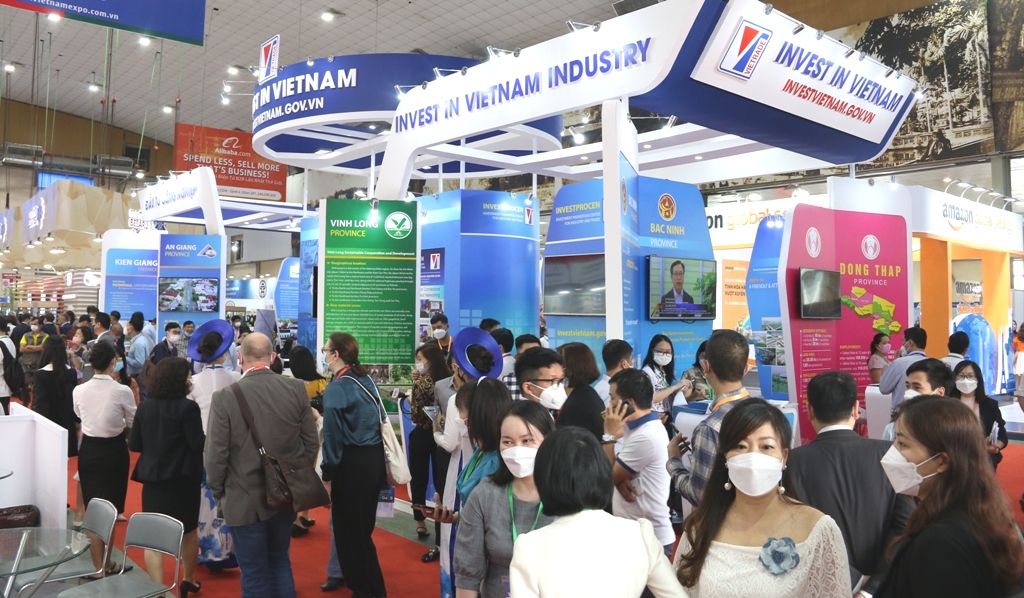 Economy
The Vietnam International Trade Fair - VIETNAM EXPO is an annual event held in Vietnam with the longest history (since 1991) chaired by the Ministry of Industry and Trade of Vietnam, directed by the Vietnam Trade Promotion Agency, and organised by VINEXAD Company.
March 22, 2023 | 11:50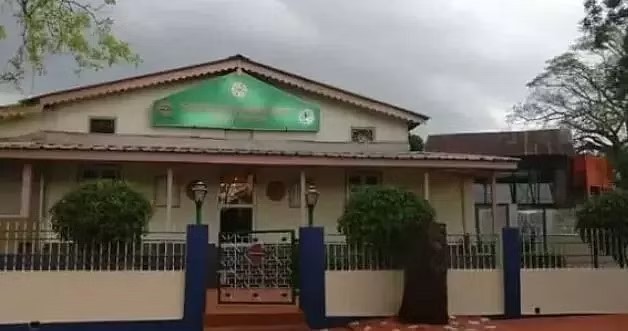 Economy
Guwahati Refinery (GR) on Tuesday declared its entire three townships Zero Waste Townships.
March 22, 2023 | 09:00