Government Leader Suggests AstraZeneca Speed up Vaccine Delivery to Vietnam
Prime Minister Pham Minh Chinh asked CEO of AstraZeneca Pascal Soriot to speed up vaccine delivery to Vietnam during a virtual phone conversation held on August 19.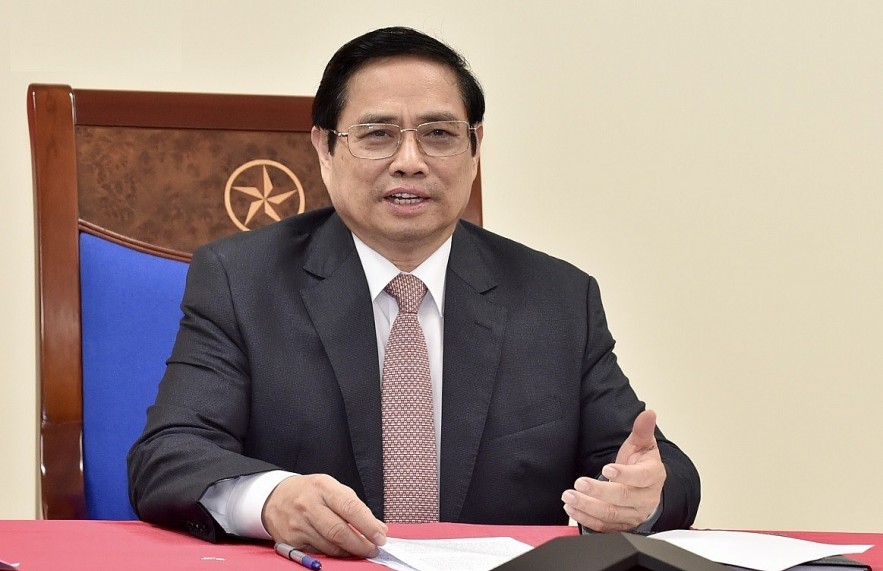 Prime Minister Pham Minh Chinh asks CEO of AstraZeneca Pascal Soriot to accelerate the delivery of vaccines to Vietnam during their phone talks held on August 19.
The Vietnamese Government chief hailed AstraZeneca's role and contributions to the fight against the COVID-19 pandemic in the world and in Vietnam, while affirming that the AstraZeneca vaccine is one of the most widely used vaccines in the world, accounting for more than 65% of the vaccines that Vietnam has received so far, making an important contribution to the COVID-19 containment efforts globally and in the country.
Amid complicated development of the COVID-19 pandemic, Chinh emphasized that the Vietnamese Government is full of determination to carry out the vaccine strategy in a bid to bring vaccines to Vietnam in the largest volume and at the earliest to continue launching the largest ever vaccination campaign in history.
He asked the AstraZeneca official to pay attention to directing and accelerating the delivery of vaccines to Vietnam, with the effort to complete its commitment to deliver 8 million doses in August, and at the same time finalizing a contract to supply more vaccines to the nation in September 2021 and beyond.
Chinh proposed AstraZeneca discuss with other countries the possibility of borrowing or repurchasing the vaccines that those countries do not need at present, while fast-tracking the implementation of contracts on vaccines for children and those aged below 18, and those at high risk and suffering underlying diseases.
The Vietnamese Government always encourages and create favourable conditions for foreign firms to operate and expand operations in Vietnam in pharmaceuticals and health care, he said, emphasizing that the country desires to reinforce strategic, comprehensive and long-term partnership with AstraZeneca not only in vaccines.
CEO of AstraZeneca Pascal Soriot, in turn, pledged to deliver COVID-19 vaccines to Vietnam on schedule as well as increase vaccine supplies to the country this month, adding that AstraZeneca will also do its utmost to meet Vietnam's requests, and always attaches importance to the Vietnamese market.
AstraZeneca aspires to expand cooperation in investment, business and technology transfer in the Southeast Asian nation, he stated.
Pascal Soriot also expressed his appreciation for Vietnam's pandemic prevention and control efforts and its drastic implementation of the Government's vaccine strategy.
It was the second time in a short period that PM Chinh has directly talked with a senior representative of AstraZeneca to accelerate the delivery of vaccines to Vietnam, demonstrating the Vietnamese Government's high determination and drastic actions to realise its vaccine diplomacy policy and the Party and State's unwavering policy of putting the people's health and safety first and foremost.
VOV