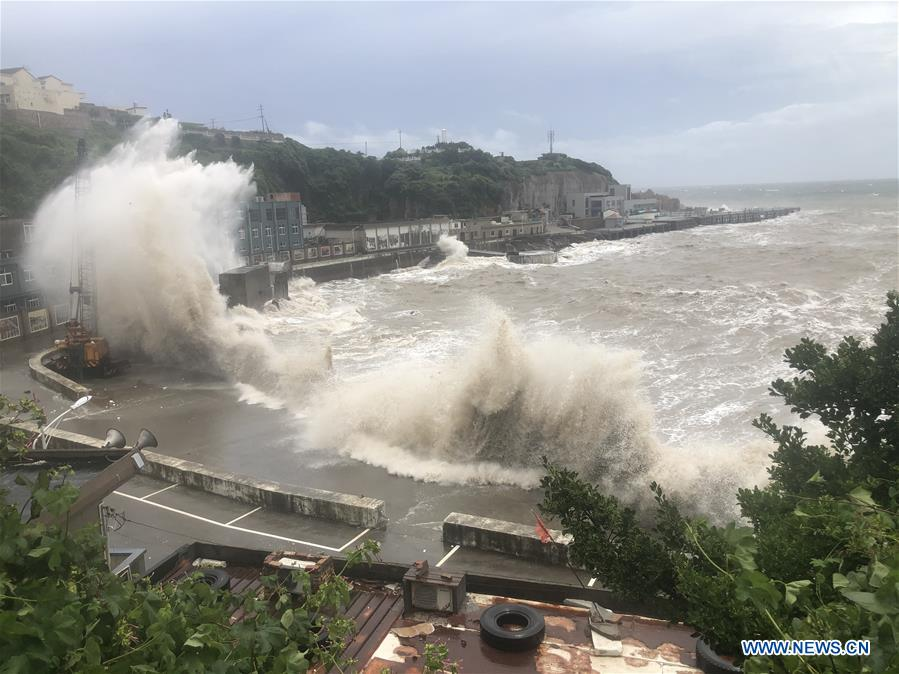 Photo taken on August 4 shows billows in Shengshan township of Zhoushan city, east China's Zhejiang province. Photo: Xinhua
Typhoon Hagupit crashed into eastern China on August 3 night, sending flooding rainfall, strong wind gusts and storm surge into the region before eyeing the Shanghai region.
The National Meteorological Centre upgraded its typhoon alert at 6pm on August 3 from yellow to orange, and renewed the alert at 6am on August 4, based on a four-tier colour-coded warning system for severe weather, with red being the most serious, followed by orange, yellow and blue. The move requires authorities in Shanghai and neighboring provinces such as Zhejiang and Anhui to go into crisis management mode.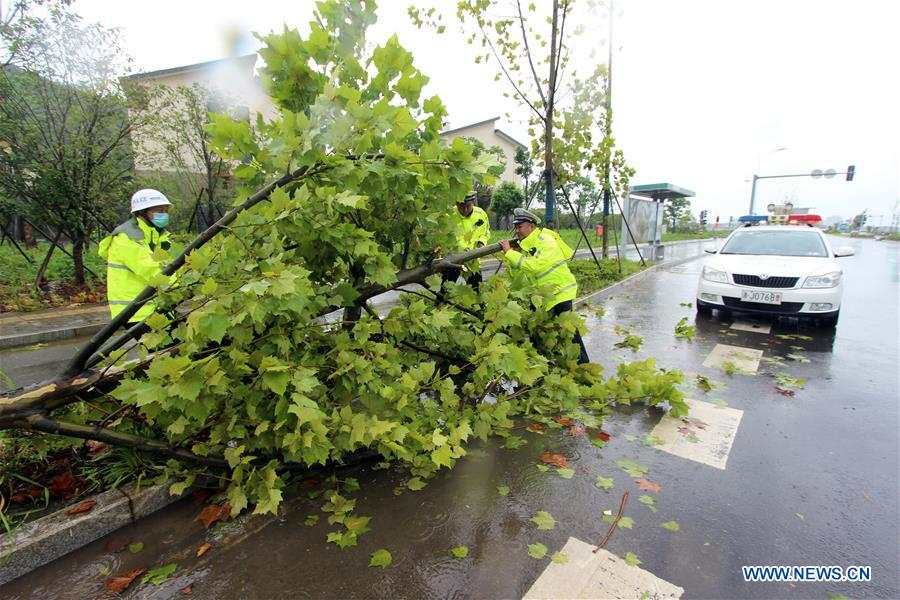 Traffic police officers move a fallen tree in a street in Taizhou city, east China's Zhejiang province on August 4. Photo: Xinhua
Vulnerable coastal areas were being evacuated and fishing boats recalled to port before the typhoon was expected to bring heavy rains to eastern China as much of the country is still recovering from unusually summer heavy flooding, AP reported.
Typhoon Hagupit had gusts of up to 90 kilometers (56 miles) per hour at its center and was moving northwest at 25 kilometers (16 miles) per hour.
The centre said Hagupit is expected to come ashore between Zhejiang and Fujian provinces. Shanghai is expected to feel the effects.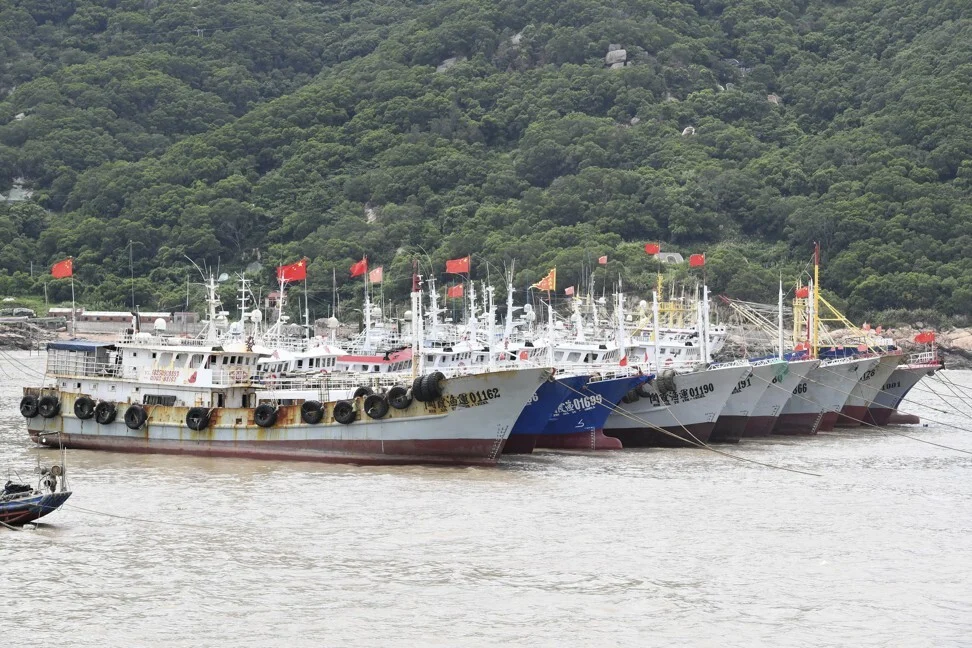 Boats are moored to take shelter in waters off Sansha town in Xiapu county in southeastern China's Fujian province on August 3. Photo: Xinhua
Ferry services and some trains have been suspended and 4,481 passengers were taken off boats in waters off the Zhejiang coastal cities of Wenzhou and Tanzhou.
In Fujian, coastal fisheries were evacuated, tourist spots were closed and construction sites ordered to suspend operations. Fishing boats were ordered to avoid seas expected to be impacted by the typhoon.
Typhoon Hagupit hit Yueqing city, east China's Zhejiang province on August 4. Photo: CCTV
Independent video news outlet Pear shows cars driving on roads submerged in floodwaters and residents being carried out of their homes.
The Zhejiang authorities had relocated 381,375 people by 10pm on August 3 night ahead of the typhoon's landfall, reported state-run Xinhua.
In the major Zhejiang manufacturing centre of Wenzhou, authorities reported evacuating 200,000 people to shelters and recalling more than 6,000 fishing boats to port. Waves along the coast were reported at heights of 4.2 meters (14 feet).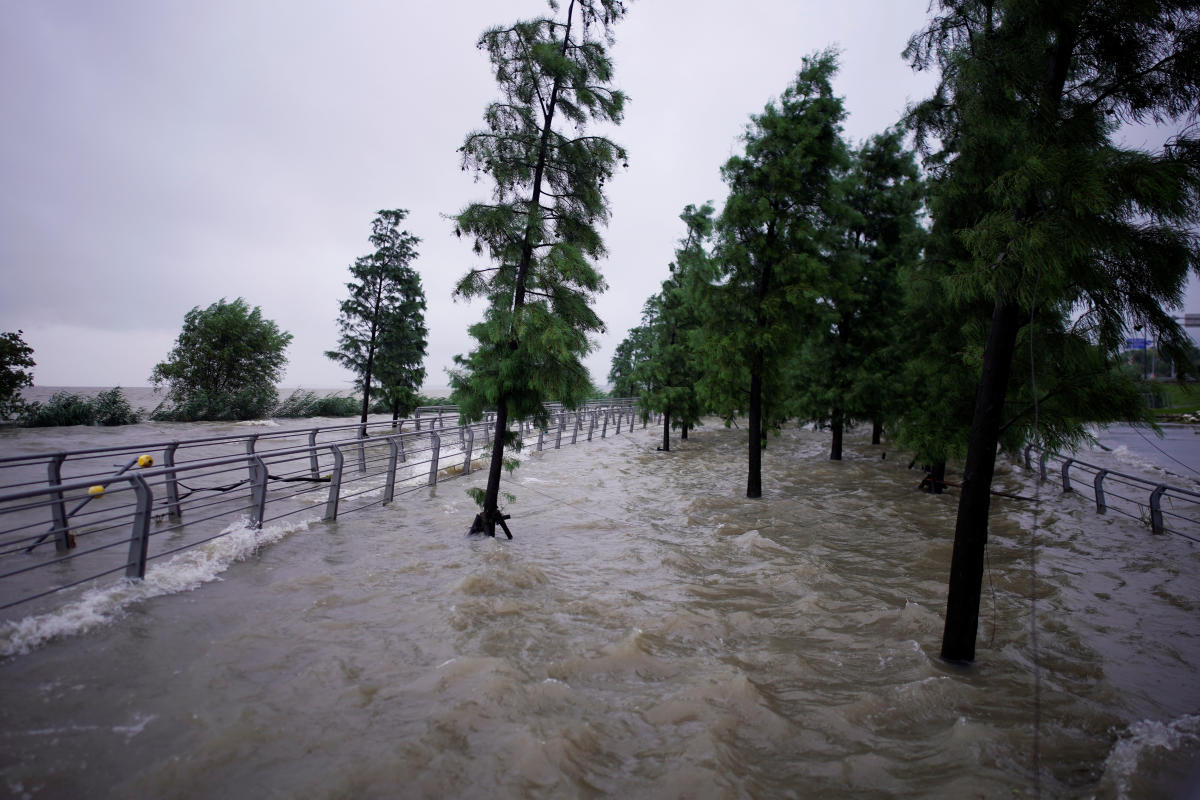 A view of floodwaters overflown to the banks of Tai Lake following heavy rainfall. Photo: Reuters
Elsewhere, China remains on high alert due to two months of downpours that have inundated cities along the Yangtze and Huaihe rivers.
Hagupit is the fourth typhoon to reach China this year. The meteorological centre is also warning that two to three typhoons will hit in August. The average for this month is 1.9 typhoons, going back to the country's founding in 1949./.
Around 28,000 homes have been damaged and 141 people have died or are missing in the floods in China since June, said AP.
Virtually all of mainland China has been affected, excluding vast far western areas such as Tibet and Xinjiang, according to Vice Minister of Emergency Management Zheng Guoguang.
The Yangtze, Asia's longest river, and parts of its watershed have seen the second highest rainfall since 1961 over the past six months, Zheng told reporters.
Damage has been estimated in the hundreds of millions of dollars, adding to pressure on an economy deeply impacted by the coronavirus pandemic, including virus-related shutdowns and the loss of overseas markets.
Rosy Huong