Hai Tien beach ecotourism – an unpolished gem
Information for visiting
(VNF) - 170 km from Hanoi, Hai Tien Marine Ecotourism Site is a newly formed beach in territory of Hoang Hoa district, Thanh Hoa province. It recently has become a favoured choice for many tourists for a relaxing weekend.
The general experience at Hai Tien beach
Hai Tien ecotourism is located on the coast of the territory of 4 communes: Hoang Hai, Hoang Tien, Hoang Thanh and Hoang Truong. With 12 km of coastline, nature here offers a charming waterside experience, giving travellers something new compared to many other tourist attractions of Thanh Hoa.
Hai Tien beach has a enjoyed coastline, hidden wild character, and attractive natural landscape with blue sea, white sand, golden sunshine, green palm trees, and expansive casuarinas forest. By the talent of people, many tourism infrastructures, luxurious and modern construction have been built up, turning pristine sandy soil into beautiful, poetic and romantic site.
Hai Tien beach not only is beautiful, but the people here are also very friendly. Once be there, visitors will not face the aggressive practices found in some other tourist destinations. That is the result of a good management by the local government.
The opportunity to explore the lives of coastal residents in Hai Tien is an additional point for the journey. From 5am, small boats fishing near shore return, carrying a lots of shrimp, fish and sea food.
They sort and sell to tourists on the beach, fresh, each one a little gift. There are associated services such as preliminary processing, steaming, baking, or packing to meet the needs of visitors.
Many families coming to Hai Tien can buy sea food to cook in hotels. Those who would like to enjoy seafood right on the beach can also be satisfied.
Besides that, from Hai Tien Beach, visitors can connect to many historical and cultural monuments such as Thanh Quynh Temple (Hoang Loc commune); pantheon of gods and nature's god as: Trieu Quang Phuc, Le Phung Hieu, Tran Khat Chan, Dac Bang Luong, Luong Huu Khanh, historic parks Lam Kinh (Tho Xuan district), Cam Luong fish stream (Cam Thuy district), Ben En National Park (Nhu Thanh district), eco-tourism zone Pu Luong, and Ham Rong Tien Son (Thanh Hoa).
Especially, from May 2016, an amusement park will be put into use, bringing many choices to visitors for a memorable trip to Hai Tien./.
From Hanoi, follow 1A road to Tao Xuyen Bridge then turn left, go another 15km and arrive in Hai Tien (approximately 4 hours). To save more time, car drivers can follow the route Phap Van – Cau Gie – Ninh Binh.
If travelling by coach
Take a coach from Giap Bat Station (Cuong Linh coach) or Gia Lam Station (Thang Dien coach), one trip every morning and afternoon (10am and 4pm). Tickets around 100.000 VND/person.
On holiday, fares can be increased to 150.000 VND/person. Two vehicles can embark and disembark guests at motels, hotels in Hai Tien.
If by train
By train, go to Thanh Hoa from Hanoi, then catch a taxi to Hai Tien beach (about 30 km)
Hotels:
One interesting thing when travelling to Hai Tien is that visitors can choose for themselves the seperate villa or standard hotels. Anh Phuong hotel is one of those. Anh Puong hotel is 3 -star stand with over 1,000 rooms, beachfront view. It has conference rooms accommodating up to 400 people, restaurant system accommodating 500 people. Entertainment services such as: karaoke, massage, pool, team building, beach bike, campfire, gala diner, and more
Meals: average 100.000-120.000 VND/person
Specialities: nem chua and seafood.
Ha Thuong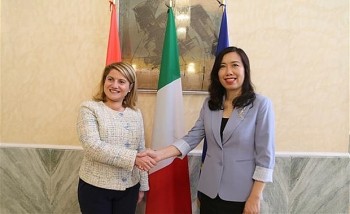 Friendship
The Vietnam - Italy political consultation is part of the occasion of the 50th anniversary of diplomatic ties and the 10th anniversary of the framework of the strategic partnership.