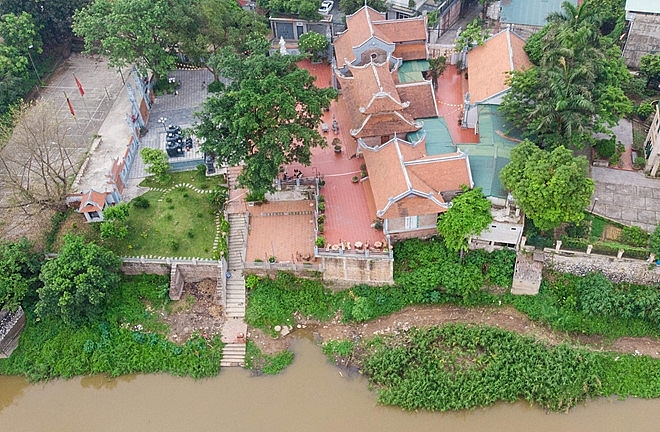 Landslide at the history relics Ba Voi Temple (Dong Anh District) (Photo: Thanhnien.vn)
According to Zing.vn, Hanoi People's Committee has just decided to announce a state of emergency over landslide at Da river (Thai Hoa commune, Ba Vi district), Bui and Day rivers (Hoa Chinh commune, Chuong My district) and the banks of Day river (Yen Son commune, Quoc Oai district) and Ca Lo river (Dong Anh district).
In particular, the length of the landslide at the riverbank in Ba Vi district is about 655m. The area is home to 15 households, dozens of indigenous people have been living here year-long. In fact, the heavy landslide occurred in the area of 3 households.
The landslides are becoming worse and increasingly broaden. Some landslides are only 3-5 meters away from houses, which is dangerous to numerous households in the area.
In Chuong My district, the landslide caused various bamboo clumps, trees, architectural objects of 18 households to be washed into the river, cracking and tilting about 125m of rock embankments at Luu Xa communal precinct, Hoa Chinh commune.
Meanwhile, in Quoc Oai district, the landslide happened from some sections along Day Dyke namely K12 + 450 to K12 + 480. The hazard has been a threat to the right side of Day dike since the landslide becomes worse.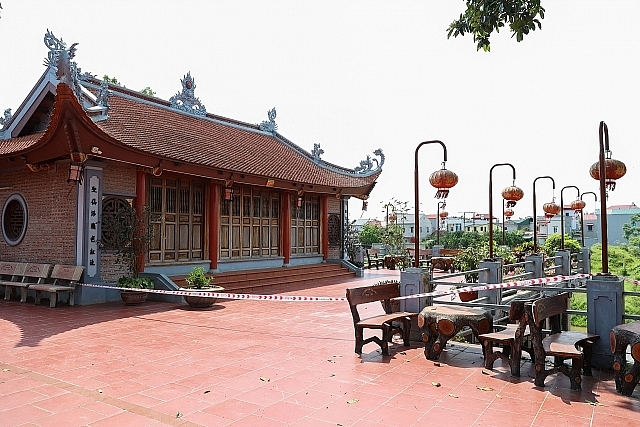 Ba Voi temple (Dong Anh district) was blockaded due to landslide (Photo: Vietnamnet)
Professional agencies predicted if the landslide is not handled in time, it will continue and heavily damage not only the dyke safety and life safety but also the personal property of residents.
Therefore, the Hanoi People's Committee ordered local authorities to reinforce protection in order to guarantee the safety of people, properties as well as buildings.
People's Committee of Ba Vi, Quoc Oai and Chuong My districts are responsible for preventing people from entering landslide areas, promptly propagating, announcing, warning signs, zoning areas that have potential risks of landslides so that people are able to take initiative in preventing them. Ships and boats are warned not to travel around the landslide areas.
The Department of Agriculture and Rural Development is assigned to immediately zone the affected landslide areas. Meanwhile, specialized agencies should place warnings and warning signs, regularly update and report the situation of landslides and the progress of troubleshooting.
The Department of Dikes and Flood and Storm Control is assigned to coordinate with the local People's Committees in order to handle the incidents in time.
Annie Nguyen