Hanoi highly vulnerable to new Covid-19 outbreak
The capital is running a high risk of having more community infections given new cases scattered in different districts and the high frequency of commuting during holiday break.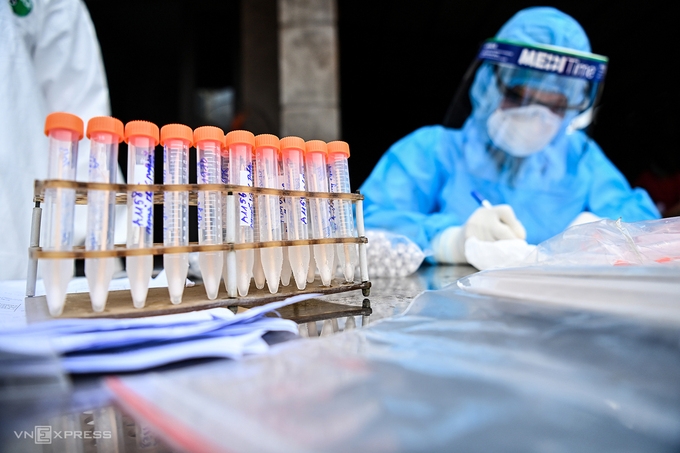 Medical staff in Hanoi (Photo: VNE)
The statement was made by Hoang Duc Hanh, deputy director of Hanoi Department of Health, at the meeting on May 5 afternoon.
As of Wednesday morning, Hanoi confirmed 6 local cases since April 29. The latest one, known as Patient 2,988, had extensive travel history in Hanoi on April 29 before vacationing in SaPa in the following two days.
Tran Thi Nhi Ha, director of Hanoi Department of Health, claimed that the ongoing Covid-19 situation in Hanoi is very complicated. She called for comprehensive regulation at places where patients or suspected patients have been at.
On his part, Chu Xuan Dung, vice chairman of Hanoi People's Committee, said most of the recent cases detected in the city contracted the virus from other localities. Therefore, he tasked all districts to further crackdown on preventive measures, especially face mask mandates and social distancing at either private or public places. Contact tracing, localization, quarantine, and bans against unnecessary social events must be deployed in an urgent, effective and proper manner.
The city leaders requested the Health Department to direct relevant units, medical facilities, pharmacies to have clear plans for caring and testing those with fever, coughing, breathing troubles, as well as screening at high-risk areas.
Municipal police must ensure that all residents have their health declaration and those entering Vietnam without consent face hefty fines.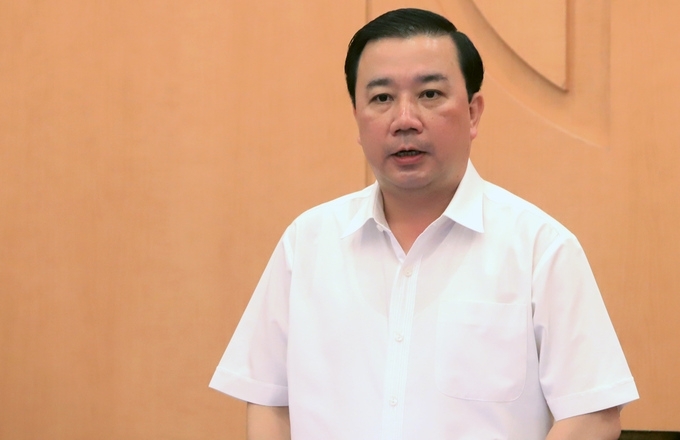 Vice-Chairman of the Municipal People's Committee Chu Xuan Dung at the meeting on April 29 (Photo: VNE)
Earlier in late April, Dung also asked to raise pandemic warning level to the highest. At the meeting, municipal police leaders said all officers and soldiers must not leave anywhere out of Hanoi to promptly respond to any unexpected events.
Hanoi today suspends the operation of all massage, beauty parlors, cinemas, gymnasiums, and stadiums. On May 3, the city also closed down all streetside food and drink businesses. Indoor restaurants and cafes must ensure disinfection, social distancing and other anti-pandemic regulations. Takeaways are encouraged.
In the week leading to Reunification holiday (April 30), all festive activities, including firework display, were scrapped over coronavirus worries. Recreational facilities and Hanoi Walking Street also ceased operation until further notice.
Starting Tuesday morning, around 2 million students from nurseries to high schools and vocational training centers in Hanoi switched from in-person classes to virtual ones.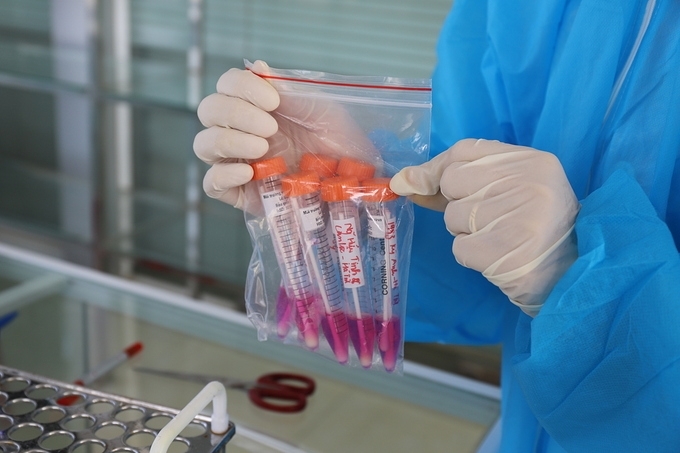 One medical staff preparing samples for Covid-19 testing in Ha Tinh province (Photo: VNE)
During the ongoing community outbreak, Vietnam has recorded 38 cases scattered across the country, all since April 29.
They are all linked to a "super spreader" known as Patient 2,899.
Until April 29, Vietnam had gone for more than one month without recording any new locally-transmitted of Covid-19.
Patient 2,899 tested positive for the coronavirus after returning home from two weeks of quarantine following his return from Japan.
The Ha Nam Center for Disease Control announced the 28-year-old man's test result on Thursday.
The man returned from Japan on April 7 and was quarantined at the Alisia Beach hotel in central Da Nang City. He tested negative for the coronavirus three times during his stay.
On April 22 he returned home to Ha Nam and self-isolated. But on April 24 he began to display symptoms such as coughing, fever and throat pain, and was taken to a local medical facility for testing
Following a positive test result, he has been quarantined t the Ha Nam General Hospital, while his close contacts have been put in quarantine.
Eleven cases of COVID-19 were reported from 6 am to 6 pm May 4, including one domestically transmitted case, according to the Health Ministry. Among the imported cases, three were Indian citizens and the remainder were Vietnamese. The locally transmitted case is a 25-year-old woman who had made contact with patient 2982.
No cases found this morning, May 5, said the Ministry of Health.