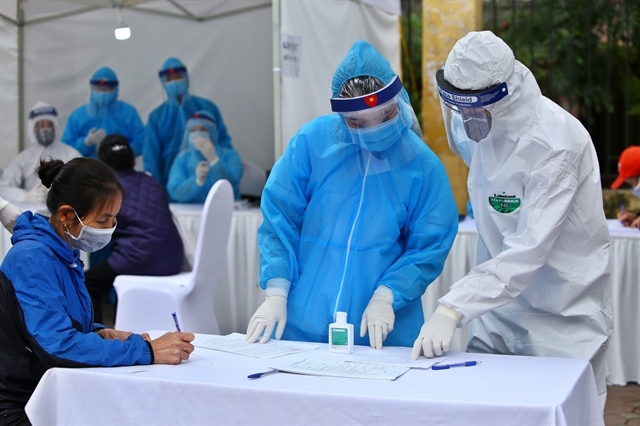 A woman registers for a free COVID-19 test in Hanoi (Photo: VNA)
Ha said under the preparation plan, more than 300 patients in Bac Thang Long Hospital in Dong Anh District were discharged or transferred to other hospitals so that the hospital would be used for COVID-19 patients only.
The hospital is pided into zones including a treatment zone, isolation zone and field administrative area. At present, five suspected COVID-19 cases and nearly 20 people who contacted those five are in the hospital.
In Duc Giang General Hospital, 150 beds, 30 doctors and more than 60 nurses have been mobilized to examine and treat COVID-19 patients. All children and pregnant women carrying the new coronavirus will be treated at the hospital.
Under preparation plans, the first 300 COVID-19 patients in the city will be treated at Central Tropical Diseases Hospital's branch in Đông Anh District. Subsequent cases will be sent in order to Bac Thang Long Hospital (230 beds), MeLinh Field Hospital (200 beds), Duc Giang Hospital (150 beds), Thanh Nhan Hospital (200 beds), Ha Dong Hospital (140 beds) and Dong Da Hospital (80 beds).
For other hospitals, the city's Health Department asked for separate areas to receive, examine and isolate suspected patients.
The department has also trained health workers and hospital staff on how to protect themselves from infection.
Both quick and slow tests deployed
The chairman of Hanoi People's Committee Nguyen Duc Chung on Thursday afternoon asked the city's Health Department and Centres for Diseases Control at districts and towns to take samples for quick and slow COVID-19 tests.
The move was made after the results from the quick and slow tests produced different results in some cases.
Vietnamese health authorities on Wednesday insisted that the standard, slower COVID-19 testing method remains the most reliable, while less accurate quick testing is more suitable if the case number gets drastically higher.
On Tuesday, Hanoi Centre for Diseases Control and Prevention started opening stations providing free COVID-19 tests for Hanoi residents in Hai Ba Trung, Ba Dinh, Dong Da and Thanh Oai districts.
The stations use quick blood test kits imported from South Korea and test people with a connection to the hotspots of Bạch Mai Hospital and Thanh Hà Urban Area, where a patient of the hospital infected with the virus lives.
From Thursday, more stations were opened in other districts including Hoang Mai, Thanh Tri and Thanh Xuan.
VNS