HCM City to commend 50 outstanding overseas Vietnamese collectives and individuals
Ho Chi Minh City will hold a ceremony on April 20 to honour 50 outstanding collectives and individuals of the Vietnamese community abroad, announced the city's Committee for Overseas Vietnamese.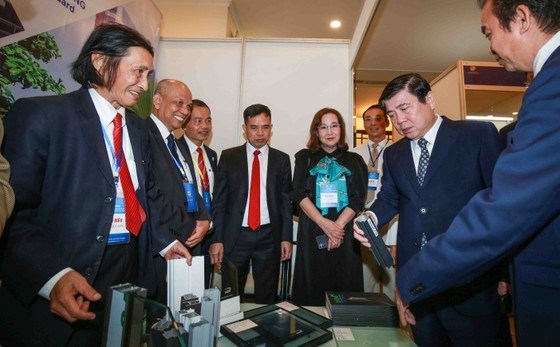 Ho Chi Minh City People's Committee Chairman Nguyen Thanh Phong and overseas Vietnamese visit a booth at a product exhibition of innovative businesses in Ho Chi Minh City in October 2020. Source: ttbc-hcm.gov.vn
The activity aims to recognise and encourage the expatriates with prominent achievements in assisting Vietnamese citizens in production and business activities, scientific researches, medicine, educational and training cooperation, and social and charitable activities between 2018 and 2020.
33 collectives and 17 individuals will be honored include Assoc. Prof and Dr Vu Minh Khuong, a senior lecturer at the Singapore-based Lee Kuan Yew School of Public Policy; Dr Nguyen Duc Thai, a Vietnamese in the US now lecturing at the HCM City University of Medicine and Pharmacy; Dr Nguyen Huu Le, a Vietnamese in Australia and Chairman of the TMA Solutions company; Bui Van Tuan, Chairman of the Delta E&C Japan; and Ms. Le Thi My Chau, Vietnamese residing in the US.
According to the city's Committee for Overseas Vietnamese said that from 2020, Assoc. Prof and Dr Vu Minh Khuong has proposed the Lee Kuan Yew School of Public Policy – National University Singapore to select HCM City as a research model for the subject "Governance Study Project (GSP)", the Project of Management Studies with 56 graduate students who are Government officials from different countries such as China, India, Singapore, Japan, the Philippines, etc.
The HCM City Committee for Overseas Vietnamese has advised the city People's Committee to assign the HCM City Cadre Academy (HCA) to be the liaison point with Assoc. Prof and Dr Vu Minh Khuong to implement the topic.
After five months of research, research student groups have sent reports to relevant departments and received good reviews, practical value. The reports made in Vietnam have been gathered into an e-book kept in the library of the Lee Kuan Yew School of Public Policy for the students to study and learn about Vietnam.
The results from the research and internship of students at the Lee Kuan Yew School of Public Policy are also a reference for HCM City to implement the project of building the city into a smart city.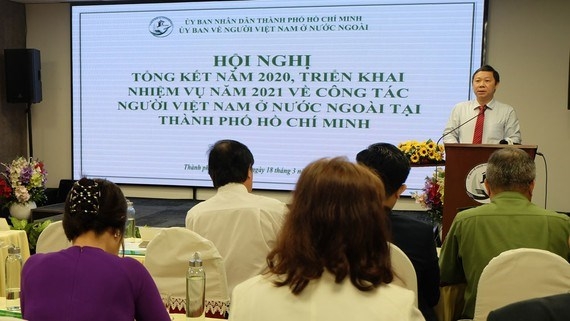 Duong Anh Duc, Vice Chairman of the HCM City People's Committee, speaks at a meeting on overseas remittances in HCM City. Photo: VNA
Meanwhile, Dr Nguyen Duc Thai is known to discover the first gene for Glaucoma that caused blindness in more than 70 million people worldwide and received the award. The US government granted 10 patents for the results of a gene discovery study, which he named TIGR (Trabecular meshwork Inducible Glucocorticoid Response) gene. Until now, TIGR's invention and subsequent studies have been applied in diagnosis and therapy by many universities and centers for ophthalmic research in different countries. He has organized many seminars and exchanges on immunotherapy and stem cells, immunotherapy on cancer, etc., making practical contributions to the field of medicine in Vietnam. In particular, he gave his opinion on researching the COVID-19 epidemic vaccine using the virus-like particle technology. Opinion of TS. Nguyen Duc Thai has also been assigned by the City Department of Health to study.
From 2018 to 2020, Ms. Le Thi My Chau has awarded thousands of scholarships to students with difficult circumstances at Long Hau Primary School (Can Giuoc district, Long An province). As for Dr Nguyen Huu Le, in 1997, he returned to Vietnam, founded and led TMA Company with the mission of bringing Vietnam's name on the world outsourcing map. After more than 22 years of development, TMA is now a leading software company in Vietnam with a staff of more than 2,500 high-quality engineers with international qualifications.
More than 5.3 million Vietnamese people are living in 130 countries and territories worldwide. Overseas remittances into the country reached USD 15.7 billion in 2020.
In particular, the remittances into HCM City reached a record high of USD 6.1 billion last year, up over 15 percent from 2019. The figure stood at USD 1.45 billion in the first quarter of 2021, up 10 percent year on year.