Heart Beat's Autumn show presents Munich-based DJ Stenny
Heart Beat's Autumn show, featuring Munich-based DJ Stenny, will take place at The Observatory in District 1, HCMC on October 5.
Heart Beat's Autumn show, featuring Munich-based DJ Stenny, will take place at The Observatory in District 1, HCMC on October 5.
Stenny will be the special guest at Heart Beat's upcoming DJ night - Photo: Courtesy of the organizer
Considered Heart Beat's home, The Observatory boasts a spacious rooftop terrace and warm wooden floors in the dark club space that will offer an escape to anyone who loves good dance music, good company and tasty drinks.
Rising in Turin and currently based in Munich, Stenny debuts with his first 12′′ Solstice Deity on the Zenker Brothers label Ilian Tape in 2013. Mainly inspired by the spirit of 90's techno and IDM, his contribution as a producer could be described as club focused but not merely functional.
The dusty and stepping drum programming, often contrasting with the dense, atmospheric surrounding, is one of the peculiarities of his style, which in fact, references often to the Jungle or Hardcore era, but basically aims to evolve with no genre boundaries.
As a DJ he maintains a similar, versatile and open minded approach, ranging between contemporary and classic but forward thinking club music.
Stenny will share the stage with Nic Ford, a piece of British deep house and techno duo MadderModes, as both will play vinyl sets during this night.
MadderModes' first official release came in 2014 with a self released 12" under their own Shift Coordinate Points imprint. After that came their 2015 release on Millions of Moments "Green Corn Moon EP" which contained the track "Myth Of The Muses" which was included on Berghain resident Nick Hoppners RA mix and made its way into the playlists of many respected artists including Move D.
In late 2015 came "Dark Dust EP" on Andre Kronert's Night Drive Music and in early 2016 the "Empirical Evidence EP" was released on Voodoo Down U.S. records. Also 2016 saw the release of Model Maker 06 - with 'Framing Device'. And July 2018 MadderModes released Box It Ken on John Osborn's label Dred Records.
Visual artist Erol from Sweden will stand beside the DJs whole night to produce the visuals that will entangle with all the soundscapes.
Heart Beat brings foremost the techno culture to Saigon's nightlife by regularly hosting performances by international and local talents playing classic and grooving minimal techno./.
VNF/Saigon Times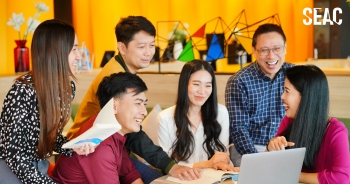 Economy
SEAC, a leading corporate and lifelong education innovator, is shaking up the Thai and ASEAN education market with significant investment to expand its SMART learning solutions across the ASEAN region.