High Global Demand Opens Up Opportunities For Vietnamese Producers
Vietnamese producers have been put under pressure because of the complex developments of the pandemic, but, in risks, opportunities always exist.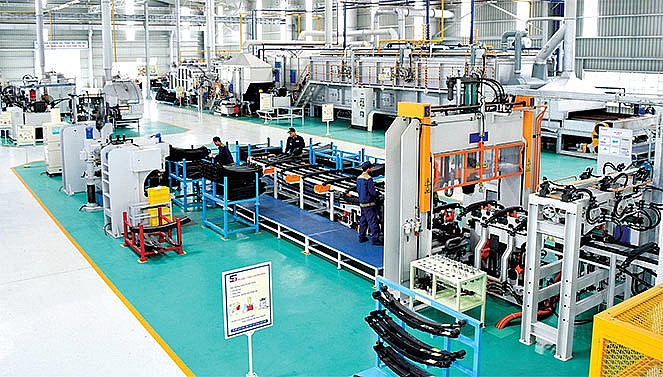 Photo: VNA
The latest report of the World Trade Organization (WTO) showed that Vietnam has surpassed Bangladesh to become the second largest garment exporter in the world, after China. Vietnam's garment exports in 2020 increased by 6.4 percent and brought turnover of $29 billion.
The figures about car part exports were also encouraging. As of the end of July 15, total car part export turnover had reached $3.7 billion, an increase of $1.1 billion over the same period last year. Statistics show steady increases in exports of these products, from $4.4 billion in 2017 to $4.9 billion in 2018, $5.6 billion in 2019 and $5.7 billion in 2020. The director of a Vietnamese company providing seats to Japanese automobile manufacturers said it took the enterprise three years to get the driver-seat production line transferred from the partner.
At first, the company produced leather seat cushions, later made tanned leather, and now makes all the components related to mechanical and electronic adjustment devices for car seats, including driver seats. Vietnamese enterprises are gradually making more complicated components of cars. However, the fourth outbreak has seriously affected production and threatened to disrupt the supply chain that enterprises spent so much time to build.
Le Tien Truong, chair of Vinatex, the largest garment group in the country, said he was concerned about some of Vietnam's largest processing and manufacturing industrial centers. The textile and garment industry as well as Vinatex have suffered from the pandemic. Many enterprises have had to close their doors temporarily in the fight against the pandemic, making it difficult to retain workers, many of whom have left for their hometowns.
This has affected the production and delivery of goods. "The situation is complicated because Vietnamese enterprises have contracts with foreign partners and they have to fulfill legal responsibilities," Truong said. The biggest concern for Vietnam's enterprises now is delivering goods on time to partners, a company director said. This is difficult because of problems in supply and transport of materials, and retention of workers. If enterprises cannot deliver goods on schedule, they may be excluded from supply chains as foreign partners will seek other supply sources.
According to General Statistics Office (GSO), the industrial production index in July 2021 increased by 1.8 percent compared with the previous month and 2.2 percent compared with the same period last year. This was the lowest growth rate in the last seven months.
Vu Duc Giang, chair of the Vietnam Textile and Apparel Association (Vitas) said if the situation does not improve, the prestige of Vietnam's apparel sector will be seriously damaged in the eyes of international customers.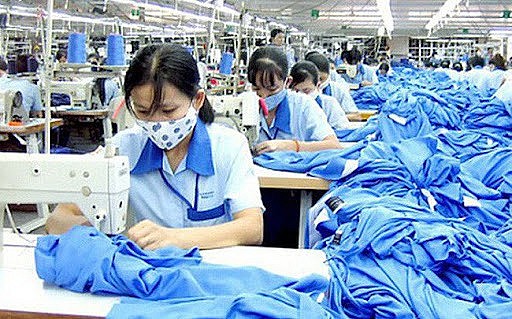 Photo: Hanoitimes
Opportunities
According to General Statistics Office (GSO), the industrial production index in July 2021 increased by 1.8 percent compared with the previous month and 2.2 percent compared with the same period last year. This was the lowest growth rate in the last seven months. The low growth rates have been attributed to the strong Covid-19 outbreak in July, especially in key southern provinces.
In an effort to maintain production, enterprises in localities have applied the 'three on-the-spot' model, which means production, quarantine and eating/rest on the spot. The model is believed to be the best for now as it allows for safe production zones and helps protect production and supply chains.
However, many companies cannot use this "stay-at-work' model because they cannot rearrange facilities and serve meals to thousands of workers. To maintain production, companies have to arrange accommodation and dining rooms for employees, which leads to higher production costs. The model has also broken down at some factories because of the discovery of F0 (infected) cases which have been spreading rapidly.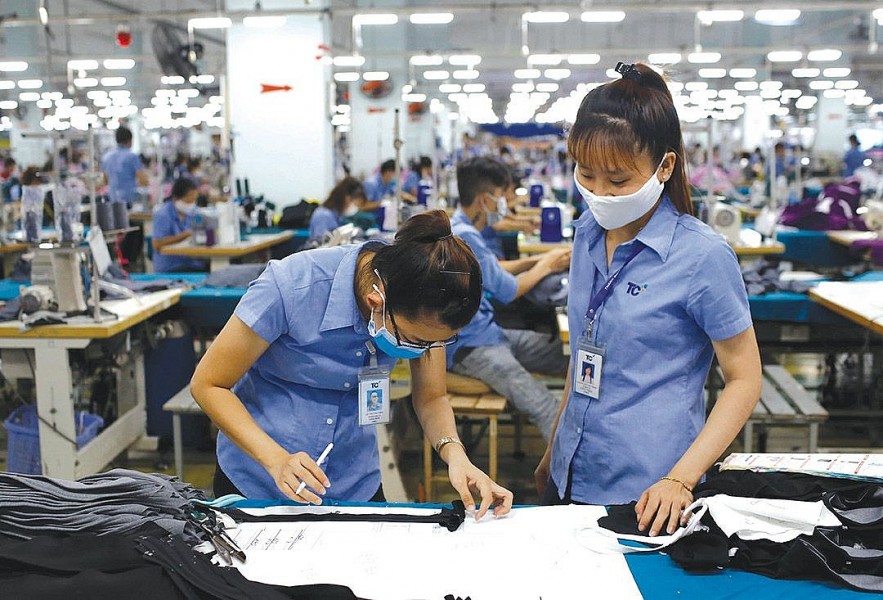 Photo: Hanoitimes
Truong Chi Binh, deputy chair of the Vietnam Association of Supporting Industries (VASI), said that member companies saw higher growth rates in the first half of 2021 than the last year, so they have opened more factories and increased capital. However, the virus has penetrated industrial zones (IZs) and disrupted production activities. Binh warned that if there is no solution and enterprises have to halt production, there is the possibility of being excluded from the global chain.
If this happens, it will take enterprises a lot of time and effort to come back. Manufacturing and processing products now make up 85 percent of total export turnover. The industries have an impact on the service sector, including banking, insurance and logistics, creating tens of millions of jobs. The disruption of value and supply chains in the manufacturing industries will seriously affect Vietnam's social security and economy in the short and long term.
The Research Board for Private Economic Development (Board IV), under the Prime Minister's Advisory Council on Administrative Procedure Reform, said that many production and business activities have stopped or stagnated, causing a number of businesses in many industries and fields to suspend operation or shut down. This has made it hard to pay workers. It also warned of the high risk of losing markets to rivals. However, analysts say there always exist opportunities in danger and enterprises can still develop if they prepare well. The most important solution is vaccinating workers in industrial zones.
Vietnamnet