Hitoshi Kato – a dedicated friend of Bình Định
Hitoshi Kato, 87, Chairman of the Vietnam – Japan Friendship Society in the Japanese city of Sakai, Osaka Prefecture, Japan, has been tirelessly working to assist the south-central Vietnamese province of Binh Dinh in sustainably developing its ocean tuna fishing industry.
(VNF) - Hitoshi Kato, 87, Chairman of the Vietnam – Japan Friendship Society in the Japanese city of Sakai, Osaka Prefecture, Japan, has been tirelessly working to assist the south-central Vietnamese province of Binh Dinh in sustainably developing its ocean tuna fishing industry.
Take Vietnamese tuna to Japan
Kato was intrigued by one of his friends' description of age-old tombs of Japanese merchants who had passed away almost a century ago in Hoi An City in the central province of Quang Nam after that person traveled here more than 20 years ago.
"As Chairman of the Vietnam – Japan Friendship Society in Sakai, I was overwhelmed with emotions back from my own trip to Hoi An. I kept wondering what to do to help boost the two countries' ties, particularly economic cooperation," he shared.
Hitoshi Kato (in striped shirt) closely monitors how tuna caught by fishermen in Binh Dinh Province is preliminarily processed before being exported to Japan. (Photo: Tuoi Tre News)
Kato's chance finally came when he learned about a working session between a delegation from Binh Dinh Province and Sakai City's leaders in 2011.
He attended the meeting on his own initiative, during which Le Huu Loc, the then Chairman of Provincial People's Committee, introduced the province's powerful fleet of ocean tuna fishing boats that have operated with high productivity.
"Hearing that, I immediately thought of a way to foster economic cooperation between Sakai and Binh Dinh," he recalled.
Kato flew to Binh Dinh not long after that.
"Fishermen in Binh Dinh struck me as hard-workers and fast learners, but almost all boats, fishing equipment were out-of-date and tuna were caught using traditional hunting, processing, and preserving methods which reduced the fish's quality," he said.
Back in Japan, Kato called for assistance among local organizations and businesses in technology transfers to Binh Dinh fishermen and vessels selected for a pilot program to ensure quality of tuna exports to the Japanese market.
He traveled back and forth between Sakai and Binh Dinh and worked closely with local officials and experts on the project during the ensuing years.
Thanks to Kato's efforts, in 2014 the Japan International Cooperation Agency (JICA) and the Vietnam – Japan Friendship Society in Sakai provided 25 ocean tuna fishing equipment sets as well as tuna hunting, preliminarily processing and preserving techniques to Binh Dinh fishermen, with the project's investment amounting to approximately USD 1 million. The province then set up two squads with a total of 25 boats and around 150 fishermen who adopt Japanese technology for catching ocean tuna.
The first batch of tuna caught by Binh Dinh's fishermen with Japanese technology was transported by air in September 2014 to an auction in the Japan's central fish market, where the fish were sold out for prices three times as much as the rates in Vietnam.
"Despite difficulties ahead, the project has provided great momentum for the local tuna fishing sector and helped local fishermen approach Japanese technology in catching ocean tuna and their high-quality catches were exported directly, considerably boosting export values," Le Huu Loc remarked.
Bring the Japanese company to Binh Dinh
Following the fruitful ocean tuna fishing project, Kato went on to promote Binh Dinh's auspicious investment environment and economic potentials to entrepreneurs across Sakai City and Osaka Prefecture. In 2016, Japan's Kei's JSC implemented a project to grow fresh vegetables using Japanese technology in the province, picked local farmers and engineers and offered them intensive training in Japan in how to grow veggies and farm bees.
Earlier this year, another Japanese company, Marubeni Lumber, also through Kato's introduction, kick-started their USD 5 million project at the province's Nhon Hoi Economic Zone to produce wood products.
The Japanese expert also suggested two Japanese universities provide counseling and assistance in agricultural production for Binh Dinh, and cooperate with Quy Nhon University in establishing the faculty of fisheries in the future.
Mr. Hitoshi Kato. (Photo: Tuoi Tre News)
Also in early 2017, with Kato acting as an intermediary, Japan's Sanicon Co. installated its hi-tech water filtering system at a luxury hotel in Quy Nhon City.
"In my country, people can drink directly from such a water filtering system. If the project proves a success, I will work to expand the model in the entire Quy Nhon City," he said.
He is currently working with a company in Sakai to invite them to open Japanese restaurants in Quy Nhon. "This coastal city is very beautiful, but it needs more investment to attract international visitors," he said.
During his recent trips to Binh Dinh, Kato took his son-in-law and grandchildren along.
"I'm infatuated with Binh Dinh for its peaceful ambiance, and friendly and diligent people. Nowhere else have I witnessed the local administration issue investment certificates to foreign-owned projects within a single day like Binh Dinh. I'm old now, but I've promised to myself I will continue to assist Binh Dinh until I'm no longer fit to do so. Then my children and grandchildren will continue what I'm doing now. To be honest, I want to become a citizen of the province," he added.
Kato also said, "In 2017, I also working to fulfill my promise with former State President Truong Tan Sang to examine and assit two southern neighboring Phu Yen and Khanh Hoa Provinces in adopting Japan's tuna catching and preserving style."
Friendly, sincere and devoted
With local fishermen, Hitoshi Kato is a devoted and close friend.
Bui Van Tieng (in Hoai Nhon district), one of the fishermen participating in the Japanese tuna fishing project sponsored by Kato, commented, "He always accompanied Japanese experts, down to the our boats to instruct us how to fish and preserve tuna. Thanks to his support, fishermen are supported with modern tuna fishing equipment, new fishing and preserving methods which not reduce the fish's quality. "
At the age of 87, he was still agile and eager to help the people here.
"Hitoshi has helped us unconditionally. We've invited him to be on the province's Development Advisory Council," Ho Quoc Dung, the provincial Chairman, said./.
Translated by Phuong Nguyen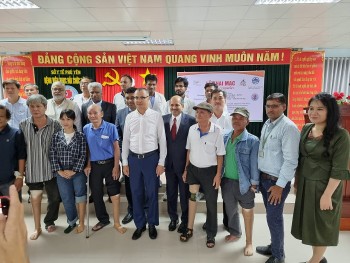 Friendship
This is the 5th time the Jaipur Foot Artificial Limb Fitment Camp has been held in Vietnam since 2018 by the Indian Ministry of Foreign Affairs, Indian agencies and organizations.