Ho Chi Minh City, New York Establish Sister City Relationship
Chairman of Ho Chi Minh City's People's Committee Phan Van Mai and Mayor of New York City Eric Adams have signed a memorandum of understanding (MoU) on the establishment of sister city relationship between the two metropolitan cities.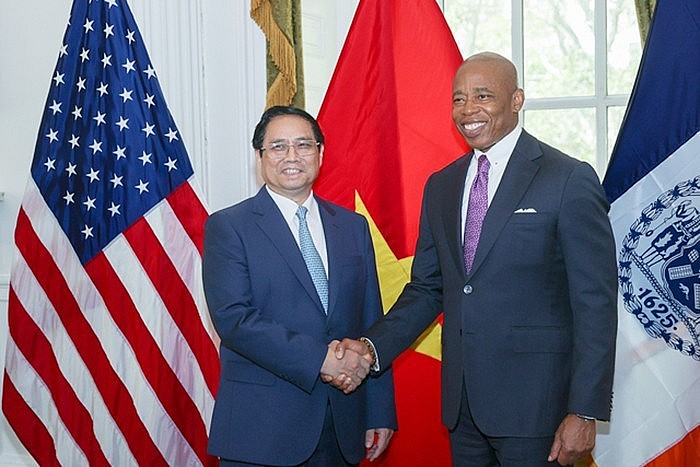 Prime Minister Pham Minh Chinh (left) and Mayor of New York City Eric Adams. Photo: cand.com.vn
The document was signed in New York on September 22 in the presence of Vietnamese Prime Minister Pham Minh Chinh, who was in the US to attend the high-level week of the 78th session of the United Nations General Assembly and to conduct bilateral activities in the country.
In his remarks, PM Chinh said he considered the signing vivid evidence of the good relationship between Vietnam and the US in general, and between their localities in particular.
The leader stressed that ample room remains for multi-faceted collaboration between New York and Vietnamese localities and agencies, especially in economy, investment, people-to-people exchange, technology, and innovation.
Chinh noted his hope that localities of the two countries would establish more cooperative relationships in the near future and pledged that Vietnam will ensure the rights and interests of investors and businesses from the US in general and New York in particular while operating in the Southeast Asian nation.
For his part, Mai said the MoU is of significance for the two cities, adding it is not only symbolic but also demonstrates a commitment to promoting comprehensive, substantive, and effective cooperation between the two countries at all levels.
The relationship will be a solid foundation for bilateral cooperation programs between the two cities in the fields of economy, finance, culture, and environment (especially projects related to climate change), science-technology, innovation, and education, the official believed.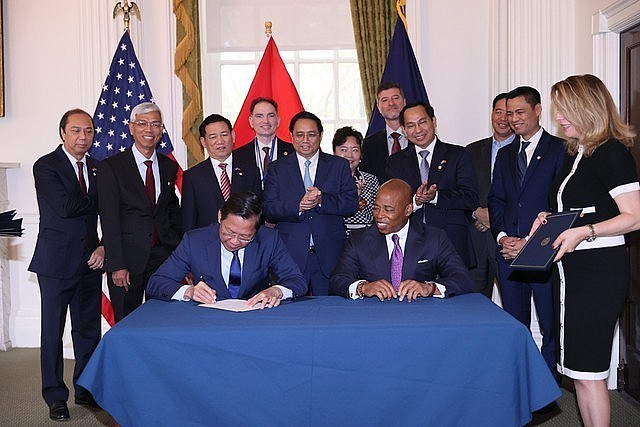 The document was signed in New York on September 22 in the presence of Vietnamese Prime Minister Pham Minh Chinh. Photo: congthuong.vn
It will also open up space for businesses to connect, strengthen cooperation, and expand markets, he continued.
Mai suggested New York, as one of the world's most important financial centers, supports HCM City in achieving its goal of becoming a regional and international financial hub.
Adams shared PM Chinh's view, affirming that New York City values and is willing to further strengthen the friendship and effective and practical cooperation with Vietnam.
New York City stands ready to contribute more actively to the overall development of relations between the two countries, especially in the fields of innovation, environmental protection, and youth exchanges.
Over 1,500 Vietnamese students are studying and researching at universities in New York.
He affirmed that there would be measures to support HCM City, contributing to turning Vietnam's economic hub into a strong regional and international financial center./.