Hoa Binh children to get free heart check-up this week
On August 3-4, Heartbeat Vietnam - a program of The VinaCapital Foundation (VCF) and the doctors from the E Hanoi Hospital will organize a mobile outreach clinic for children under 18 in Hoa Binh province.
Children in Yen Bai get free check-ups in December 2018. Photo: VCF
Families can take their children to Lac Luong and Lac Sy commune health station (Yen Thuy district) on August 3, and Nhan Nghia and My Thanh commune health station (Lac Son district) on August 4 to get the free examination and consultancy from doctors about cardiovascular health.
Founded in 2006, VinaCapital Foundation (VCF) aims to empower the children and youth of Vietnam, by providing opportunities for growth and improvement through health and education programs. The work of VCF touches the lives of millions of Vietnamese in 63 provinces every year.
VCF's grassroots medical programs include Heartbeat Vietnam and Rural Outreach Clinics - designed to locate diseased at risk and disadvantaged children in even the remotest areas and provide access to quality healthcare.
Heartbeat Vietnam is a program sponsored by VCF that started in 2006 supporting heart operations to save poor Vietnamese children aged 18 or under.
Every child needs at least one heart check-up. Source: VCF
According to VCF, because many heart defects cannot be detected by the human eye, all children need to have a heart check-up at least once in their lives. Early detection ensures no one will pass away from an undiagnosed defect.
However, many children grow up with unhealthy hearts and families remain unaware.
Nguyen Van Duong's story is a typical case of an undiagnosed heart defect. Living in Tri Ton, An Giang for years without treatment resulted in serious damage to his health. Due to his family's poverty, it was only at 18 years old that Duong had a heart check-up and discovered that he had many complicated defects. Heartbeat Vietnam immediately agreed to support his emergency surgery at Ho Chi Minh City's University Medical Center. Duong will need a lot of time and special care from doctors to recover. If Duong's defects had been discovered early, he would not have suffered so many long-lasting injuries.
Every year in Vietnam 16,000 babies are born with congenital heart defects. Half need immediate treatment. However, many children like Duong grew up with an unhealthy heart and did not seek medical advice. Most of these children live in remote areas of Vietnam. Their families earn the equivalent of a few U.S. dollars per day. Healthcare for their children is a luxury. Travel and check-up costs add up fast.
Understanding their hardship, VCF's Outreach Clinics, together with prestigious hospitals, organize more than 70 visits per year to rural districts across the country. The goal of our Outreach Clinics is for all children to receive heart check-ups and consultations regardless of location and economic status.
What is a congenital heart defect and why should every child have a heart check-up?
A congenital heart defect is a cardiovascular structural defect which exists from birth. A screening and a treatment plan are necessary so children can have a healthy heart.
There are many types of heart defects with various degrees of severity. There are also manifestations that are undetectable to the human eye. The only way to detect a congenital defect is echocardiography. Based on the severity of the defect, doctors will offer appropriate treatment options. Due to advancements in Vietnamese cardiology, many types of heart defects can be treated almost completely. Children can recover and can enjoy a normal, healthy childhood.
In big cities, having a heart sonogram is easy. Mothers can know their children's heart health from the 18th week of pregnancy. For parents living in rural areas, parents can take all of your children to heart check-up programs organized by hospitals and social organizations like VCF's Outreach Clinics. For underprivileged children who are diagnosed with a heart defect, Heartbeat Vietnam will put them on a follow-up list and fund treatment./.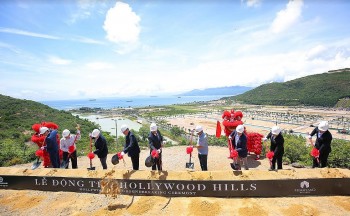 Economy
On October 2, at Hai Giang peninsula (Quy Nhon city, Binh Dinh), Hung Thinh Corporation held the groundbreaking ceremony of Hollywood Hills by YOO Inspired by Starck – a subdivision at MerryLand Quy Nhon. The event marks the first time that the world's No.1 ranked design and branded residence company YOO Inspired by Starck is officially present in Vietnam, with a collection of villas designed by creative director, Philippe Starck.